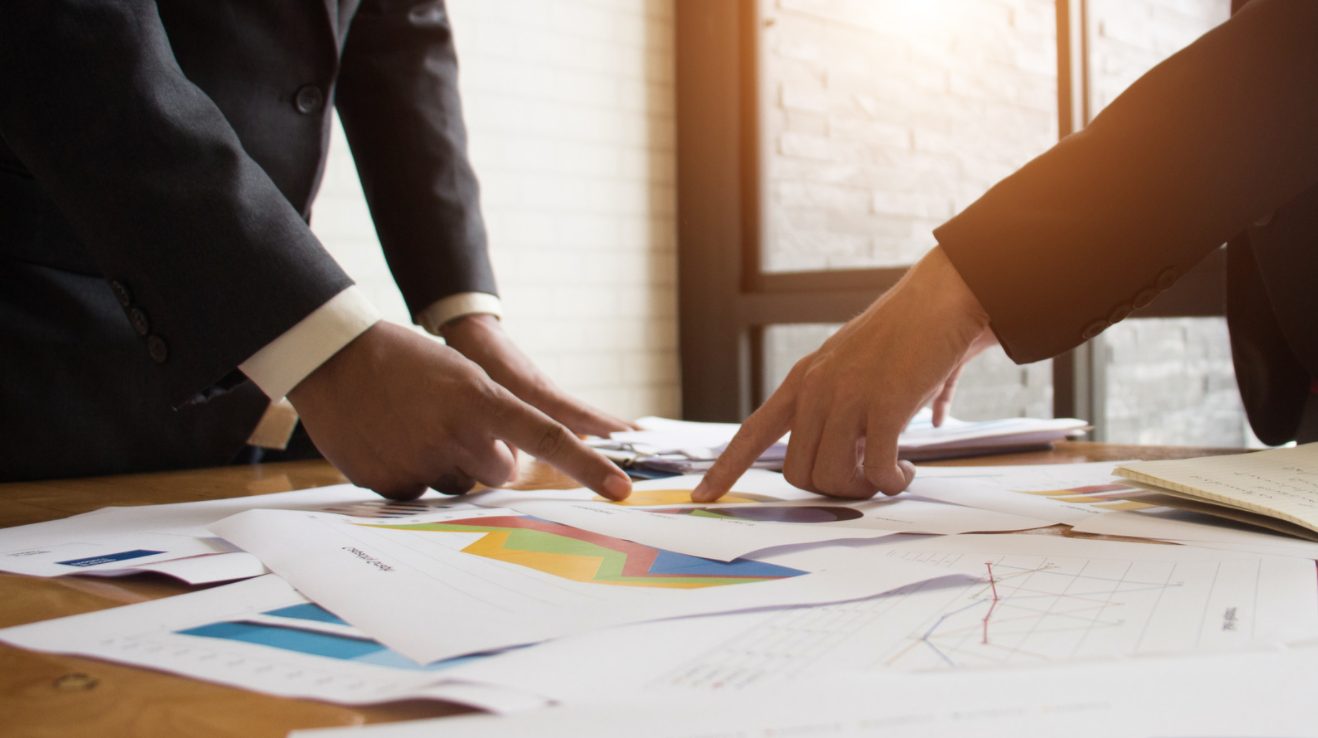 HR's Year in Review: What New Data Reveals About 2021
As 2022 quickly approaches, businesses across all industries are reflecting back on a year of sustained upheaval. Organizationally, the pandemic's impact continued to be felt across all business units and—in many ways—was magnified. From remote work and vaccine mandates to change management and retention challenges, Human Resources' critical importance continued to rise in 2021.
New trends also emerged. Job creation outpaced hiring, leaving businesses desperate to find the staff they needed to fully reopen and operate. The "Great Resignation" ushered in an unprecedented number of employee exits. All the while, more and more workers continued to leave the workforce entirely, resulting in a record-low labor force participation rate.
In short, 2021 accelerated the continued evolution of HR from simply a cost center to a mission-critical function. And this isn't just anecdotal—the latest data reveals insightful trends about how HR evolved across all areas of the candidate and employee lifecycle.
JazzHR teamed up with our partners at Trainual, Resume-Library, Wedge, and Gusto to analyze the most important data trends from 2021 and reveal what they mean for your HR processes.
Key Findings
Job Creation
What We're Seeing
New job creation in JazzHR increased by 208% from January through the end of October, representing a 240% increase year-over-year.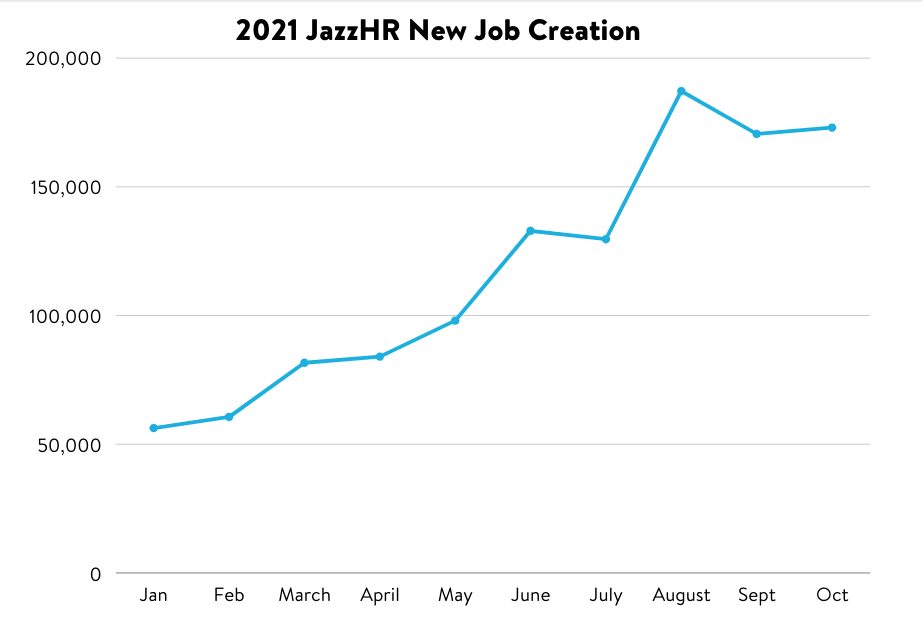 Certain industries saw more significant increases in job creation, while others grew more slowly: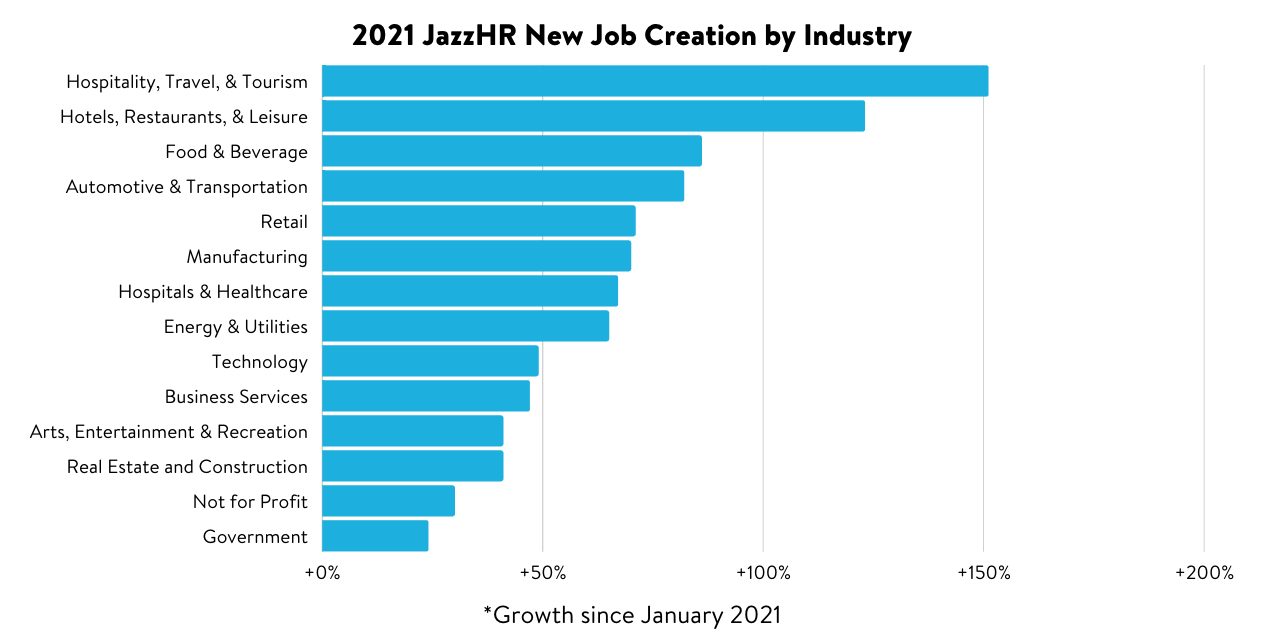 What This Means
With a boom in job creation across nearly every industry, recruiting competition has been high throughout 2021. Prompted by a rebound in consumer spending and eased public health restrictions, sectors that were initially hit the hardest by the pandemic's economic impact—like Hospitality, Travel, & Tourism—saw the largest spikes in demand for workers.
To stand out, employers have pulled out all the stops to stand out and hire faster than the competition. Brands like Amazon are increasing wages, others are offering sign-on bonuses upwards of $100k, and 66% of all businesses are expanding their work flexibility with a commitment to maintaining remote/hybrid models in the post-pandemic world.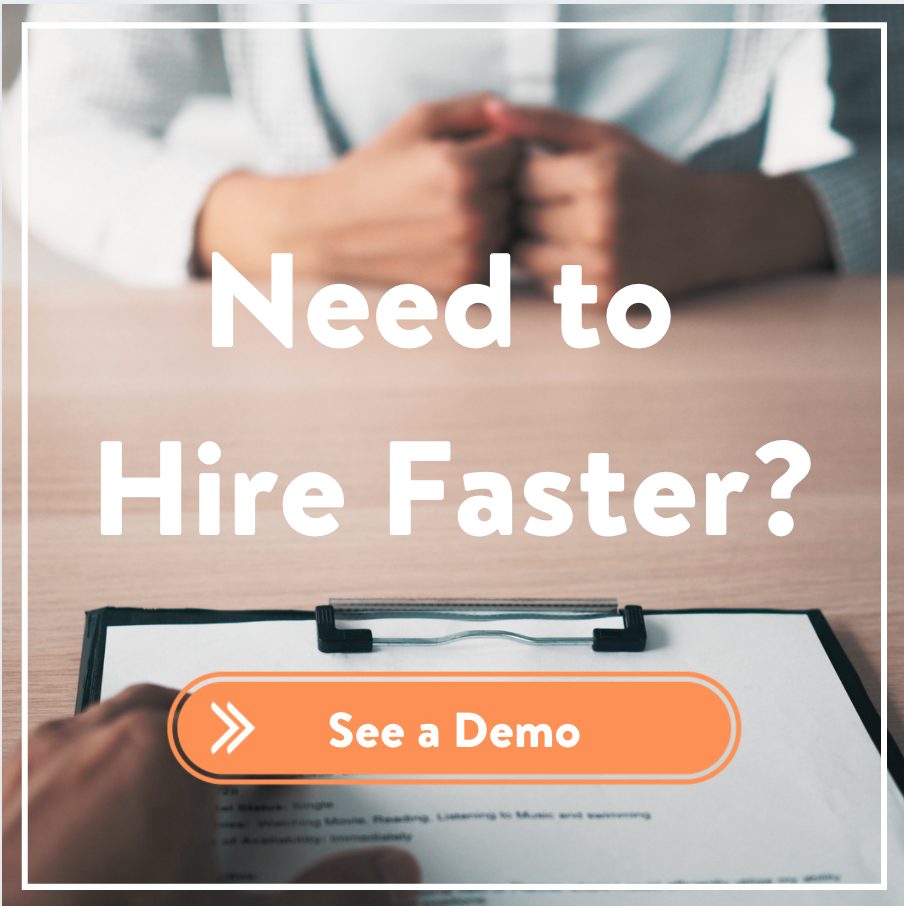 How You Can Act On This
For most small and mid-sized businesses, increased wages and/or large sign-on bonuses simply aren't financially feasible options. So how can you get your job to stand out from the masses? NXTThing RPO 's President Terry Terhark says the secret weapon is a speedy process.
Speed is the ultimate leveraging factor. If you're recruiting and maybe you can't offer the best compensation in your field or don't have the best benefits, but your processes are built for speed, you have the ability to engage with a candidate at a much higher level than what your competitors are doing.
Take advantage of the end-of-year recruiting lull to reassess your hiring process. Seriously consider whether or not you need as many steps as you currently have and hone application questions to provide efficient screening measures—the smoother the process, the less drop-off you'll see, and the faster you'll secure the best-fit hire.
Resources
Sourcing Candidates
What We're Seeing
Candidate volume in JazzHR increased by 7% from the beginning of January through the end of October.
Alongside candidate applications, employers signing up for Resume-Library, a platform that sees 10,000 new resume registrations daily, grew an average of 69% each quarter.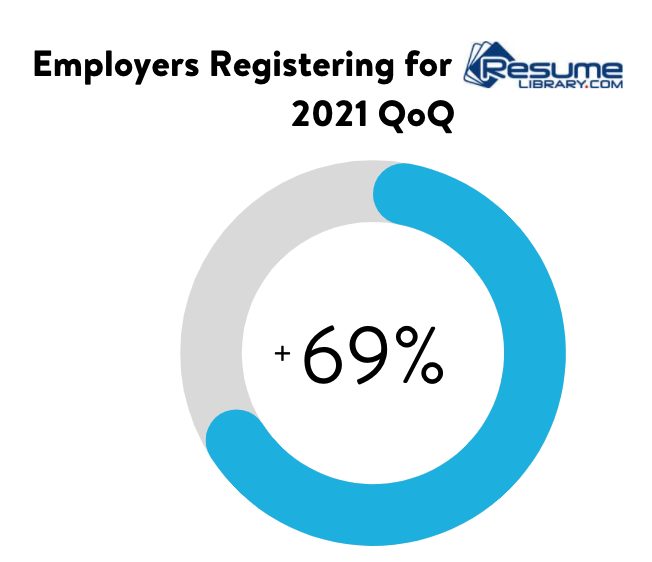 What This Means
The demand for workers has—and continues to—outpace supply. The latest BLS Employment Report showed a continued drop in the unemployment rate to 4.8 percent. This is a significant decrease from the record highs seen in February through April of 2020 but doesn't account for workforce exits. The labor force participation rate (which tracks those working or actively looking for work), on the other hand, hasn't risen significantly since June 2020, sitting currently at 61.6 percent—the lowest it's been in decades.

source: tradingeconomics.com
For perspective, experts estimate that the labor force is missing as many as six million people who likely would be working now had there never been a pandemic at all. This exodus reflects a number of factors ranging from a growing population of retirees, parents opting to stay home amid the pandemic upheaval, and many people simply hitting pause to reassess their careers.
How You Can Act On This
The bottom line? Candidates are in the collective driver's seat, and employers must continue to adapt in order to attract them and grow their businesses. As evidenced in the increase of employers registering to Resume-Library in 2021, companies are lining up to expand their sourcing channels and reach candidates more directly.
If you're not already, leverage channels like social media where you can both expand your reach and showcase your employer brand. No longer are job seekers simply looking for a job to pay the bills. With increased job creation, candidates can be more selective and are most attracted to companies where they can see themselves truly belonging. Highlight your company's culture, commitment, to diversity, equity, and belonging, and all incentives.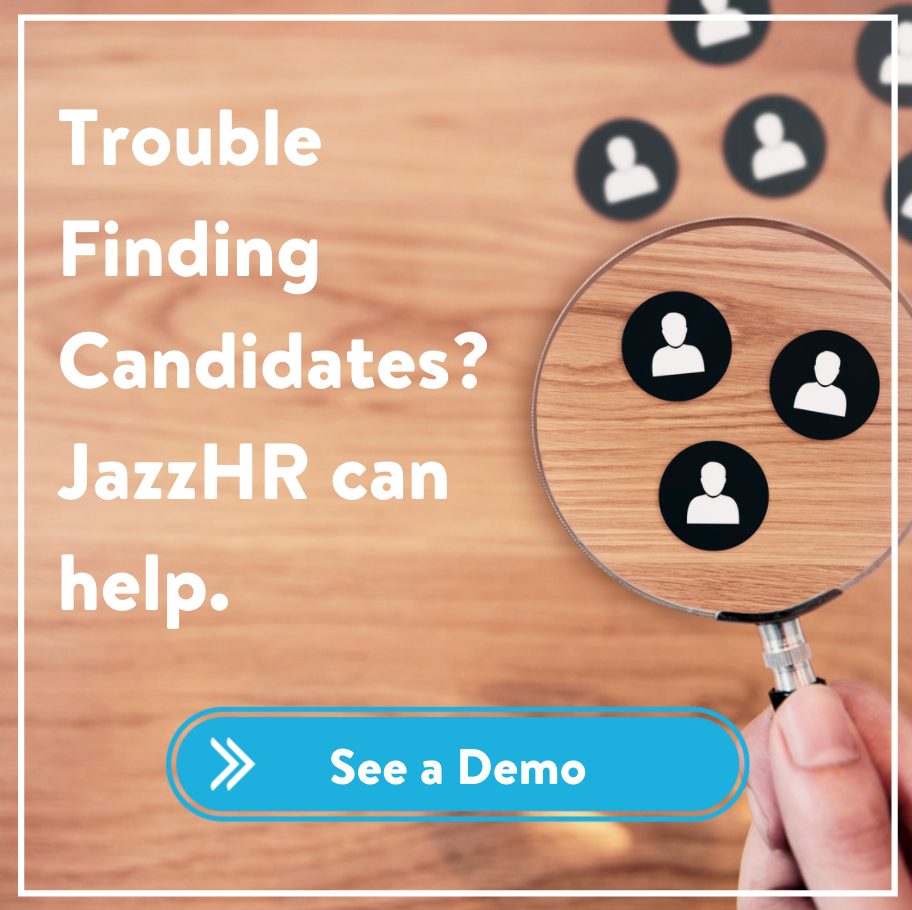 Resources
Screening & Interviewing
What We're Seeing
Over the course of 2021, video-interview provider Wedge saw a 47% decrease in time to hire for businesses using on-demand video interviews compared to those who used traditional methods.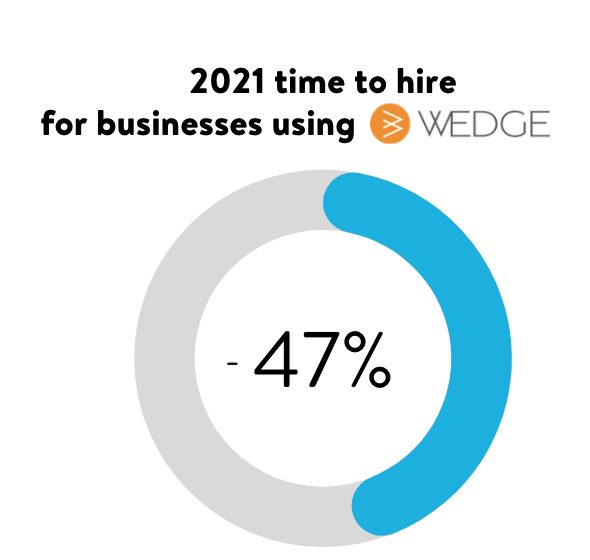 The company also saw the time between application and the sending of video interview requests speed up with 60% of on-demand video interview requests now being sent immediately upon application.
What This Means
Sparked by the tight labor market, employers are jumping to screen anyone—and, in some cases, everyone—who applies in the hopes of moving faster than the competition. The use of video interviewing to accomplish this is also significant.
While many organizations implemented remote screening as a temporary measure at the onset of the pandemic, it's now become an expected part of the process. The speed at which employers now send video interview invitations reflects not only a desire to outpace the competition but more streamlined processes. Businesses have honed their hiring stages to include more automation.
How You Can Act On This
Whether your team is working remotely or not, video interviewing provides a fast, easy way to screen candidates while allowing them to showcase themselves beyond their resumes.
If you're already using video software, take time to seamlessly incorporate it into your process as much as possible. Automate the sending of invites into your hiring workflow as much as possible and refine your interview questions for the best candidate experience possible.
Resources
Onboarding
What We're Seeing
JazzHR users sent an increasing number of electronic documents in 2021 with the number of eDocuments sent rising by 57% from January through the end of October.
Gusto, a payroll, benefits, and HR management software, saw their offer acceptance rate jump to 88.5% in 2021 after the company adopted remote interviewing. Likewise, their application-to-acceptance time has been cut by more than half compared to pre-COVID.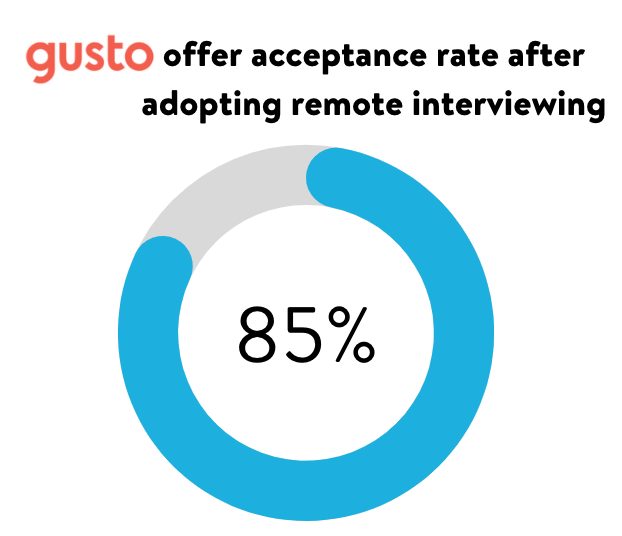 What This Means
2020 forced almost all businesses to opt for a remote-first approach to both the candidate and employee lifecycles. And those who made the transition smoothly last year reaped the benefits in 2021—including within the onboarding process.
As seen by the boost in electronic documents, JazzHR users continue to opt for contactless new-hire processes. And alongside the huge improvements to offer acceptance and application-to-acceptance time, Gusto's Head of Recruiting Operations and Programs Monica Kirst said candidates continued to report a positive experience:
During COVID, our interviewing process went completely remote at Gusto—and these changes are working. We've seen a significant increase in candidate acceptance rate and a huge decrease in "time-to-hire" while maintaining our high levels for the overall interview experience.
How You Can Act on This
From application to new-hire onboarding, both candidates and employees expect a seamless experience. Embracing technology within the recruiting process will not only allow you to hire faster but jumpstart the employee lifecycle.
Audit your current process to identify opportunities for added automation and speed. Is the transition from interview to offer as smooth as it could be? Do new hires have the opportunity to provide feedback on the onboarding experience? Reduce friction as much as possible to ensure the employee has a positive experience from the start.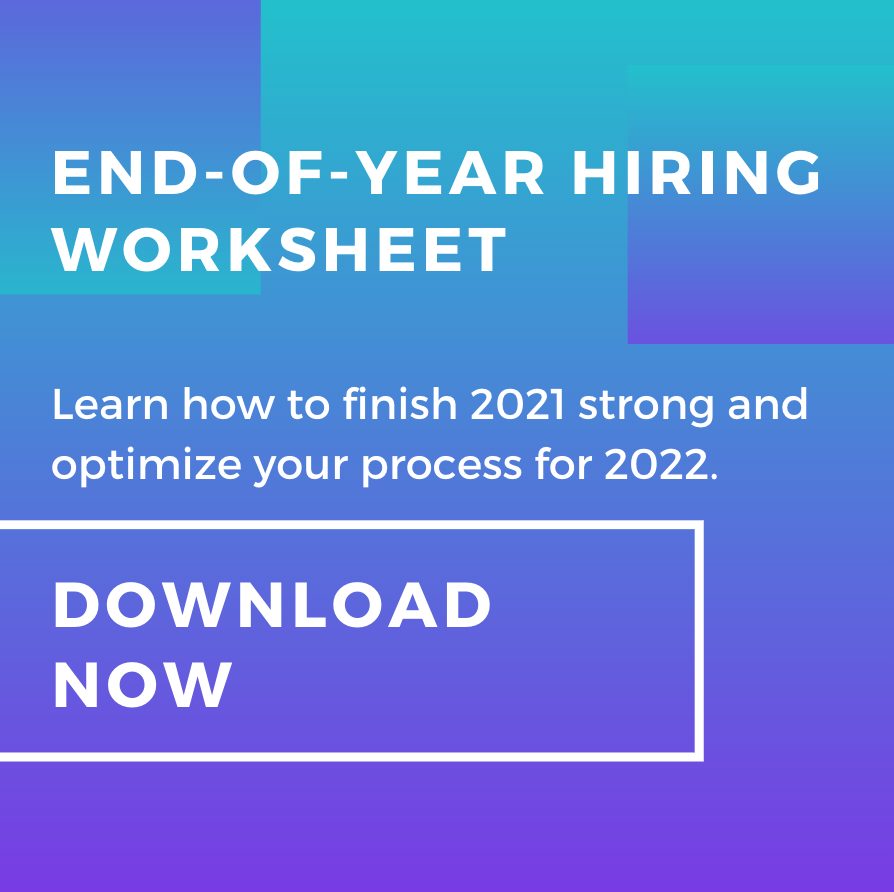 Training & Career Development
What We're Seeing
Trainual, an onboarding and training software for SMBs, saw customers spend 110% more time in the platform building remote employee training initiatives in 2021 over the previous year. On average, these small and growing businesses published 52% more content on a per-account basis.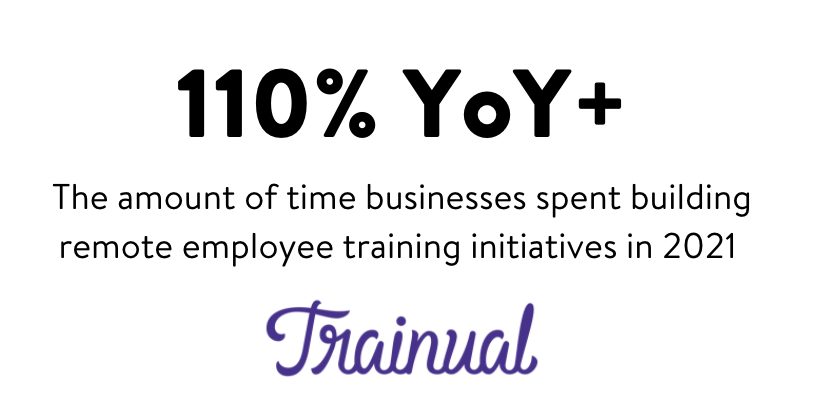 What This Means
2021 ushered in a wave of remote learning opportunities. What began as a necessity in response to the pandemic revealed itself to be an accessible, effective way to train employees faster and more easily. And more businesses than ever are embracing remote options.
No longer is virtual learning reserved for enterprise organizations presenting dry coursework in a board room. Now, SMBs are turning to tools like Trainual to digitize their business and get people up to speed and trained more efficiently.
How You Can Act On This
Embracing virtual training is a no-brainer. But just playing a series of pre-recorded videos for new hires with no interactivity or added context won't cut it. How well you train employees has a direct impact on their performance and retention. Utilize training technology to streamline the process and create a cohesive experience.
And virtual learning opportunities don't stop after onboarding. 72% of candidates are driven by career advancement opportunities, which are also the number one reason people change jobs. Offer continued education to keep employees engaged and promote a culture of improvement.
Resources

COMMENTS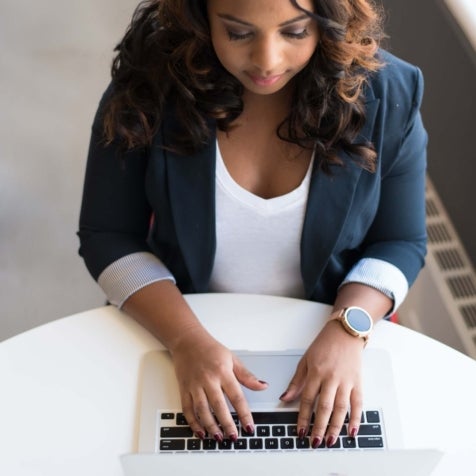 Popular Articles