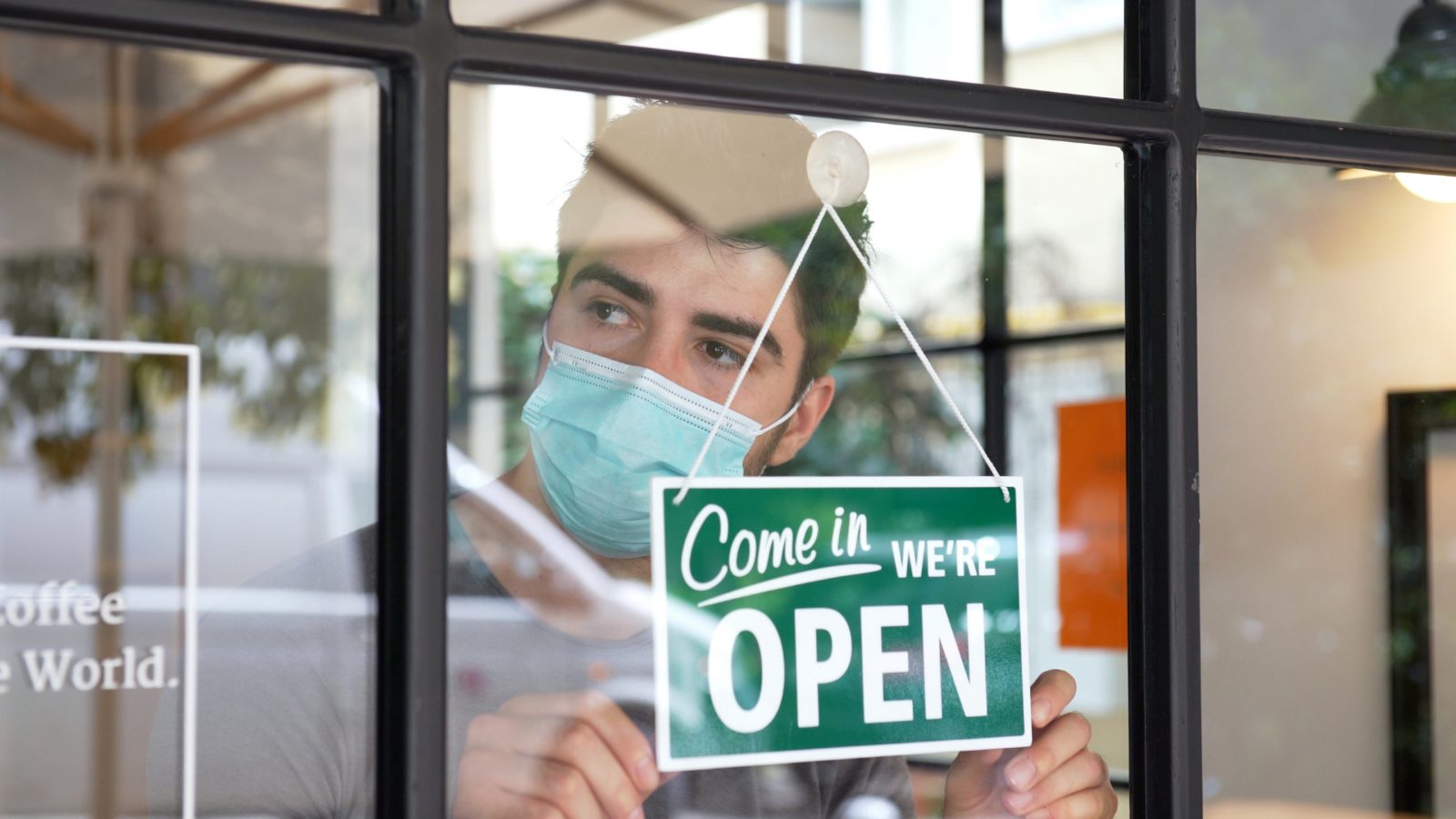 A First Look at JazzHR's End-of-Year Recruiting Data (And What It Means for Your 2021 Hiring)
Today, the Bureau of Labor Statistics released The Employment Situation for December. The economy lost 140,000 jobs in December while the unemployment rate remained steady at 6.7%.
Despite this macrotrend, JazzHR's 7,000+ SMB customers continued to create jobs at an increasing rate, having grown by 18% between November and December. The largest increases came in verticals like Hospitals & Healthcare and in states like NY, PA, and CA, while the steepest declines were seen in verticals like Education and states like VA.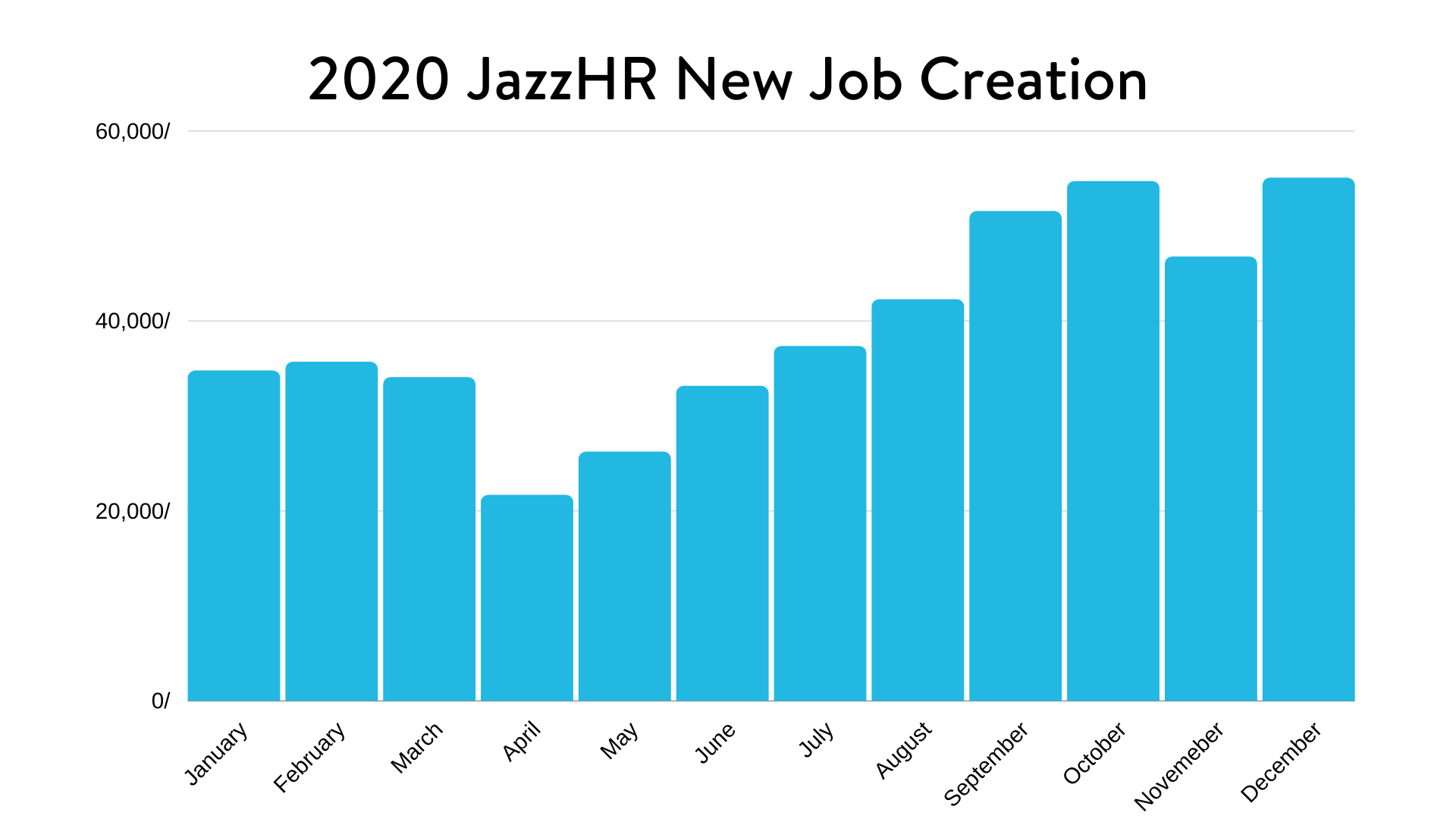 Alongside rising job creation, job seeker traffic has also continued to increase since its COVID-induced low, rising 7% between November and December after holding steady from its July peak.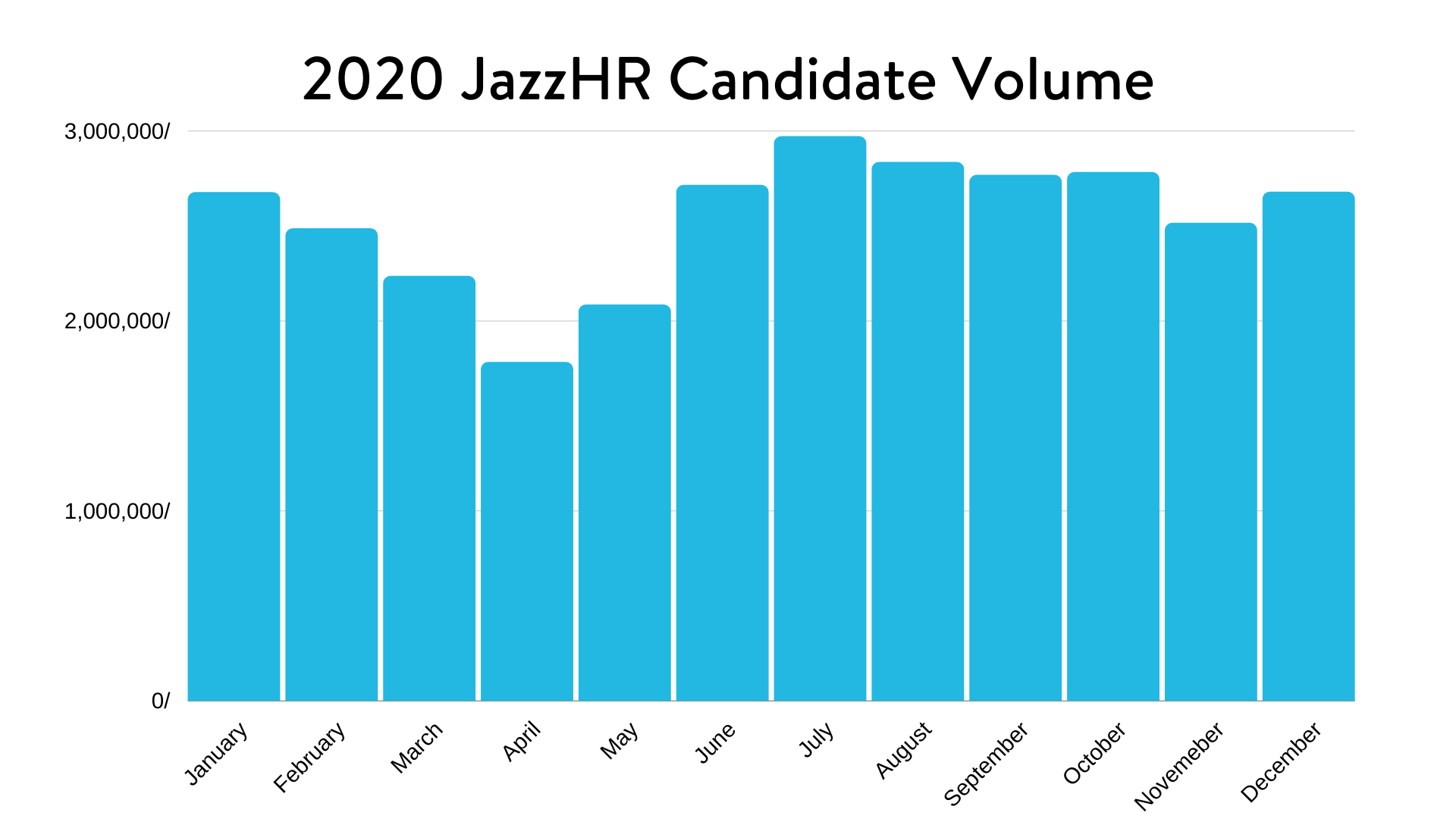 In addition to job and candidate traffic, JazzHR product usage also reveals insightful year-end trends:
Since April, JazzHR customers have increased their sending of candidate self-scheduling invitations to candidates by over 150%.

JazzHR customers increased the sending of electronic documents by over 100% between March-December.
So what do these numbers mean for your business? Here's how to act on these trends:
Extend your impact through automation
Automation is more than just a buzzword. In response to the impact of COVID-19, businesses are working to extend the efficiency of their existing workforce by embracing new technology and automation faster than before. JazzHR customers' increased usage of self-scheduling demonstrates the benefits of automating the interview stage of the hiring processes, specifically.
Spend time auditing the stages of your recruiting funnel and identify where automation can help. Focus on areas of high-volume tasks, in particular, to save the most time. In doing so, you'll free up your team for more strategic recruiting activities.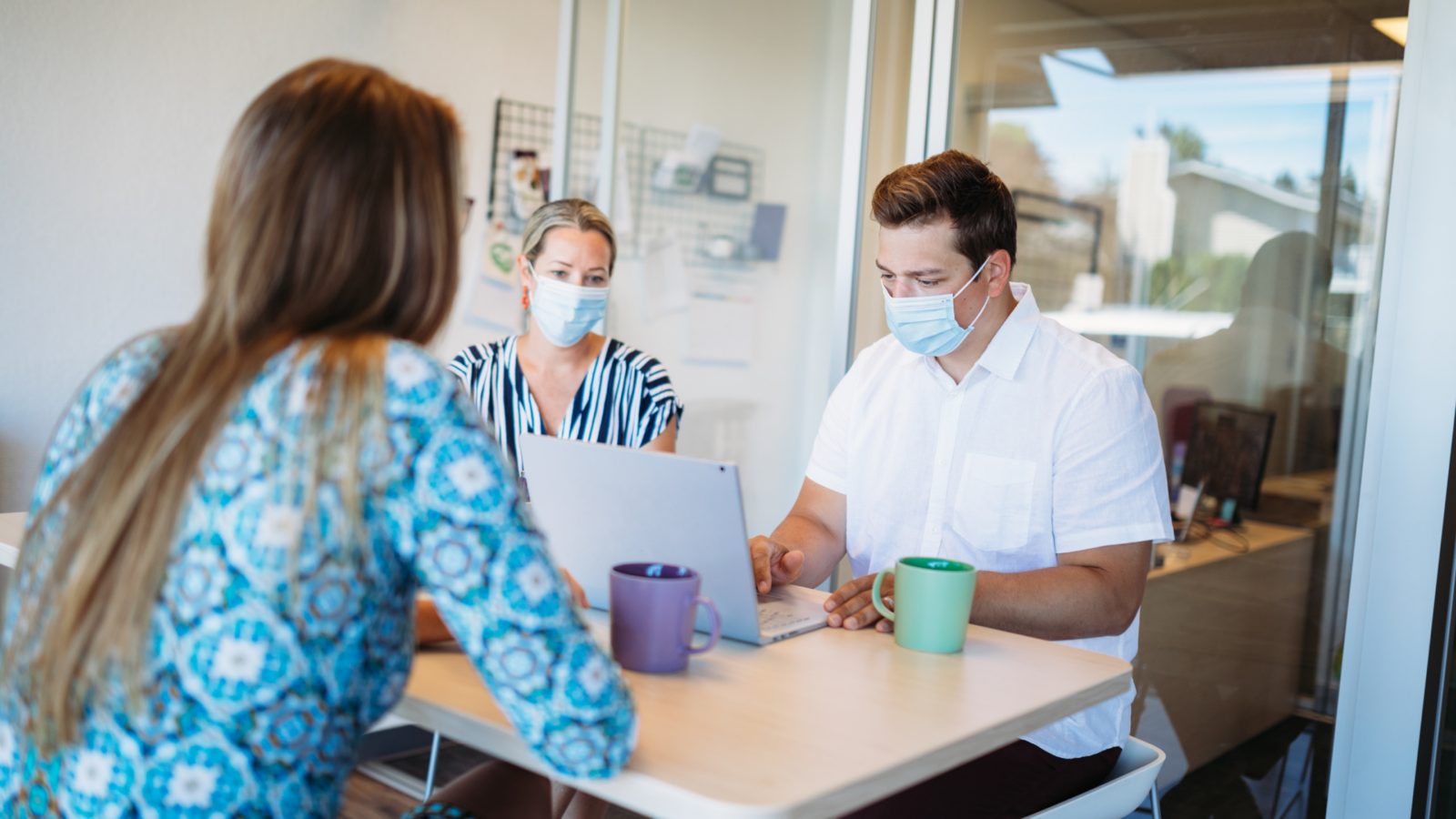 Embrace contactless onboarding
Whether your team went remote last year or not, job seekers have come to expect a more contactless new-hire experience. As JazzHR customers prove, more companies are leveraging digital documents amid the pandemic to facilitate a smoother and safer candidate experience.
If you aren't already, digitize your onboarding process as much as possible, starting with electric documents. This will allow you to not only prioritize safety but create a competitive candidate experience.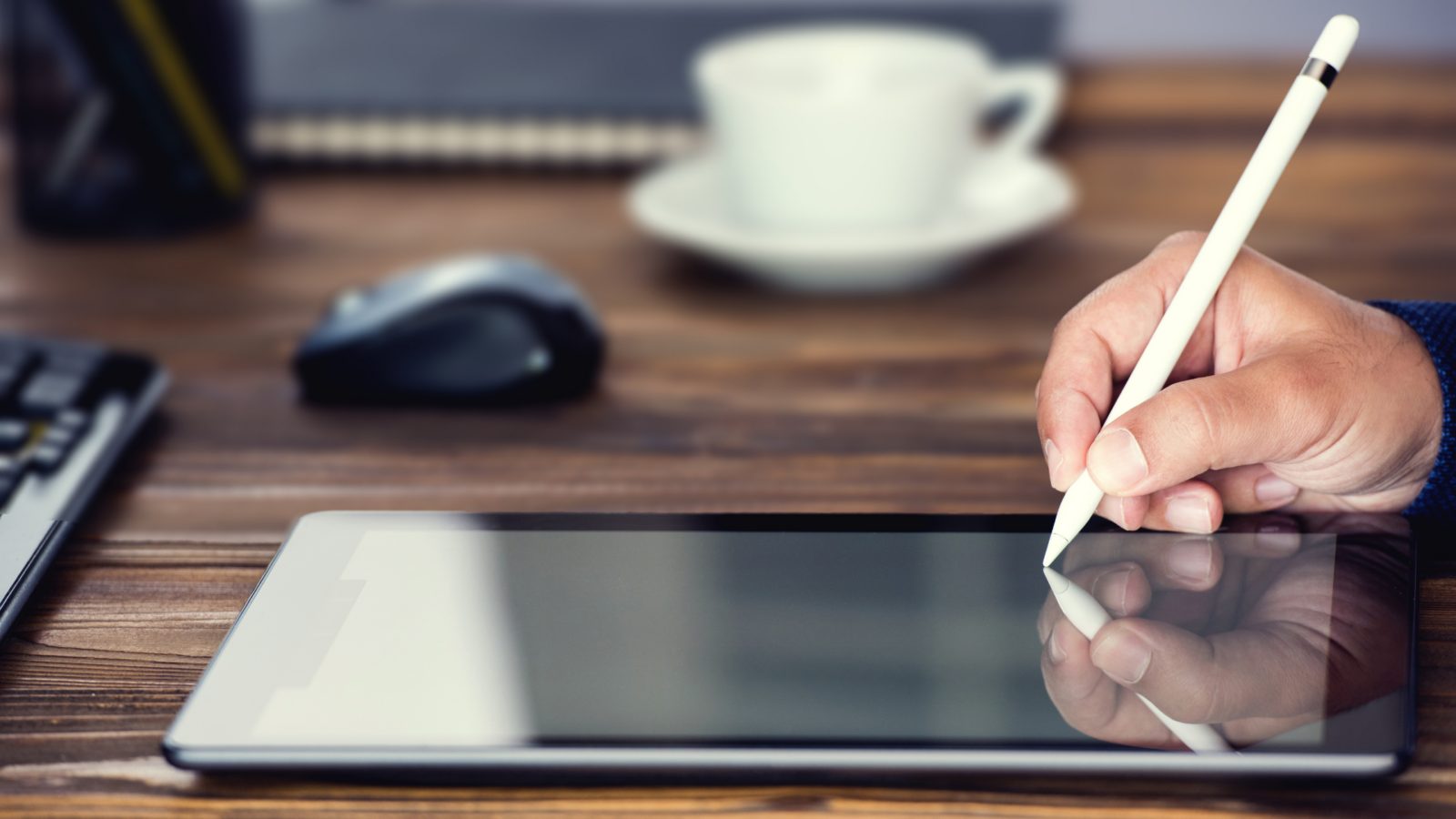 Communicate transparently
2020 may be behind us, but its uncertainty remains. As the public health headlines continue to evolve along with vaccine distribution, job seekers (like all of us) face an unforeseen future. And as demonstrated in the rise in JazzHR's end-of-year candidate volume, they're continuing to apply to open roles at an increasing rate.
Share with job seekers how your organization is supporting your team during these challenging times. Consider including this information upfront in your job description to instill confidence and trust in your employer brand. Here's an example:
"In response to the COVID-19 pandemic, [Company Name] is proud to offer the following benefits:

The option to work remotely

Personal protective equipment (PPE) for all on-site workers

Ongoing health and safety training

Flexible schedules for working parents

A $500 home office stipend
[Company Name] is committed to the career development of each of our employees. Learn more about our continuous education program."
Want more insight? Follow us for a deeper dive into these trends in our next SMB Recruiting Report.

COMMENTS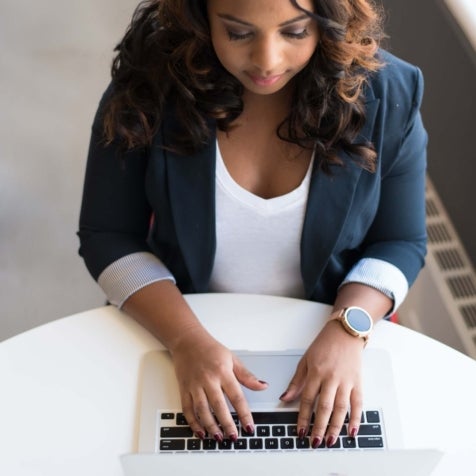 Popular Articles