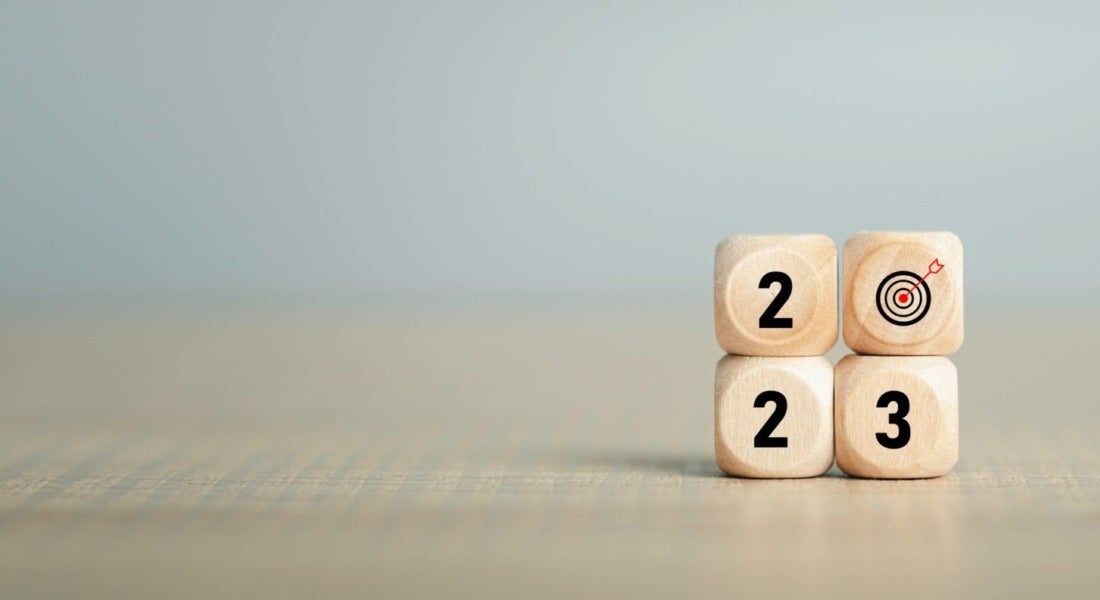 13 Ways to Improve Your Hiring Efforts in 2023
Guest blog from Terkel.io
From promoting good works for team engagement to writing outstanding job descriptions, here are the 13 responses to the question, "Can you share strategies you use that will improve hiring efforts in 2023?"
Promote Good Works to Build a More Engaged Team

Expand Hiring Efforts to a More Global Marketplace

Open Up to Remote Opportunities

Leverage Technology to Find the Right Talent

Diversify Hiring Channels to Build Brand Reputation

Use Hindsight to Your Advantage

Be More Involved in the Initial Recruiting Stages

Try an Improved Employee Referral Program

Use AI to Streamline Manual Processes

Personalize the Candidate's Experience

Prioritize Power Skills

Add More Employee Benefits with Company Growth

Write Job Descriptions That Stand Out
Promote Good Works to Build a More Engaged Team
Promoting our CSR initiatives during recruitment attracts top talent looking to affect positive change in the world. Corporate social responsibility programs are now more vital to employer branding.
While conscious consumerism is rising across all generations, Gen Z and other young job seekers are searching for meaningful employment. For this reason, more companies are not only promoting their good works to gain and keep social-minded customers.
They're also tying their mission and values into their recruitment strategies. And by doing so, new hires and veteran team members are more engaged and willing to advocate their workplace culture across social media. This not only increases brand recognition but also elevates the reputation of the business.
Chris Gadek, VP of Growth, AdQuick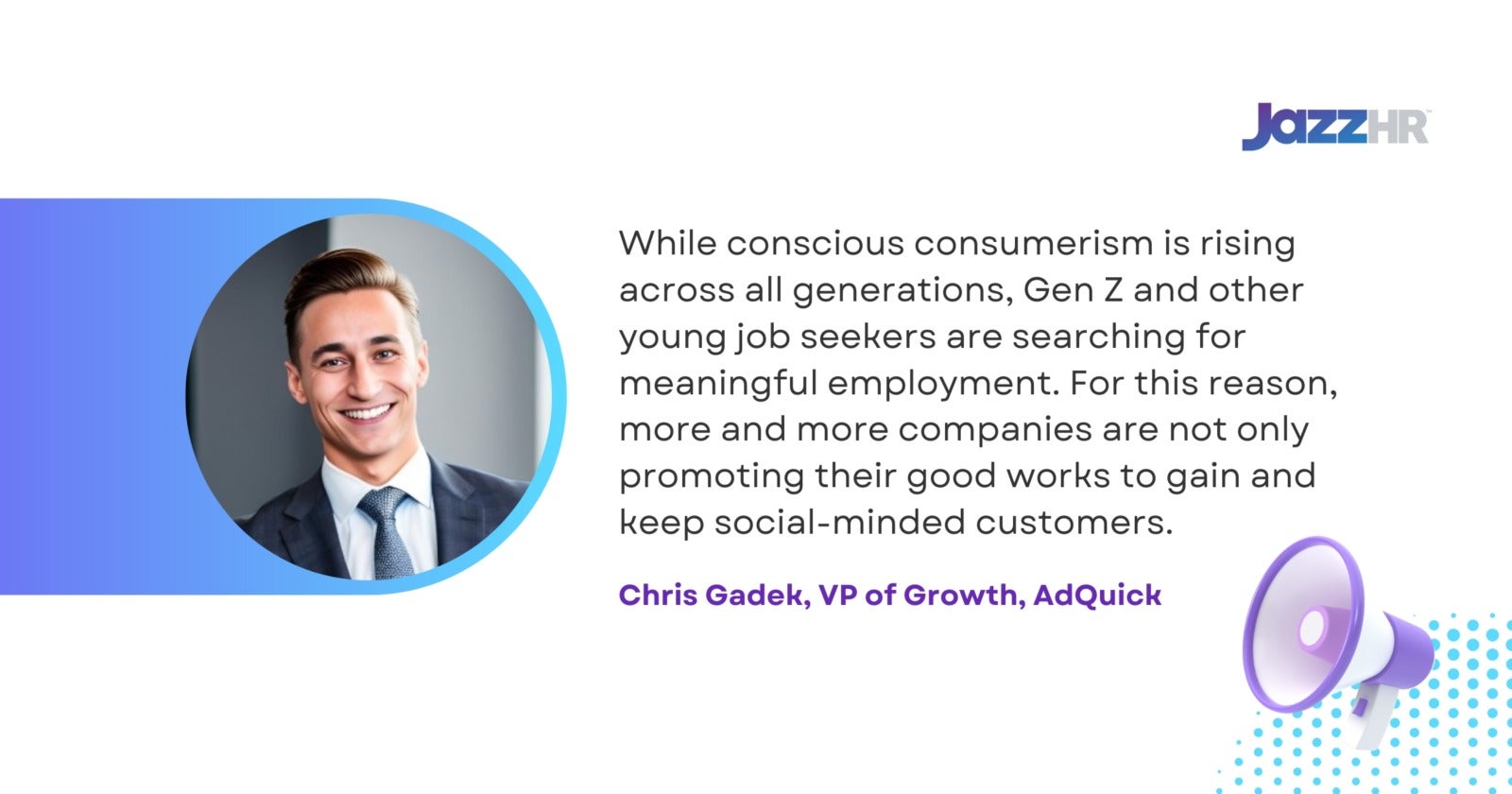 Expand Hiring Efforts to a More Global Marketplace
We plan to expand our hiring efforts to a more global marketplace in order to attract a wider talent pool of talented candidates. One way we could achieve this is by leveraging AI-powered talent-matching solutions to help us identify the best people for each role.
It might sound like science fiction but AI is quickly infiltrating every aspect of our personal and professional lives. By leveraging AI technologies, we can gain deeper insights into the skills and traits of potential candidates and further refine our candidate selection process in order to find the best fit for each role. We are confident that this will help us continue to attract exceptional talent to our organization even as we expand into new markets.
Michael Fischer, Founder, Elite HRT
Open Up to Remote Opportunities
Industries like ours — where every legal decision is life-altering for clients and even society — have always been wary of remote work. We have always followed the traditional work model where employees work shoulder-to-shoulder with each other and deliver as a unit.
The transition to remote work has always been an alien idea to us, and despite its advantages, the legal industry has indeed been resisting this idea for some time. Add to it the challenges of privacy and security, and we have enough reasons to keep up our defiance.
In 2023, however, most of us will experiment with remote positions. Considering how industries across the globe are boasting of successful transitions, it only makes sense for us to open our minds to remote work possibilities too, and that's what we intend to do in the new year.
Riley Beam, Managing Attorney, Douglas R. Beam, P.A.
Leverage Technology to Find the Right Talent
One strategy I am using to improve my hiring efforts in 2023 is leveraging technology and data to pinpoint the right talent. By leveraging analytical tools, recruiters can automatically match job seekers with positions that are most suited to their skills and experience.
This allows employers to quickly identify potential candidates who will be a great fit for the open role, while also saving organizations time and money in the hiring process. Additionally, I am using data-driven strategies, such as predictive analytics, to identify high-potential candidates from a larger pool of applicants. By using these tools, employers can quickly identify those individuals who have the highest chance of becoming successful employees within their organization.
Finally, I am also leveraging social media platforms as a tool to create and share job openings, allowing employers to reach a broader pool of potential candidates.
Amira Irfan, Founder & CEO, A Self Guru
Diversify Hiring Channels to Build Brand Reputation
Diversifying the channels used to engage and hire fresh candidates is a great way to bolster your recruiting process, something that has become important in today's crowded job market.
By leveraging methods, such as online employment marketplaces, job fairs, referrals, and targeted recruitment campaigns, you can ensure that you're reaching a diverse range of talented candidates.

It's also important to acknowledge the strengths of each channel. For example, expanding your hiring process by using social media platforms, like Facebook, Instagram, and LinkedIn, is a great way to give potential hires a sneak peek at your workplace culture.
This can be an effective way to meaningfully engage with top talent who might not currently be searching for a job, planting a seed in their mind for the future. By using various channels, you can promote vacant jobs, while simultaneously bolstering your brand reputation, opening your business up to more candidates in the future.
Clare Jones, Marketing & HR Manager, OfficeSpaceAU
Use Hindsight to Your Advantage
Now that the urgency of the pandemic is interfering less with hiring data, we can look at 2022 as a reliable indicator of our hiring needs, processes, and shortcomings. We will look at our post-mortems from 2022 to inform our approach in 2023, including new surveys of employees who were hired during that season.
Hearing each candidate's experience with some hindsight and context after a year at our organization can help us implement their feedback more effectively. Their insights will also be more nuanced as they are now familiar with the workplace and culture that they were being hired into.
Gates Little, President & CEO, altLINE Sobanco
Be More Involved in the Initial Recruiting Stages
As we move into 2023, one strategy I am using to improve my hiring efforts is getting more involved in the initial stages of the recruiting process. In the past, I have relied on my HR department to screen candidates and identify potential interviewees.
However, I have found that taking a more hands-on approach can lead to better results. By getting involved early on, I can help ensure that we identify suitable candidates for our open positions.

In addition, I can provide input on what specific skills and qualifications we should be looking for in our ideal candidates. By taking a more active role in the recruiting process, I am confident that we will be able to find the best possible candidates for our open positions in 2023.
Tracey Beveridge, HR Director, Personnel Checks
Try an Improved Employee Referral Program
We are improving our employee referral program with a two-part referral bonus. Successful referrers receive the first part of the bonus when their referees are hired. They get the second part when the referees reach the sixth month of employment. This bonus structure helps with employee retention as it motivates referrers to encourage their referees to stay longer.

It's crucial that we continue our positive and supportive company culture for the referral program to work. Another aspect is ensuring that our employees understand the requirements for available positions.
Kevin Huang, Founder & CEO, Ambient Home US
Use AI to Streamline Manual Processes
There's no getting away from integrating AI into HR teams in 2023, and it's actually amazing just how sophisticated AI software has grown in a relatively short space of time. A lot of the hiring process is taken up by manual tasks which, when you actually look into it, can not only be streamlined but improved by AI technology.

For example, skills-based matching and profiling of potential candidates with their application enables the HR team to have a well-rounded picture of not only current skills of candidates, but future placements into your existing teams.
Dawn Wood, HR Manager, Woodyatt Curtains
Personalize the Candidate's Experience
Delivering an inclusive world-class candidate experience starts with creating an immediate connection. We appreciate being able to leverage JazzHR to support us in creating that first impression.
All companies would benefit from updating their ATS email templates. Get creative, inspire your future colleagues, and update the responses to match your company's unique culture. This is where you differentiate. No one appreciates getting a template response thanking them for applying and that you'll be in touch if you think they are a "fit."
A little customization goes a long way to show you care about the candidate's experience and serves as a preview of what it's like to work with you. Add your team's personality from the start, show your appreciation for their interest in your company, set expectations on what the next steps are, and avoid words like "fit" (instead highlight how someone is going to "add" to your culture) becomes a great first step in more hiring success in 2023.
Heidi Hauver, VP of People Experience, Shinydocs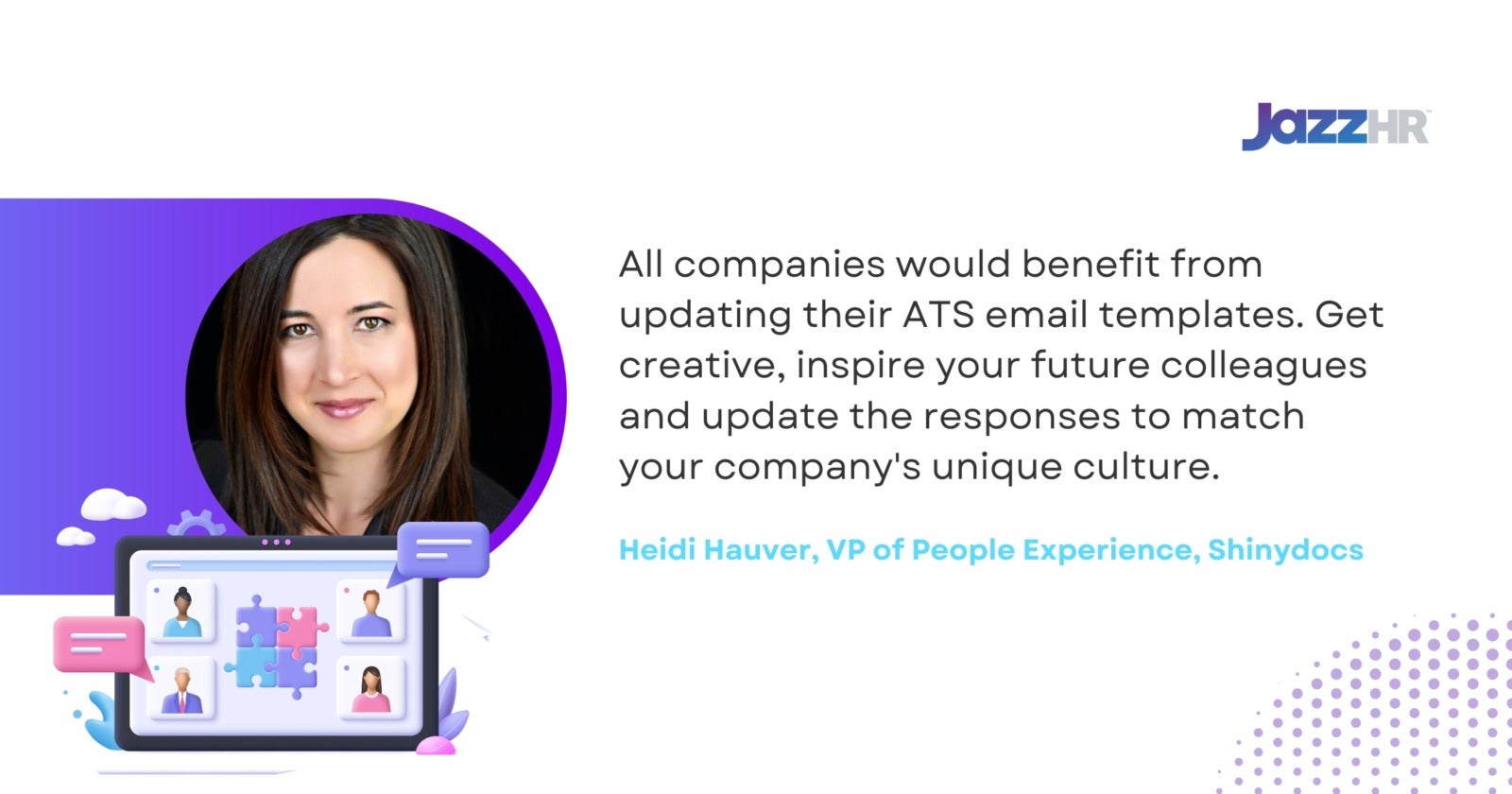 Prioritize Power Skills
We're redefining crucial soft skills as "power skills" to combat the growing hard skills gap. Our job postings will prioritize the power skills we seek — those relationship-centered attributes, including strong communication, EQ, professional attitude, and more.

Many hard skills used to be considered "must-haves," while soft skills were "nice-to-haves" or omitted completely. We're flipping the script on that outdated approach, hiring for the right soft skills, and offering L&D opportunities to bring our hires up to speed on the technical stuff.

As technology and automation grow exponentially, hard skills become outdated quickly. We're seeing that even if a candidate possesses the right hard skills, we'll need to retrain them often, so we'd rather hire people with a strong willingness to learn and a great attitude.
Maximilian Wühr, CGO & Co-Founder, FINN
Add More Employee Benefits With Company Growth
2023 is going to be the year when employees will find an environment that is stress-free and rewarding in terms of their mental well-being. For many reasons, the last three years were stressful, and looking for such relaxation in the upcoming year will become quite normal.

One strategy that we are planning to use in 2023 is promoting the company as a favorable employer, looking after employee benefits along with the growth prospect of the business. Ensuring work-life balance is the core of this effort and introducing more flexible ways of working, adding more breaks within work, and some relaxing activities in between are parts of the plan.
The aim of such activities is to create more happy, energetic, and motivated employees. When people are not stressed, they can give their best, and when they are happy, they will talk more about their life on social media and within their networks.
Saikat Ghosh, Associate Director, HR & Business, Technource
Write Job Descriptions That Stand Out
Job descriptions are an often-missed opportunity in the hiring process. They're one of the first interactions with candidates and the only step that almost 100% of candidates touch. Getting them right means your top candidates stop scrolling and decide to apply.

So many companies throw away this opportunity by using standardized templates that put people to sleep. We've been able to double the quality of candidates by writing job descriptions that:

• Highlight the real benefits of working with us from the candidate's perspective ("What you can expect").
• Are tailored to the exact candidate we're looking for and detract those who aren't a great fit.
• Don't contain corporate fluff. We don't talk about ourselves or how amazing we are and cut all information that's unnecessary (like long-winded intros). We write in a personal tone.

That's one strategy I'd recommend to improve your hiring efforts in 2023.
Julian Schaaf, Head of Marketing, Gomada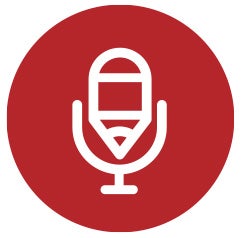 Terkel creates community-driven content featuring expert insights. Sign up at terkel.io to answer questions and get published.
COMMENTS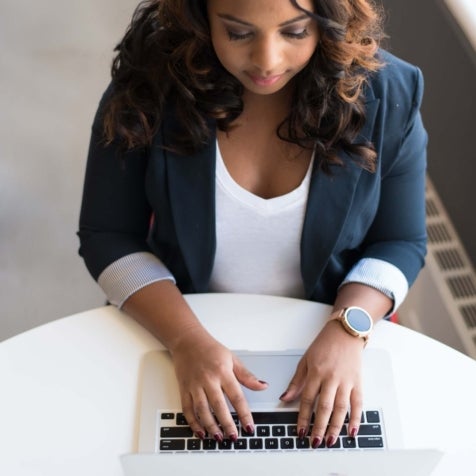 Popular Articles