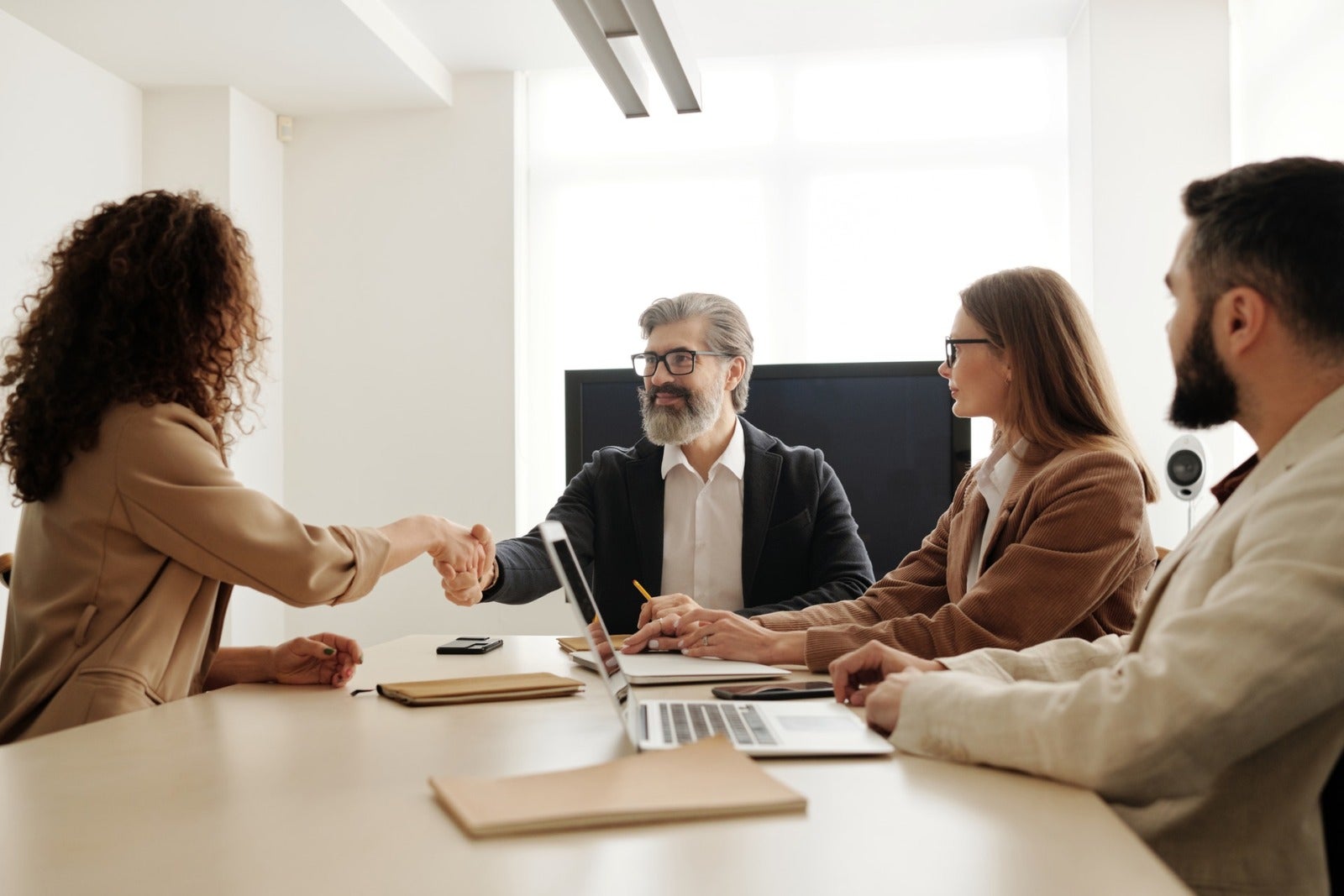 Fueling Your Passive Sourcing Engine: A Guide
Passive sourcing is certainly a time-intensive task for today's talent acquisition teams.
However, building a robust pipeline of strong-fit prospects by proactively reaching out to passive candidates across career-centric channels (in addition to enticing active job seekers to apply on their own, of course) is a tried-and-true approach to bolstering one's talent pool and, over time hiring high-quality candidates who can have a positive impact on one's business.
The trick is knowing how to find passive candidates — both externally (via job boards and social media) and internally (through employee referral programs and using the search functionality of your applicant tracking system to identify previously engaged "passives" already in your database).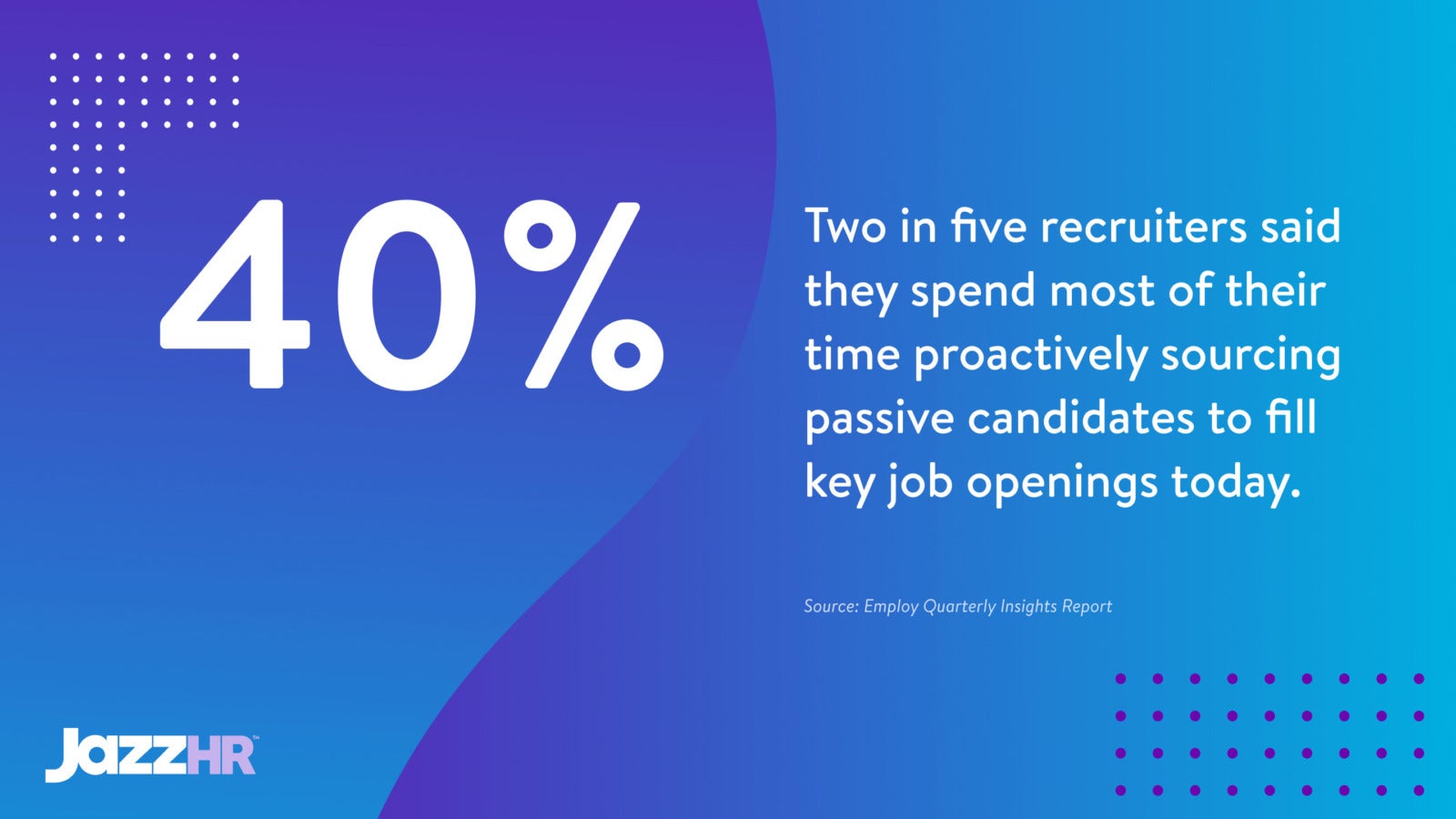 6 tips to improve your passive sourcing
Looking to enhance how your TA team sources candidates? You've come to the right place. Here are some proven ways to recruit passive candidates and fill critical roles at your business faster.
1) Embrace sourcing on social media
Let's be honest: Social media platforms are a gift for the modern recruiter. After all, tools like LinkedIn provide more information about passive talent than recruiters were ever able to get a decade ago.
Now, you can quickly start your passive sourcing by looking for your industry's top performers and reaching out directly with almost no effort. Then, with a few clicks and keystrokes and you can put a message directly in the passive candidate's pocket via LinkedIn's messaging feature.
Posting content on social media platforms will also help your passive sourcing. It provides an excellent opportunity to engage with potential hires who follow your brand. You can show off your employer brand, and encourage them to apply for roles.
Don't be afraid to get creative too. For example, post a quiz or contest to gamify the experience. You can then follow up on people who engage and demonstrate the right knowledge or skills.
2) Build candidate relationships — patiently
Active candidates want to find work as soon as possible. Passive candidates, on the other hand, can afford to wait until a compelling opportunity appears. Because of this paradigm, the hiring cycle is typically more drawn out with passive candidates.
As hiring managers, it's therefore important to develop strong relationships with potential candidates. This helps usher passive hires along the longer hiring process.
Bearing this in mind, not all communication with sourced passive candidates has to be tied to an active requisition. Consider sending an email just to check in on how they are doing professionally. This will allow you to get to know more about their skills and experience.
You can also ask questions and try to build a more friendly relationship with them.
For example, if you know they went to college in a city you like to visit, you can mention that. It's a way to build a human connection and not just make the interaction feel like a transaction.

3) Hone your sales skills
For passive candidates who may be indifferent or even opposed to the idea of changing jobs, recruiters need to really lean on their sales skills. Building a relationship and personalizing messages are the foundation here.
Play up the benefits of working for your organization. Don't do this by only trying to dazzle them with compensation and benefits. Yes, this is crucial. But you need to take a holistic approach.
Sell them on a more emotional vision. (Perhaps by sharing your company values with them.) Also, talk to your company's culture and how you envision the candidate being a great fit.
If you have the time, you can do some extra sleuthing and explore how your offer might improve on their current role. For instance, by looking at job postings on their current employer's website, you might find that their current role doesn't offer any flexibility. You might then decide to make this a key part of your sales pitch.
You can also pass on some relevant articles that might be of interest. That way you can engage with them in a less obtrusive manner and provide value to them upfront.
4) Ask your employees for referrals
Did you know many employers rank referrals over any other employment tactic?
That's right. Your current employees are one of your best hiring resources. Why? Because they already have relationships with skilled workers at other companies who might leave for a better role. And you can leverage that relationship. Your employee can vouch for your company.
Of course, your employee also vouches for your new hire.
Referrals are a great source of high-quality talent that you can feel confident in. You can easily gain clearer insights into candidate history and experience, compared to individuals who come through external channels. What's more, hiring a referred candidate means you don't have to spend time searching for hires or building trust from nothing.
Not only will hiring a referred candidate make the process quicker and less expensive, but referral hires tend to have higher job satisfaction, making them more likely to refer new candidates too.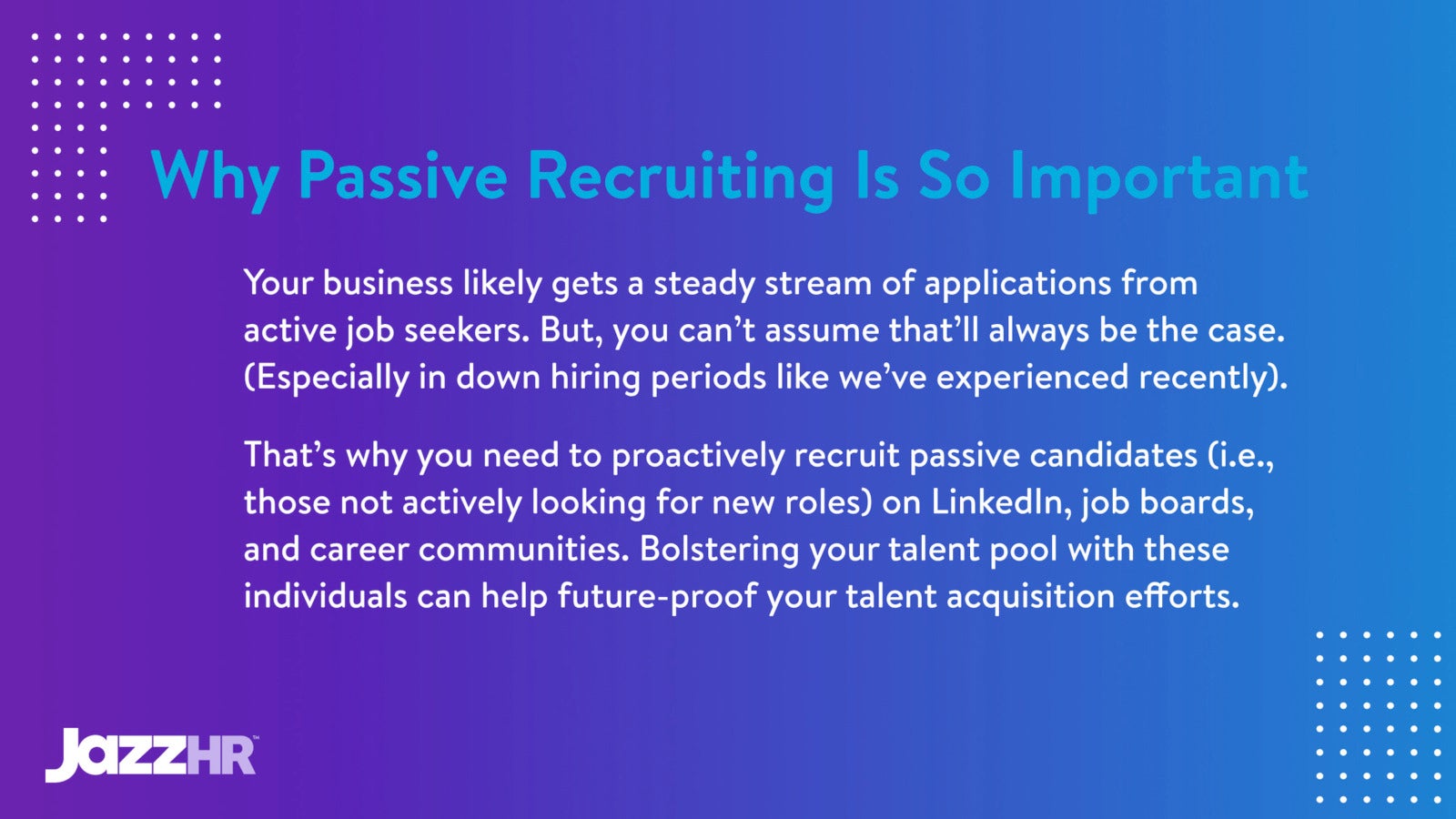 5) Reach out to former employees
Your relationship with a previous employee should not end with their last day. There are many benefits to attracting talent that has previously worked in your organization.
For starters, it speeds up the hiring process as you already know them. When a good person leaves, it's worth adding them to your applicant tracking system. Note their key strengths and skills, ready for when a similar opportunity arises again.
Former employees will also get up to speed faster as they already know your company and its processes. This will feel especially attractive when you consider it takes several months before new hires become fully productive.
To make it easier for former employees to fill roles, it helps to stay engaged with them when they leave. You can do this by keeping them up to date on events from your business with a newsletter.
6) Maintain a clean, easy-to-navigate candidate database
Finally, you need to support your passive sourcing efforts with a hiring platform that comes with a candidate database. Armed with your candidate database you'll have access to past applicants and interviews that may not have been the right fit at the time but could be worth reaching out to in the future.
In addition to contact info and experience, these databases should document each candidate's unique strengths and weaknesses using an applicant tracking system. Then, you have strong candidates to contact for future roles that might look a little different than your current openings.
If you'd like to learn how JazzHR can help you and your SMB's recruiting team level up your passive recruiting strategy (and talent acquisition approach at large), we're here to talk. Schedule a demo today.

COMMENTS