How to Post a Job on LinkedIn: A Guide for Recruiters
With over 800 million users (and counting), LinkedIn is the world's largest professional networking site. More to the point, it's arguably the premier, career-centric social media site on which you should publish your job postings so as to attract a high volume of highly qualified candidates.
Thus, if you don't know how to post a job on LinkedIn — and, equally as important, get said jobs in front of your ideal candidate profile (ICP), not just any job seekers — now's the time to learn al about using LinkedIn Recruiter and taking full advantage of all the social network has to offer.
Why practically all employers create a company page and post jobs for free on LinkedIn
LinkedIn is an especially powerful tool for today's employers. With its vast network of profiles for professionals worldwide, it offers companies an easy and direct way to engage with millions of potential candidates. Even businesses with modest daily budgets for posting LinkedIn jobs can benefit from the site's free job post functionality. Well, up to a certain point, that is.
Using LinkedIn for free means dealing with limitations. Free job postings only stay live for 21 days. Meanwhile, free users can only post a finite number of listings within any given 30-day period.
Doing so simply requires a dedicated LinkedIn company page, which will house your open roles and serve as a central location for your employer brand. Your job postings will also appear in search, and candidates will be able to find them before deciding to submit an application or not.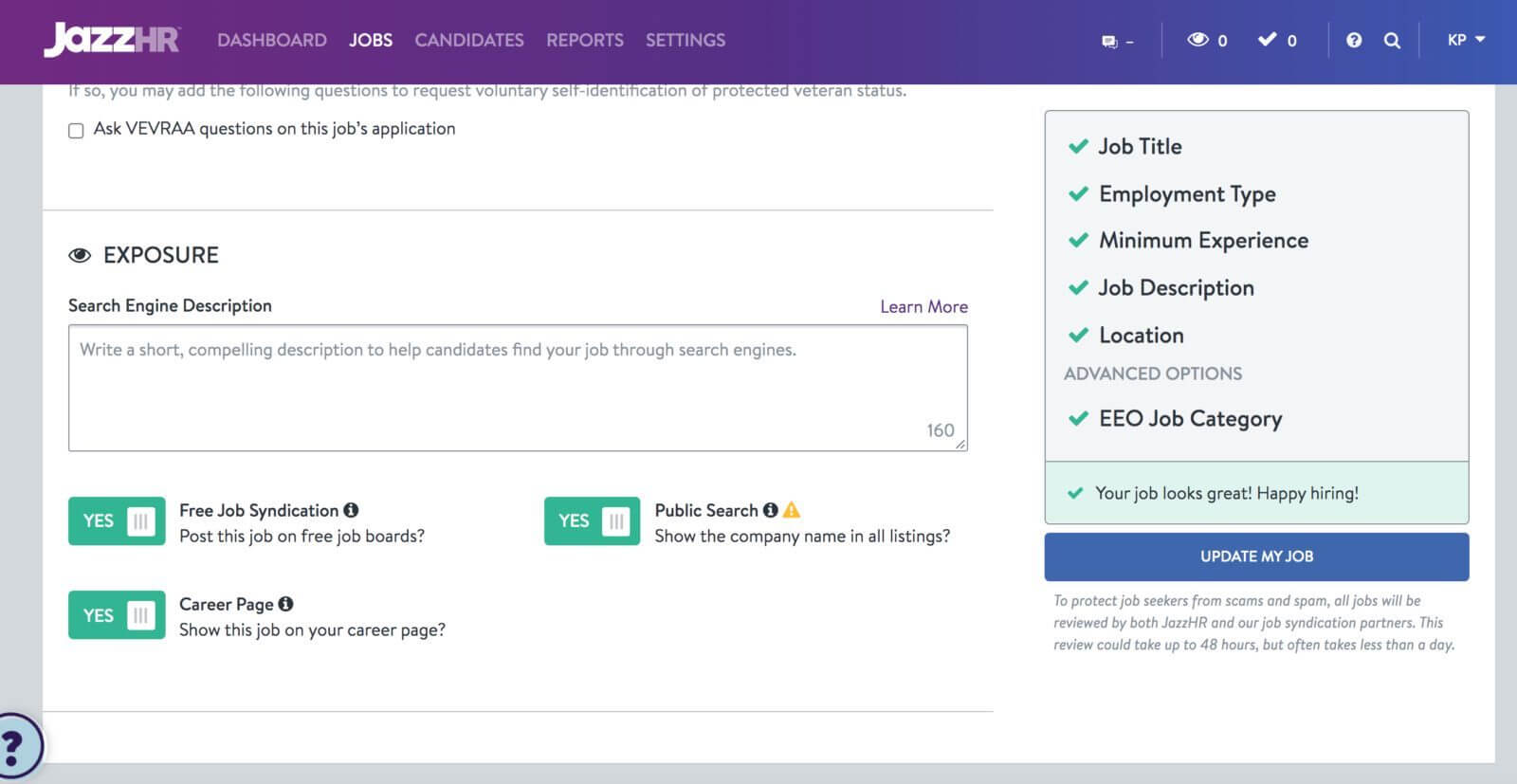 How to publish promoted job posts to LinkedIn (and as many times as you want in 30 days)
Posting your job to LinkedIn is a simple process, but doesn't allow you to cast the widest sourcing net possible. With an applicant tracking system (ATS) like JazzHR, though, your talent acquisition team is able to post promoted jobs to LinkedIn along with 20+ other job boards in just a few clicks.
To post a job to LinkedIn from JazzHR, for instance, all you need to do is simply toggle the "Free Job Syndication" button to "Yes" on the "Post" tab of your job — then boom, your click posted the Job.
Once you've posted your role, it'll appear on all relevant job boards, including LinkedIn.
Leads who apply will then funnel back into JazzHR so your team can begin narrowing down your talent pool to find best-fit hires (i.e. those whose skills and experience align with job titles and job descriptions.)
Notably, you can take advantage of more nuanced candidate filters, send 100+ InMail messages to prospects of interest monthly, collaborate with fellow hiring team members on LinkedIn, and access more granular data and insights associated with job seekers who click on postings and apply to them.
Deciding whether or not to invest recruiting budget (and time and resources) into posting paid listings to LinkedIn is different for every small business. Your best bet is to stick to publishing free jobs on the platform.
If, over time, you see a low quality and/or quantity of applicants applying for open positions, that may be a sign it's time to allocate more ad dollars to the social network.
Learn how you can use the JazzHR-LinkedIn integration to further strengthen your SMB hiring efforts. Schedule a demo with our team today to learn all about our advanced ATS.

COMMENTS