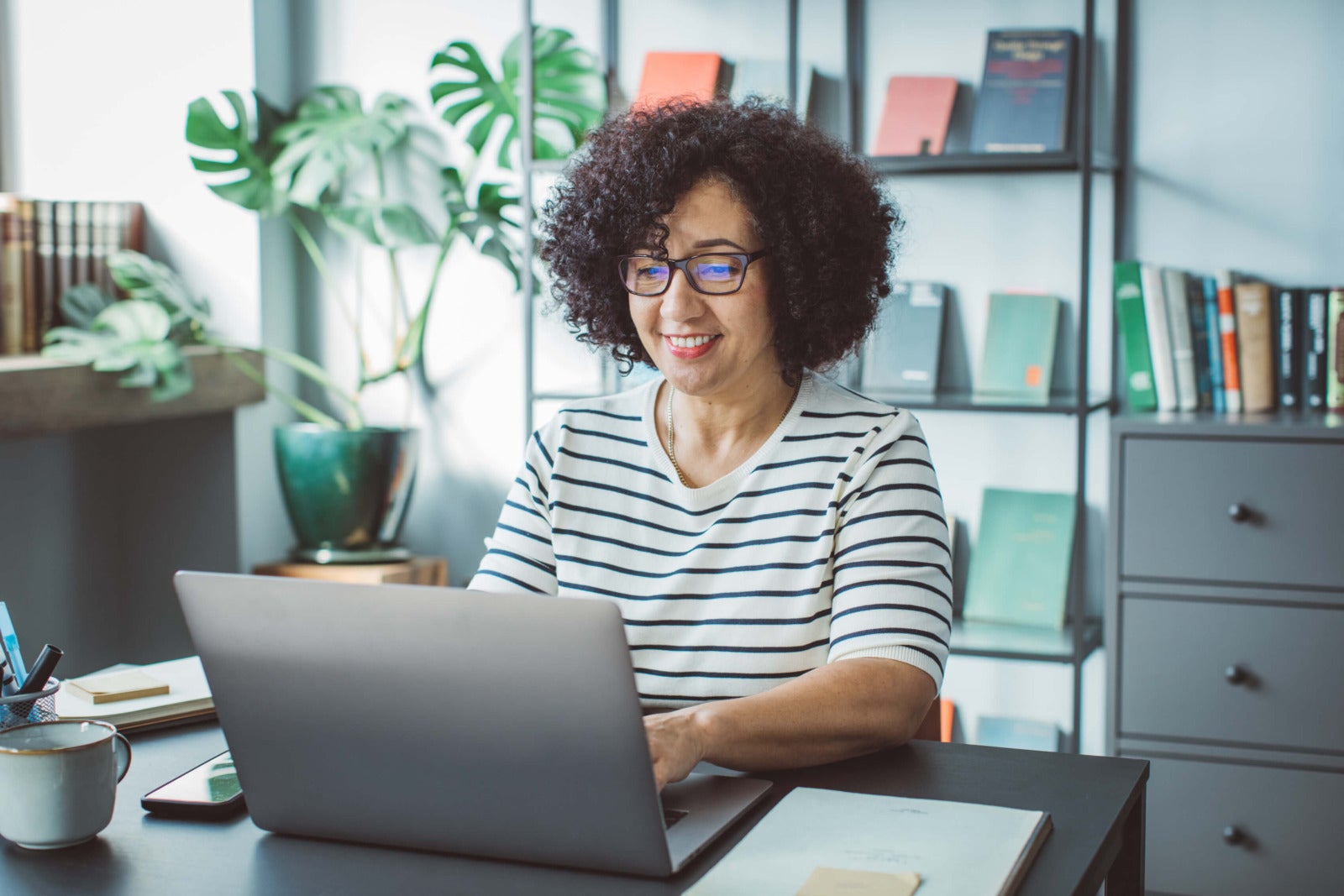 Data-Driven Recruiting: How to Leverage Talent Analytics
In today's competitive job market, small and medium-sized businesses (SMBs) need to be at the top of their game when it comes to talent acquisition. One of the most effective ways to do this is by adopting a data-driven recruiting strategy.
By leveraging the power of talent analytics — ideally, analytics built right into an applicant tracking system for small businesses like yours — you can better understand your potential candidates and develop more effective hiring plans, streamline your recruitment process, improve your quality of hire, and help your organization reach its full potential.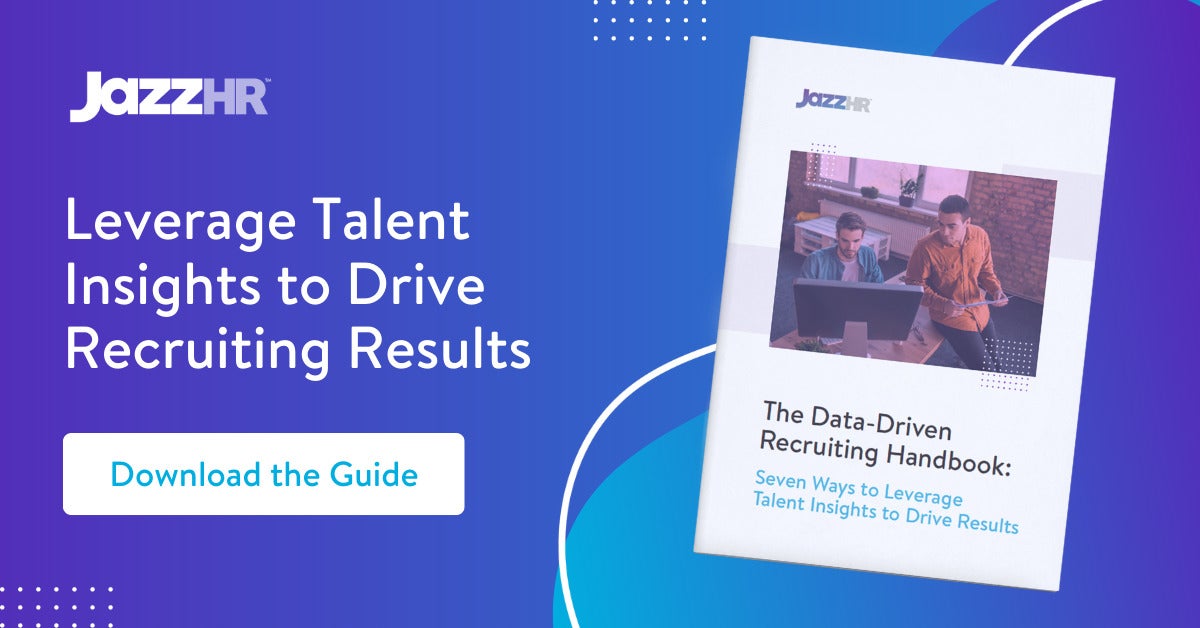 The benefits of data-driven recruiting for SMBs
When it comes to hiring, making decisions based on data rather than intuition has numerous benefits. Implementing a data-driven approach empowers your hiring managers and recruiting teams, providing them with the tools and insights they need to make smarter, more effective hiring decisions.
There are four key benefits of incorporating data into your hiring process:
1) Improve the quality of hire
Analytics provides objective insights that can elevate your hiring decisions, enabling you to ID candidates who best align with your org's needs and ensure you only employ strong-fit individuals for crucial roles at your company.
"Measuring the quality of hires is critical to understanding the effectiveness of your recruiting process and proving its strategic value to internal stakeholders," Employ SVP People & Talent Corey Berkey explained to Spiceworks.
2) Enhance candidate experience
By tracking key recruiting metrics tied to your SMB talent team's sourcing, nurturing, and interviewing efforts, you can gradually improve the candidate journey for each prospect you engage — and bolster your conversion rates.
Moreover, you can address any roadblocks that hinder the talent acquisition process (e.g., overly lengthy interview stages, delayed prospect feedback) and, in turn, elevate the experience for both candidates and hiring managers alike.
3) Optimize your hiring funnel
Access to real-time data tied to your TA strategy can identify bottlenecks and opportunities tied to your day-to-day work.
For instance, if your talent analytics reveals your average time to hire is slipping from one month to the next, you can see what facets of your full-cycle recruiting are slowing down your hiring approach and rectify them accordingly.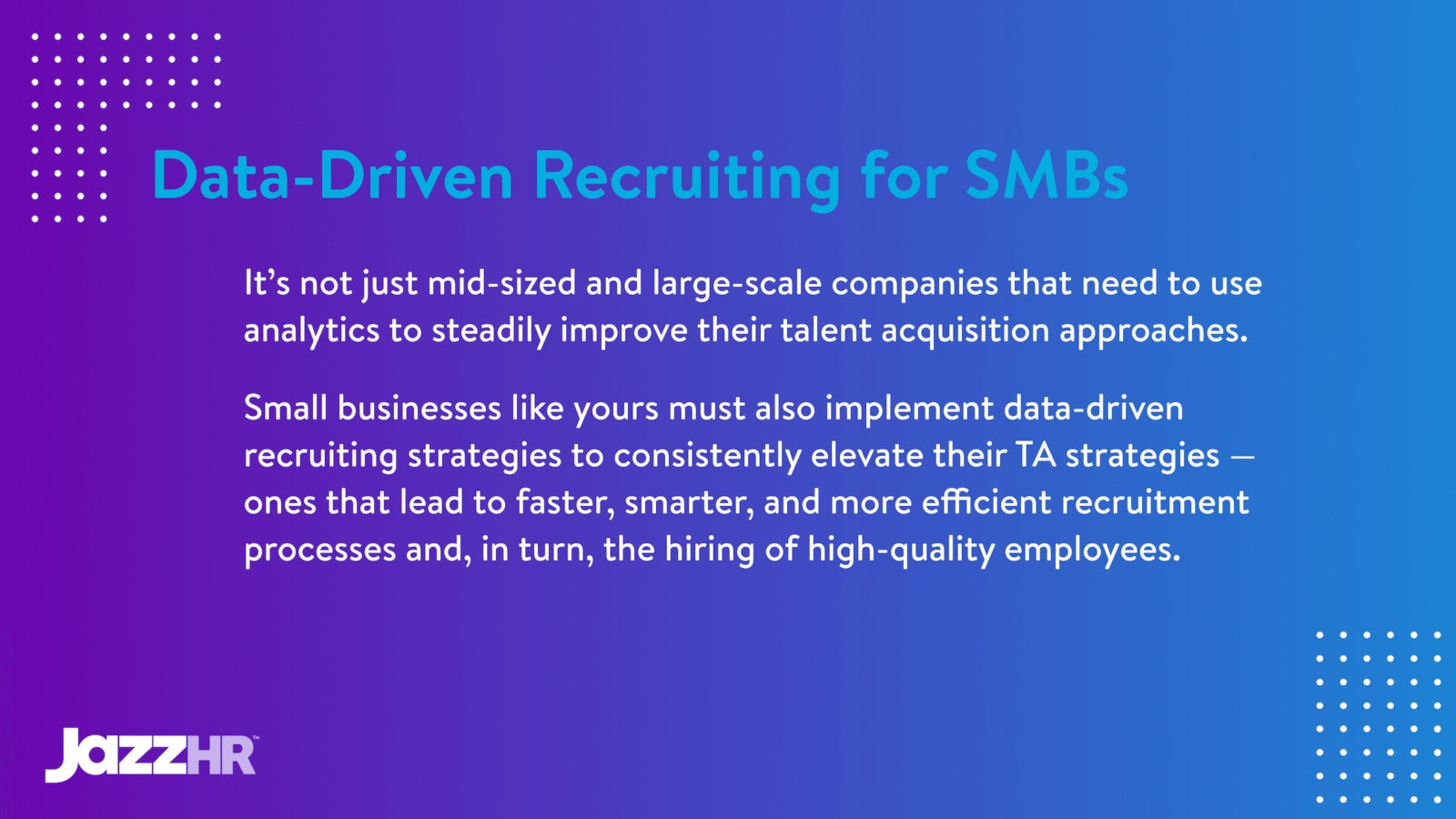 4) Integrate all your data systems
You're a small business. That means your TA tech stack likely isn't as intricate or complex as those of mid-sized or enterprise orgs. That said, if you're like most SMBs, you still leverage a variety of tools to collect TA- and HR-related data.
The trick to making the most of these disparate data sets is to unify them into a centralized source. An SMB-centric ATS like JazzHR allows our customers to integrate popular recruiting tools and databases directly with our ATS.
Consider Lever customer Novoscale.
"We use Hacker Rank, CareerBuilder, Outlook Calendar, BambooHR, Monster," Novoscale Head of Talent Francisco Herrera said in our case study. "All of these connect JazzHR so we were easily able to unify our data sources."
What's more, Francisco added he and his TA team can now "benchmark our success and provide reports that defend our recruiting KPIs from upper management," thus helping them showcase their TA-related progress.
Crafting your data-driven recruiting strategy
To create a successful data-driven recruiting strategy, your small business needs to collect, analyze, and act on relevant data points throughout the hiring process. Here's a step-by-step guide to help you get started:
Identify your most important recruiting metrics
Define your hiring objectives and the metrics tied to them you must track over time to gauge your performance.
Start by determining the most important recruitment analytics for your business. These can include "standard" metrics like time to hire/fill, cost per hire, source of hire, quality of hire, and candidate experience. That said, with the right SMB talent analytics, you can also tracking your:
Pipeline speed: How quickly your recruiters advance candidates from one funnel stage to the next
Candidate engagement: How often prospects open and reply to your nurture emails and texts
Diversity recruiting: How many diverse leads added to your talent pool and engaged for open roles

Collect and take advantage of highly relevant data
To make savvy, data-driven recruiting decisions, you first need access to the right data. Start by collecting data throughout your hiring process, from job postings and applications to interviews and final hiring decisions.
Pay special attention to your sourcing avenues (i.e., where you tend to source the most talent and the most fruitful sourcing avenues that lead to the most hires) and candidate qualifications and skill sets.
Regarding this latter data point, your applicant tracking system should be able to help you find leads in your system who align with the specs outlined in a job posting/description quickly and efficiently. If it doesn't, it's time to upgrade your ATS — one that's more advanced yet intuitive.
Analyze your data (and often) to gradually improve
With the optimal data in hand, you can start pinpointing trends and correlations associated with your TA strategy. Look for correlations between different variables and determine which factors lead to successful hires.
What patterns do you see in your hiring funnel? Are there specific steps or channels that tend to produce the most qualified candidates? Asking questions like these will help you and other hiring team members understand where your current strategy is succeeding and where improvements are needed.
For example, if you find that the candidates sourced from a particular job board — a popular one like Indeed or LinkedIn or ones for nice positions — are consistently high-performing, you can focus more resources on that platform.
Take action on your talent acquisition insights
Use your analyses to make data-driven improvements to your hiring process. This may involve refining your candidate sourcing strategies, tweaking your interview process, or investing in additional training and development for your recruiting teams to better interact with and advance top talent.
For instance, you may decide to modify your job postings to better attract qualified candidates, if you find the impact job descriptions for recent roles haven't led to as many applicants as you would've liked to have.
Data-driven recruiting: A continual process that requires close attention
Talent acquisition is an ever-evolving process. Continuously monitor your recruiting metrics and make adjustments as needed to ensure your data-driven strategy remains effective and aligned with your organization's goals.
To fully reap the benefits of a data-driven recruiting strategy, it's vital to invest in the right tools and resources. JazzHR, a leader in talent acquisition software, offers a range of comprehensive candidate management capabilities.
Looking to leverage the full power of your talent acquisition data and insights? Look no further than JazzHR's powerful yet intuitive ATS built specifically for small businesses. Book a demo today to learn how we can help you reach your hiring goals.