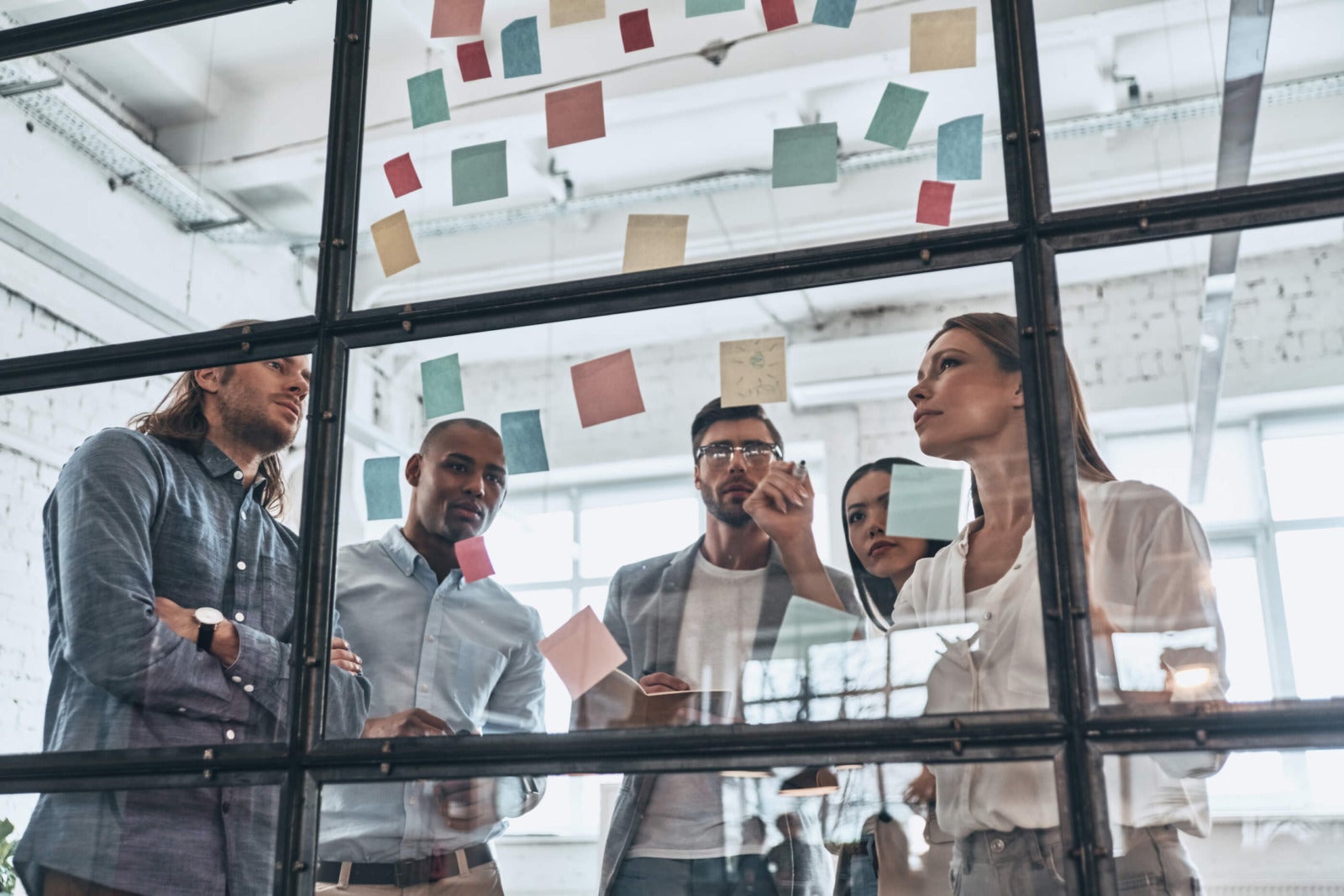 How to Enhance Quality of Hire Using Your Talent Data
A big part of hiring managers' job today is to ensure their quality of hire is strong — and continually improves. That means liaising closely with talent specialists who are assigned to their requisitions throughout the entire recruitment process.
By doing so, they can make sure only the most applicable candidates (i.e., those with the "matching" skill sets and experience levels) advance from one funnel stage to the next — and prospects the hiring team collectively agrees is best get job offers.
It may seem obvious, but it's worth saying: High-quality hires are vital to your company's long-term success.
Only when your workforce is comprised of top-tier professionals who have the requisite knowledge and drive to succeed in their respective roles can you realize a healthy and productive work environment and ensure substantial employee satisfaction, both with their jobs and the company.
And the key to effectively measure and gradually improve quality of hire starts and ends with utilizing your talent data sets.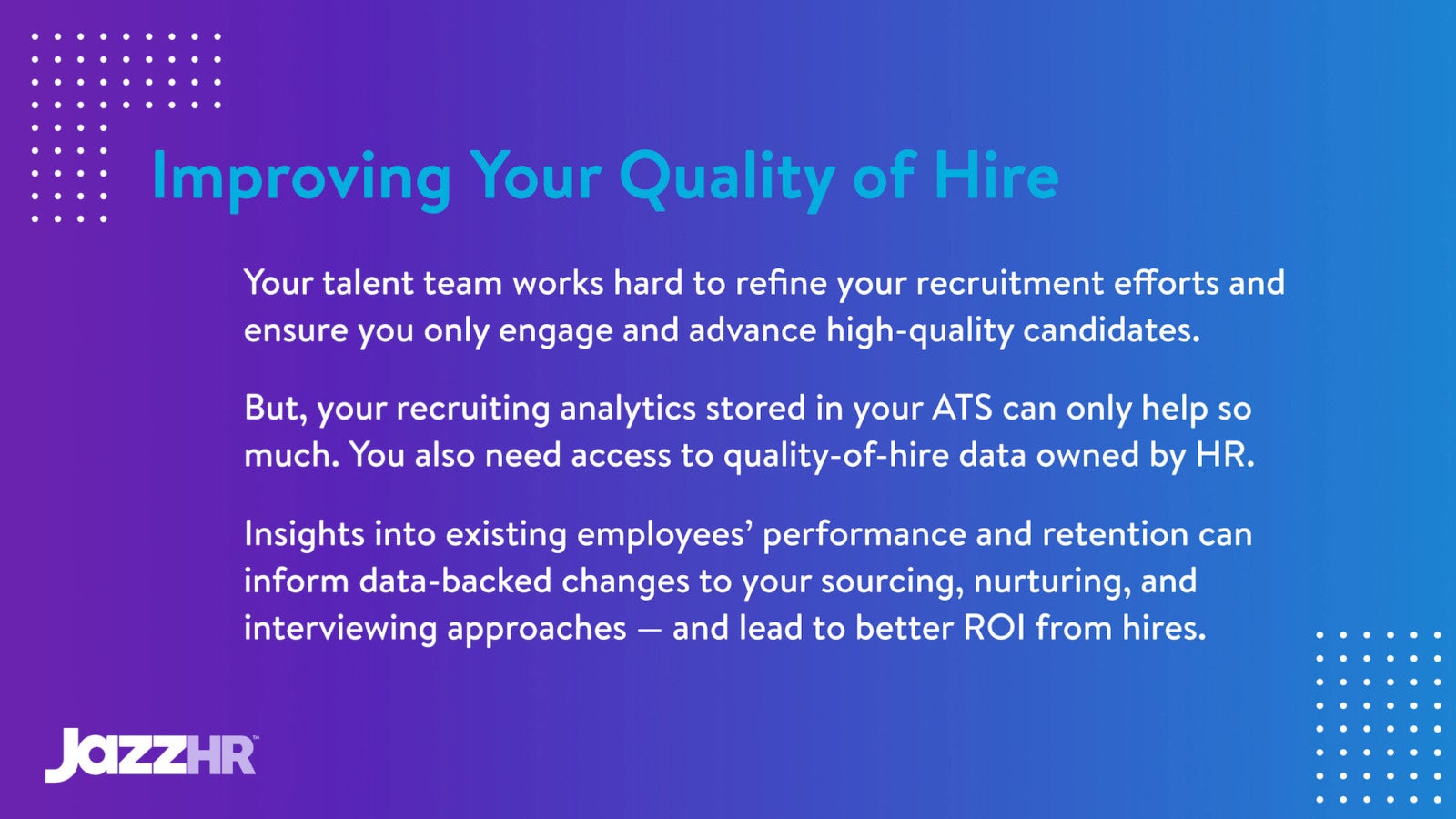 What is quality of hire, and why does it matter?
Quality of hire is a recruiting metric that measures the value new employees bring to an organization.
A high-quality hire contributes positively to the workplace with strong performance, innovation, and lasting retention. In other words, they help "move the needle" for their employers by directly or indirectly aiding bottom-line growth.
In contrast, a worker with a low quality-of-hire score doesn't thrive in their day-to-day role, often requires regular assistance to complete their core tasks, and has a limited (if any) positive impact on team and organizational KPIs.
Quality of hire metrics encompasses a variety of factors. These range from hiring manager satisfaction, to performance reviews, to employee longevity.
By determining a quality-of-hire score, your HR and recruiting teams can analyze and refine their joint hiring processes to optimize overall TA costs and ensure all new hires align with your org's strategic vision, mission, and goals.
Talent data's role in measuring quality of hire
Talent data is crucial to enhancing the quality of hire in your org, which is vital to the company's overall success. By leveraging data from various sources — including your HR team's HCM/HRIS systems — your hiring managers can capably monitor and improve their recruiting processes.
Some of the most critical sources of pre-hire and post-hire talent data sets include:
Employee performance: Quantitative insights tied to workers' efforts to achieve assigned OKRs
Hiring manager satisfaction: Qualitative insights from people managers regarding reports' production
Employee retention: Literally how long each individual at your small business remains at your company
Employee engagement: Denotes how often workers proactively participate in organizational activities
By factoring in all these specific data points, your talent and human resources teams can discern the strength of historical hires. (Giving them at least six months or so to prove themselves on the job, of course.)
Through this analysis, they can then work with hiring managers to identify traits of high- and low-quality workers. Moreover, they can make data-backed changes to their recruitment model to ensure only top-tier talent is hired.
And yet, a recent JazzHR survey of 5,000+ small business talent pros and leaders found only about half calculated the quality of hire for their workforce and made efforts to improve their hiring quality.
As the saying goes, you can't improve what you don't measure.

The benefits of leveraging data for talent success
Time to hire. Pipeline speed. Offer acceptance rate. There are countless recruiting metrics you and your team must track daily to ensure you make steady progress toward your org's defined hiring objectives.
But, don't forget about monitoring quality of hire. A metric that, when addressed over time (whether monthly or quarterly) by your hiring stakeholders can lead to a stronger workforce and better business results.
Put plainly, the pros of calculating your hiring quality — and regularly modifying your recruiting approach at large to elevate said metrics — are many. The top benefits of improving your quality-of-hire metrics include:
Optimizing your sourcing strategies
Your talent acquisition data sets stored (and, ideally, dynamically updated) in your ATS can pinpoint which sourcing channels are most effective, based on how many quality, long-term hires come from said avenues.
"Because of the ever-increasing power of data analytics … hiring managers and recruiters are gaining a more accurate snapshot of the key components that connect data from the hiring process with post-hire business outcomes," SHRM's Roy Maurer recently wrote.
And that includes sourcing insights that reveal the best and worst channels to find premier employees.
Signing more strong-fit candidates
Analyzing talent data helps talent teams identify patterns within the candidate pool that indicate high potential for success within the org. This can range from project completion rates for software engineers, to the success of integrated campaigns for marketing team members.
By comparing the performance of new hires against the profiles of previously successful employees, you can adjust your recruitment strategy to find, engage, advance, and extend offers to only "proven" talent whose characteristics and approaches to work align with those of top performers.
Better aligning with business goals
The typical job performance ramp-up time varies by role and team. That said, after a few months, your hiring managers should be able to gauge how well recent hires are contributing to your org's objectives.
That makes it vital for your talent team to check in with people managers 90 days after each hire is made to get their thoughts on their work performance. These anecdotal insights can inform changes to the types of talent TA specialists engage and screening questions they ask candidates.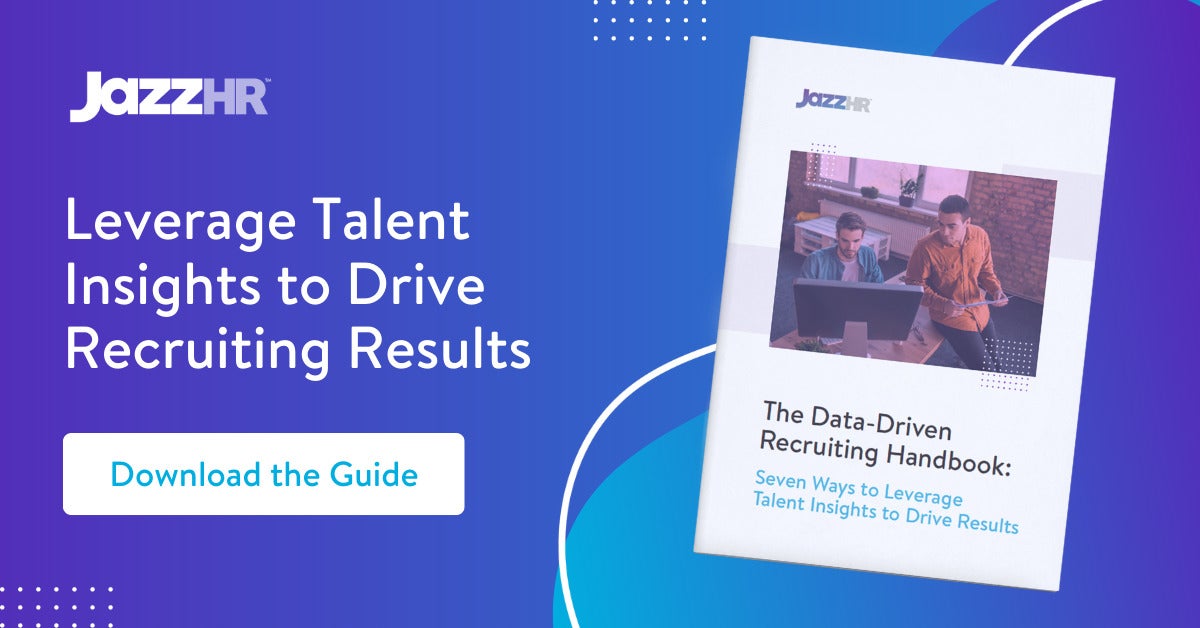 Elevating workforce retention rates
Retention is harder to measure, when it comes to tying it into your overall quality of hire. That's because employees can leave or are let go for any number of reasons, many of which don't relate to the work quality.
That said, by diving deep into your org's workforce retention data and speaking with HR, you can uncover patterns and trends that could enlighten you as to ideal recruitment alterations to make team-wide (e.g., where you source passive candidates).
Improving job-matching for hires
Through talent analytics, companies can identify the key attributes of high-performing employees in specific roles. This knowledge can inform the creation of more accurate job descriptions and requirements for future leads. In turn, this can (and should) lead to better job-matching.
Social job-matching tech "provide[s] an easy way to incrementally increase the value of traditional [candidate] assessments in driving quality of hire," business advisor Dr. Charles Handler recently wrote for ERE.
Bolstering your employer branding
Your employer brand is crucial for attracting and retaining top talent. It's a key piece of the employee value proposition and encompasses everything your org communicates as its identity to potential employees.
The clearer and more compelling your employer branding, the more likely you attract the "right" candidates. (That is, those who deem your business model, company culture, and organizational mission one that aligns with their career aspirations.)
Need a better applicant tracking system to enhance your small business recruitment efforts — and help you improve your quality of hire over time? Look no further than JazzHR. Schedule a custom demo with our team today.