Employ Wins 2023 ADP Marketplace Partner Award
Big news! Employ is thrilled to receive the 2023 ADP Marketplace Partner Award for Best Marketing and PR.
This award recognizes the ADP Marketplace Partner that produces exceptional marketing assets, such as case studies, thought leadership articles, blogs, external media coverage, social media programs, and other efforts.
During the last year, Employ has also helped ADP® customers throughout their recruiting and hiring journeys with award-winning products and services.
Employ and its brands JazzHR, Lever, and Jobvite have supported client organizations of all sizes with integrations that streamline and improve the way companies implement their human capital management (HCM) solutions.
Integrations Between Employ and ADP
Named a Platinum Partner, and listed as a Bestseller on ADP Marketplace, Employ integrates with multiple ADP platforms, enabling customers to recruit top talent and provide an easy and seamless transition through the candidate to employee journey — supporting and engaging employees even before their first day on the job.
Employ provides users with:
Award-winning solutions to solve complex hiring challenges
A robust, secure integration between platforms
Seamless data transfer to ADP systems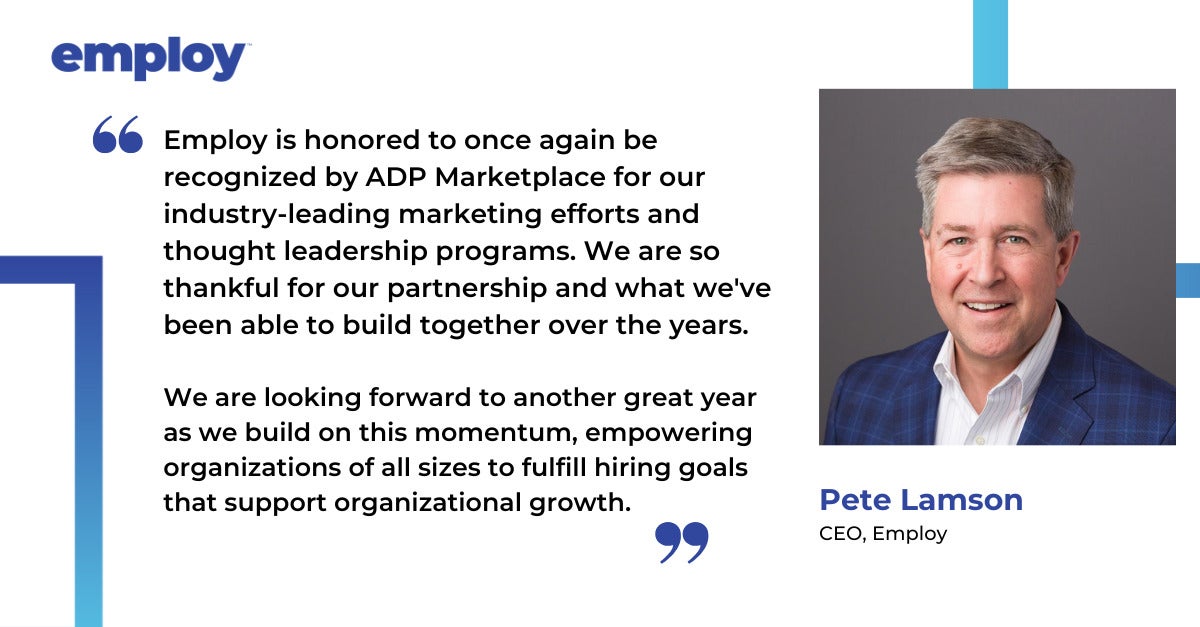 Creating Value and Visibility Together
The ADP Marketplace Partner Award for Best Marketing and PR includes the creation of marketing assets, social media programs, and other materials. Below are some of the assets and interactions that we have collaborated on during the past year:
#1: Recruiting Reality: The Top Hiring Trends, Challenges, and Priorities for 2023 Infographic
The newest collaborative infographic produced jointly between ADP Marketplace and Employ features new hiring data from Employ's Quarterly Insights Report. Promotion of this infographic includes distribution to key audiences through social, email, and other channels.
View the full infographic to learn more about:
Job seeker motivations
Hiring challenges
Top recruiter priorities
Labor market trends
#2: Silver Sponsor of ADP® Meeting of the Minds
Employ served as a Silver Sponsor in March 2023 for ADP Meeting of the Minds. An Employ thought leader also presented at one of the conference's breakout sessions on Creating a Best-In-Class Recruiting Framework That Adapts with a Shifting TA Landscape.
#3: Monthly Newsletters and Email Communications
Employ creates and distributes a monthly newsletter and regular promotional email content to internal and external stakeholders, providing the latest thought leadership, company updates, promotions, and upcoming events. These communication channels facilitate a deeper relationship between teams and highlight the integrations of Employ with ADP.
#4: What Job Seekers Want in 2022 Infographic
A joint infographic with ADP Marketplace was created using data from Employ's 2022 Job Seeker Nation Report. Promotion of this new asset was shared on social media, distributed to key audiences, and added to the JazzHR and Jobvite ADP Marketplace listing.
#5: Jobvite Integration Announcement
In March 2022, Employ announced the Jobvite Connector for ADP Workforce Now®. This integration seamlessly integrates new hire information in the Jobvite hiring workflow with ADP. This allows talent to easily transition in their journey from candidate to new hire to employee without barriers or roadblocks to data.
---
Continuing the Winning Tradition
Along with the company's 2019 'Rising Star' Award and 2020 Best Marketing and PR Award, this marks Employ's third ADP Marketplace Partner award.
To learn more about how Employ Inc. solutions and ADP work together, check out the JazzHR, Lever, and Jobvite listings on ADP Marketplace.
---
About ADP Marketplace
ADP Marketplace is a digital storefront designed to help employers create HR ecosystems for their companies using solutions from ADP and leading third-party partners, enabling companies of all sizes to extend the value of their workforce solutions seamlessly across their entire organization via a secure, single-sign-on process.
Learn more on ADP Marketplace.