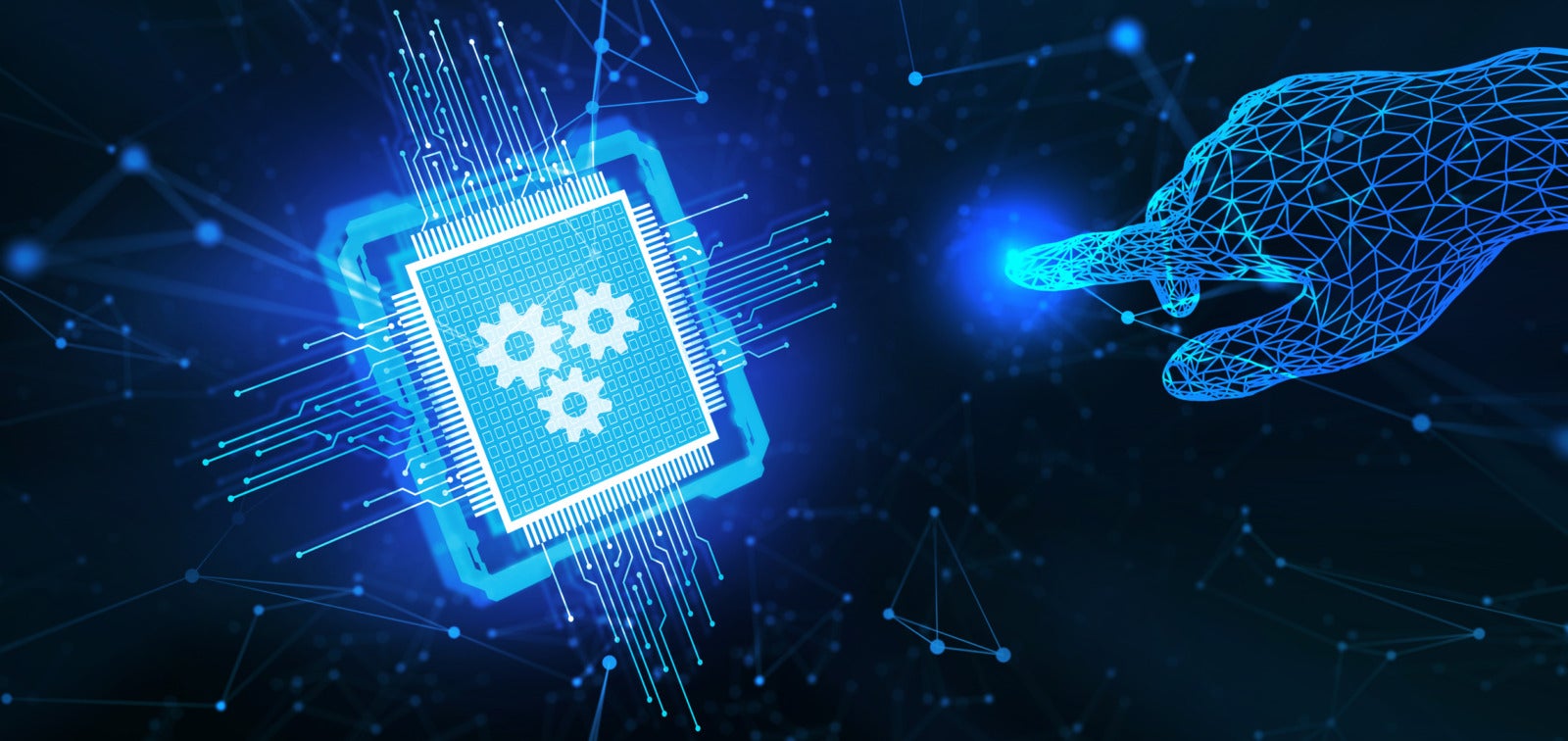 Automate Recruiting to Find the Best Candidates for Your Openings
Guest Post by LeadFuze.
Opening a new position to the world is a great thing for businesses. It shows growth, need for talent and happy customers. That said, when you create a new job ad, there are a lot of potential problems.
The number one question on the mind of those who do the hiring is almost always the same, Will there be enough qualified candidates?
JazzHR is super intuitive and allows job postings across the web within minutes. Then, you can quickly (and automatically) filter incoming applicants and track them throughout the entire interview process. Still, high-demand positions and record low employment often means fewer qualified candidates for your opening. This problem is often due to skilled individuals being fully employed. This is where recruiting comes into play.
Recruiting is a Lot Like Sales
Search for the right people within companies
Find their contact information (email, LinkedIn, phone, etc.)
Contact them, hoping to continue the conversation
While the process sounds simple, it often takes hours of searching about pages, social profiles hoping everything you jot down is the right information. Then, you have to merge all of that into your hiring process, potentially making things even more awkward. Unless you're using the right tools. LeadFuze allows companies, like yours, to find;
Specific companies that employ the same people you're looking to hire
Individuals in specific, highly-customizable roles
Accurate and double-verified contact information
JazzHR and LeadFuze are now fully integrated. Here's how you can automate recruiting by having LeadFuze send the most qualified candidates directly to your job opening in JazzHR.
1. Enter the Desired Role(s)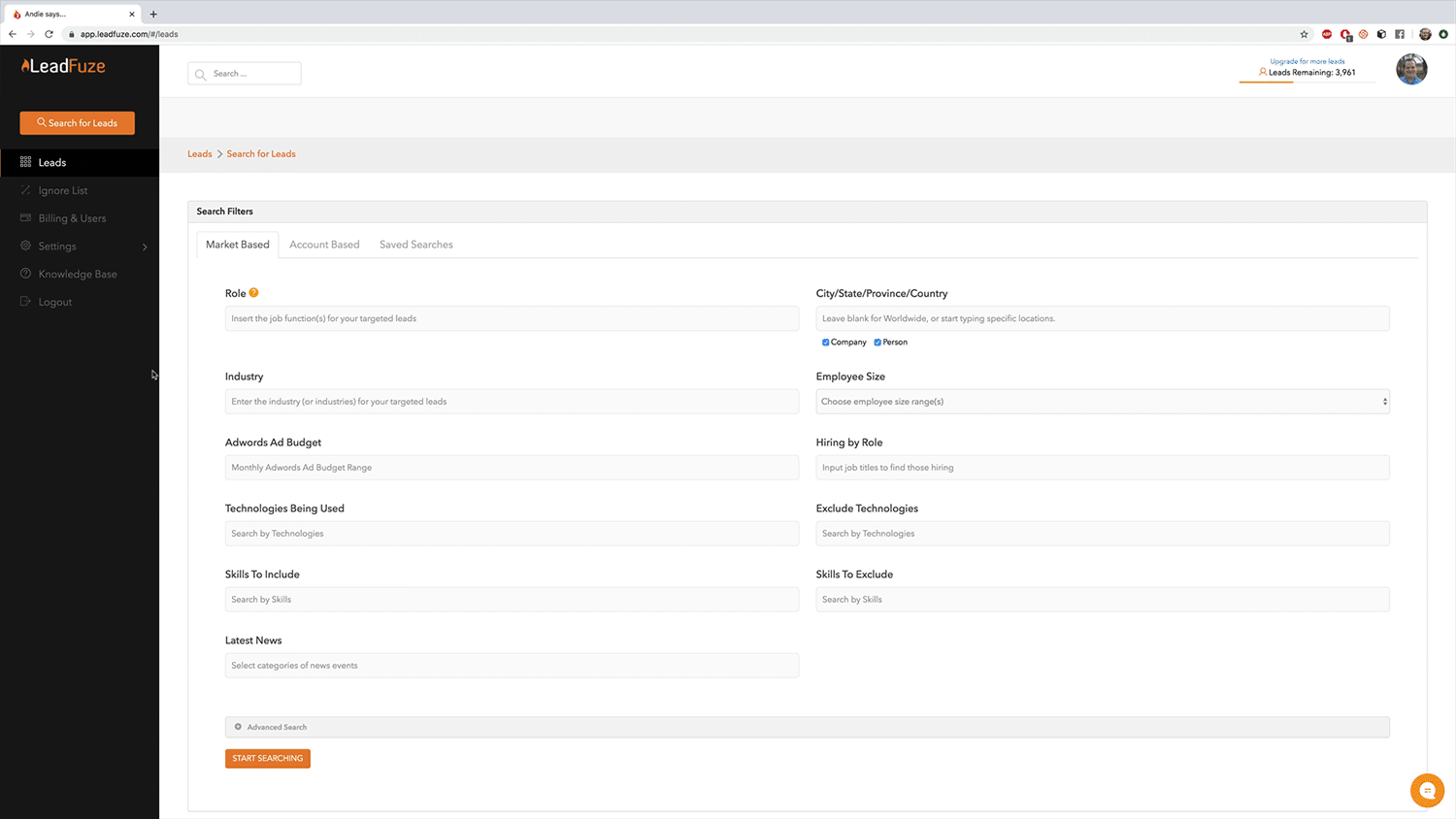 It's likely you have the ideal candidate in mind, including their role. After logging into LeadFuze, it's the very first variable to input. Let's take a look for people in sales (see gif). The app automatically fills titles of just about any sales role imaginable. But if you're recruiting, there may be roles you don't want to contact. Simply hit the "x" in the top right corner and the search won't include those terms. You can even go further by typing in a minus symbol (-) and specific titles you don't want to include. For instance, "-vp" or "-director" (like in the gif below).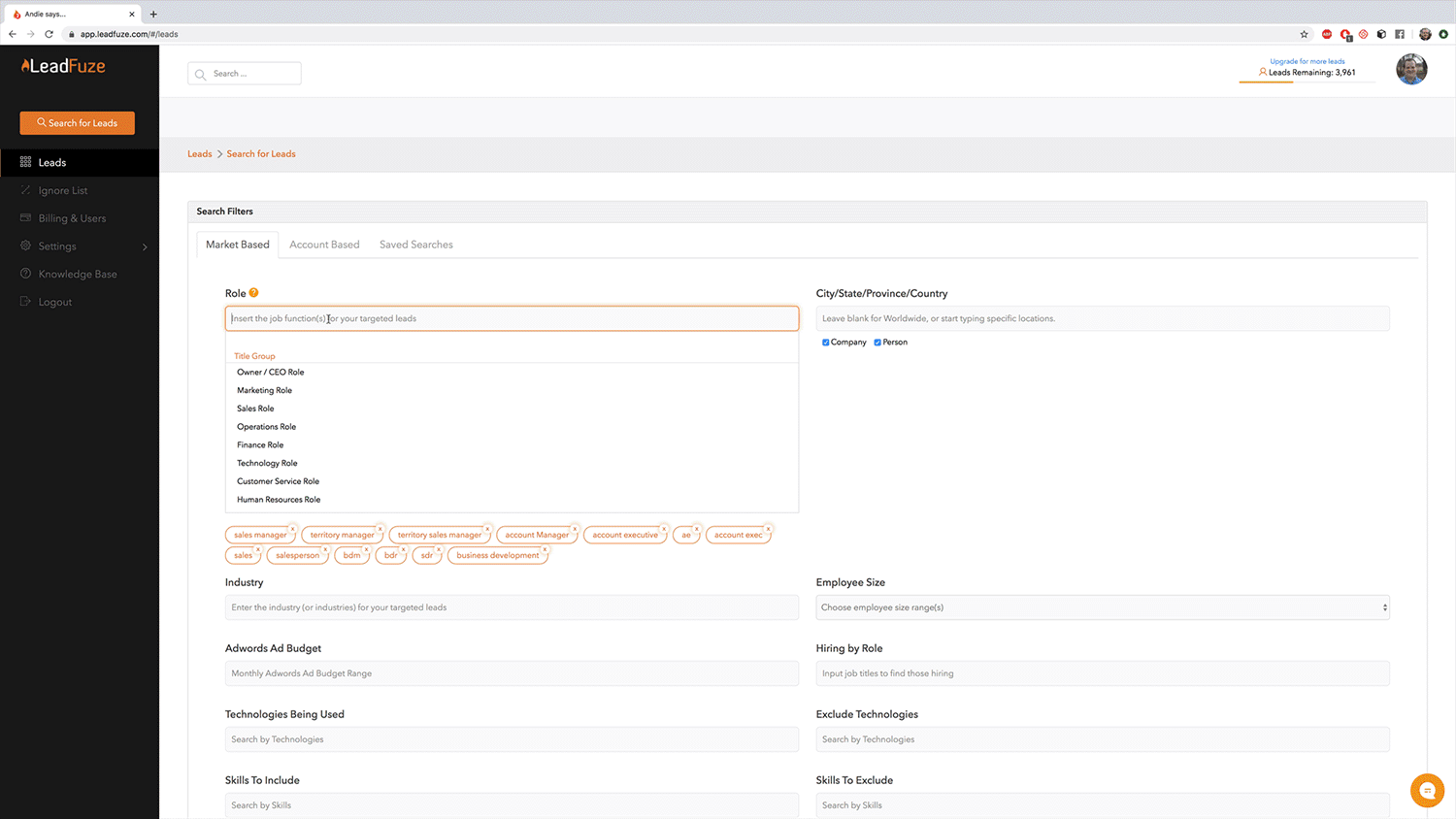 2. Set a Specific Industry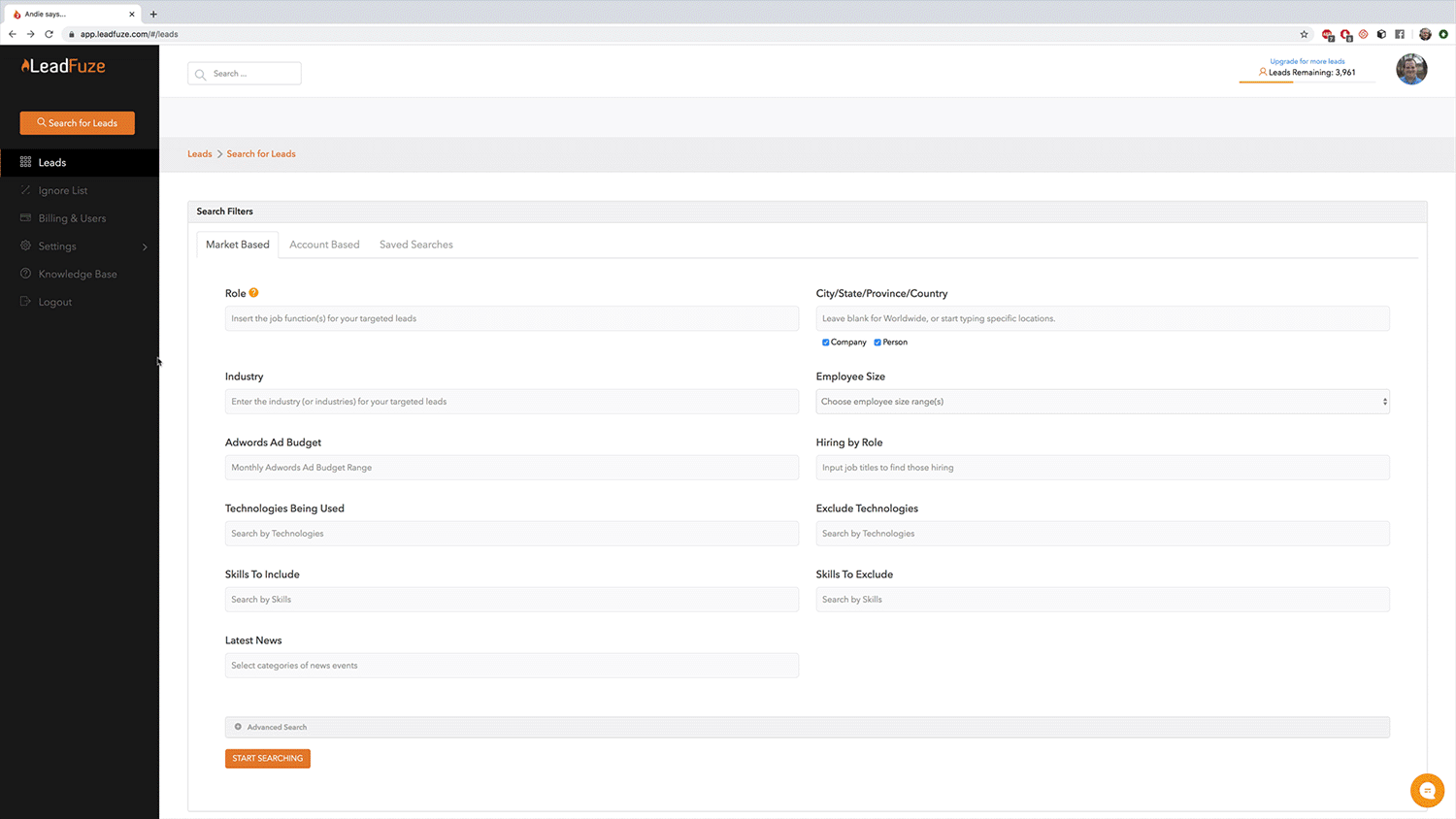 I know a few roles where industry isn't important. But in most cases, you'll likely want to narrow the search a bit more. Take sales for instance (since that's our example). All sales reps are not created equal. Some companies sell small products, others high-priced goods. Some mostly do inbound sales while others are pounding the literal pavement. Sure, this can vary a bit from business to business. But most industries tend to run together in terms of how they sell. LeadFuze has dozens of markets to choose from. In the above gif, I chose "Business Supplies and Equipment." It's likely that reps in this industry are hardcore and like to make calls and build up a network.
3. Choose Your Location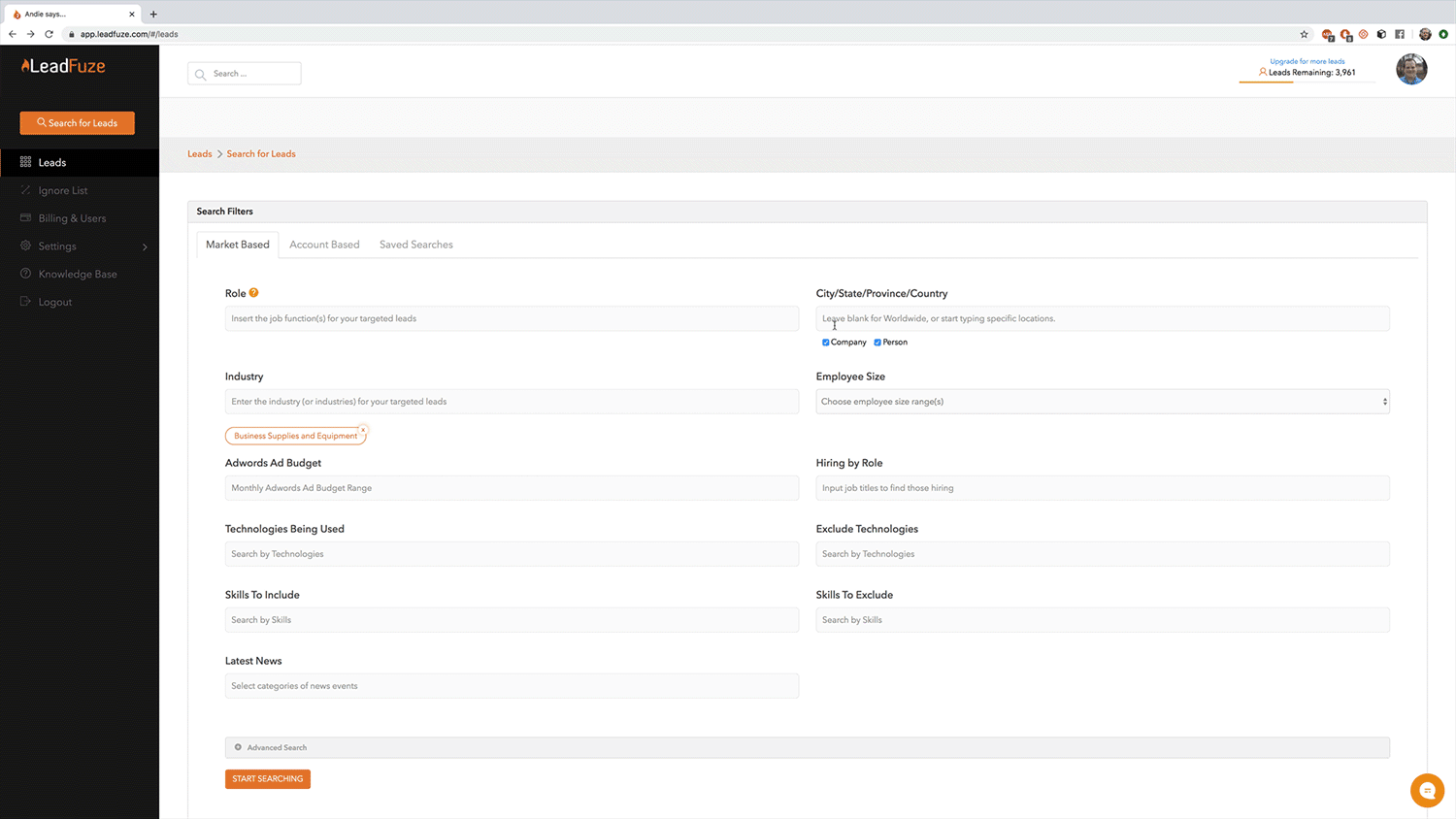 The search criteria narrows down to a number of categories, including:
Countries
States
Regions
Individual Cities
Of course, the smaller your search area, the fewer results you'll see. But if you're looking for a local superstar and will to make it worth the switch, it likely only takes a few candidates.
Note: If you're filling a remote position, set this field to the preferred country.
4. Choose Desired Skills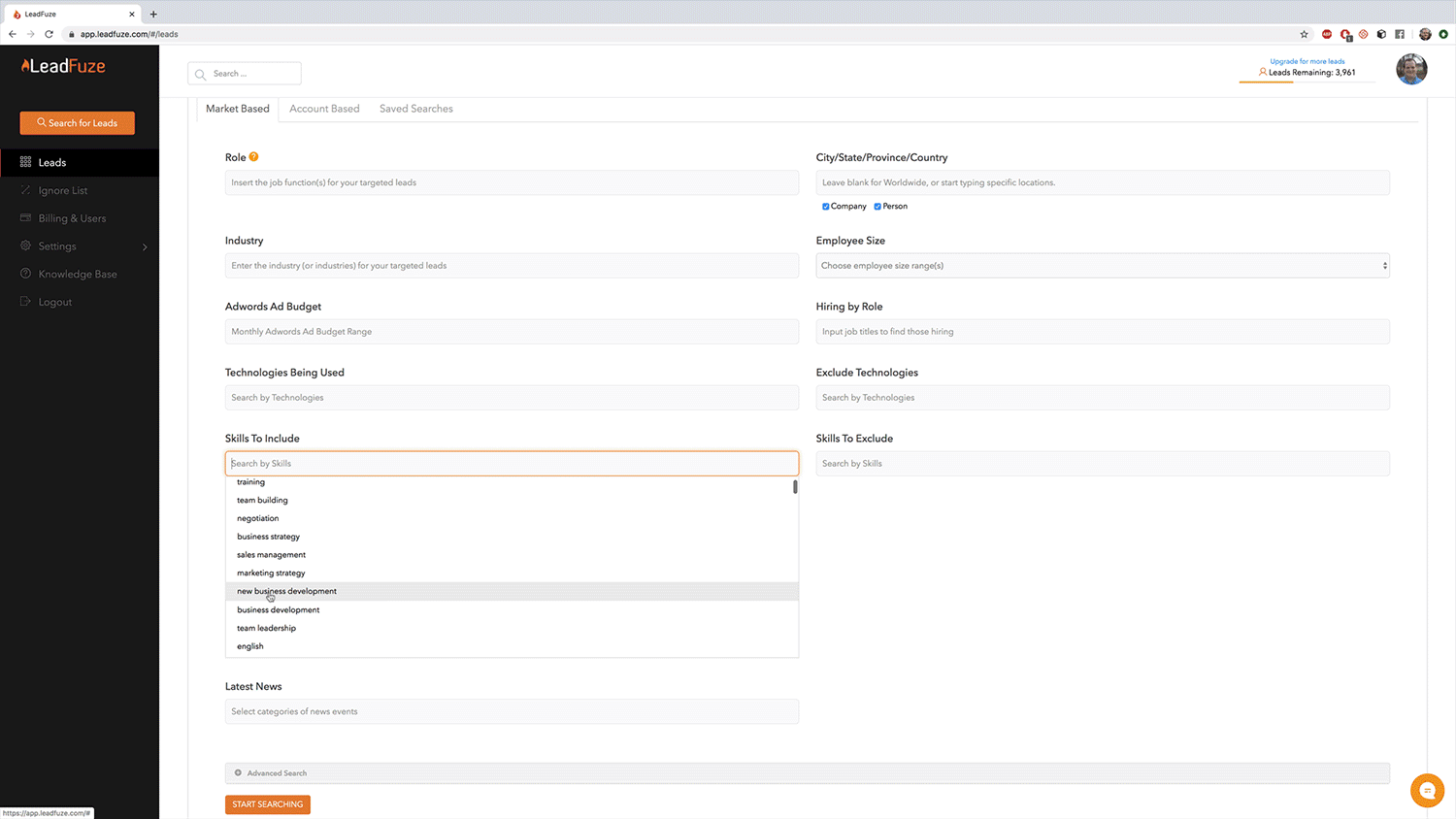 Wish you had a search function to pull all of the candidates with certain skills (like the ones people endorse on LinkedIn)? That's exactly what the "Skills to Include" search does! And the "Skills to Exclude" does…well, you probably know what that does. For our fictitious sales job, I chose a few common sales skills and excluded "engineering" to ensure I'm only seeing sales reps.
5. Enter Other Criteria (if Desired)
LeadFuze is also a tools for looking for sales leads. The one tool works great for finding new clients and new recruits. That does mean there are several other search fields you can choose from more geared toward sales. However, these fields may also help narrow your search that much more. I'll quickly list a few and how each is helpful for recruiting.
Tech Being Used: Most companies use CRMs for sales, but not all. If you want to target reps who are used to using a CRM, you can only target those people who work for companies employing a CRM.
Employee Size: Recruits from a similarly-sized company may be more likely to make the switch.
Company News: Expansion, layoff and promotion announcements are clues which lead to great hires.
Once you have all of your criteria set, All that's left to do is hit "Start Searching"!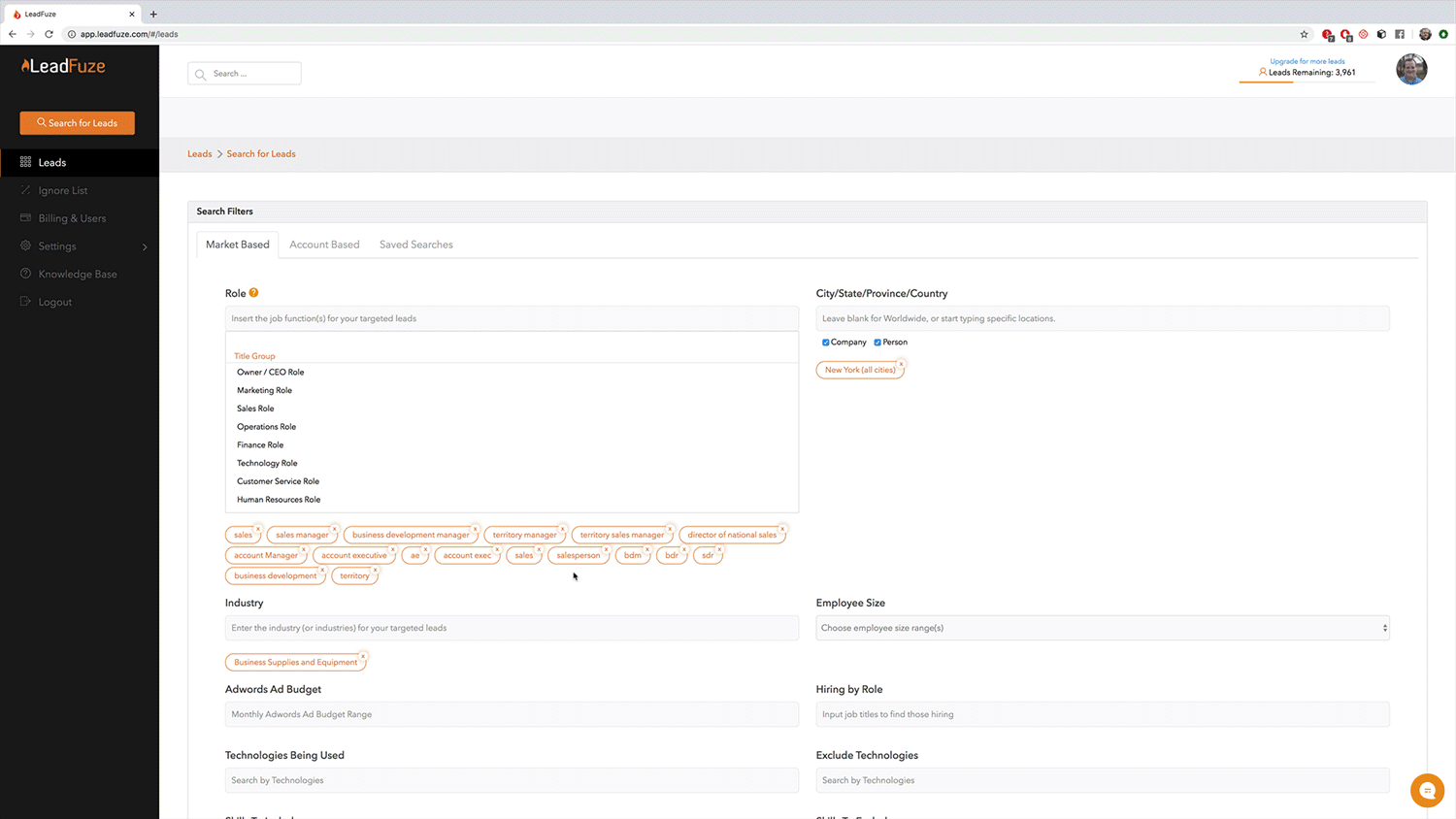 The total number of leads will display as well as;
The names of the candidates
Companies where they work
Contact information available (LinkedIn profile, email, phone, etc.) What to Do Once You Have Your Potential Recruitees
So, with our sales role search we have over 3000 potential hires in New York. Now, you have a couple of different options to get those into your JazzHR account. First, you can download the csv file from LeadFuze and upload it directly to your JazzHR account right into the job(s) in question. Or… Have our automated candidate-sending tool (we call him Fuzebot) send them right to your jobs! With the integration, this is entirely possible. Imagine whenever you open a job, going on over the LeadFuze, doing a search and then Fuzebot sends everything over to JazzHR.
Pro Tip: Inside JazzHR, head on over to your workflow and create a step specifically for your recruits to remind you or the team to reach out. You can send the recruits (from LeadFuze) in that step an email asking them to check out your opening. You can ask them to apply (automatically moving them to the next step in your process). Or, have them hit reply and send a more personalized email. The latter is helpful for the hardest-to-fill positions.
Ready to Recruit?
LeadFuze allows you to add automated recruiting to EVERY new position opened. What used to be a bothersome need when you couldn't find qualified candidates is now a tool to fill your company with the best and brightest from your area. All in the same intuitive process provided by JazzHR. Plus, that same automated recruitment tool is also the best lead data tool on the market. When you're not using LeadFuze to find your next hire, Use it find your newest clients. Start sourcing more qualified candidates, faster and learn how you can get 50 free lead credits courtesy of JazzHR when you see a demo of LeadFuze today.
COMMENTS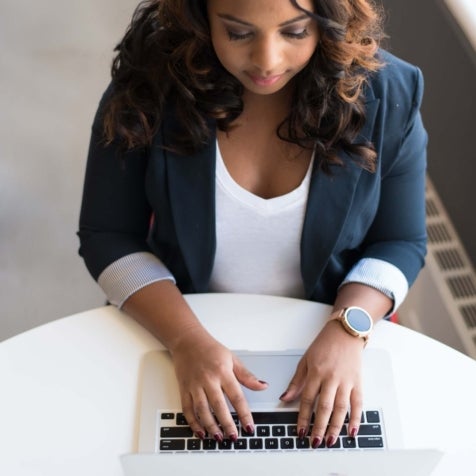 Popular Articles