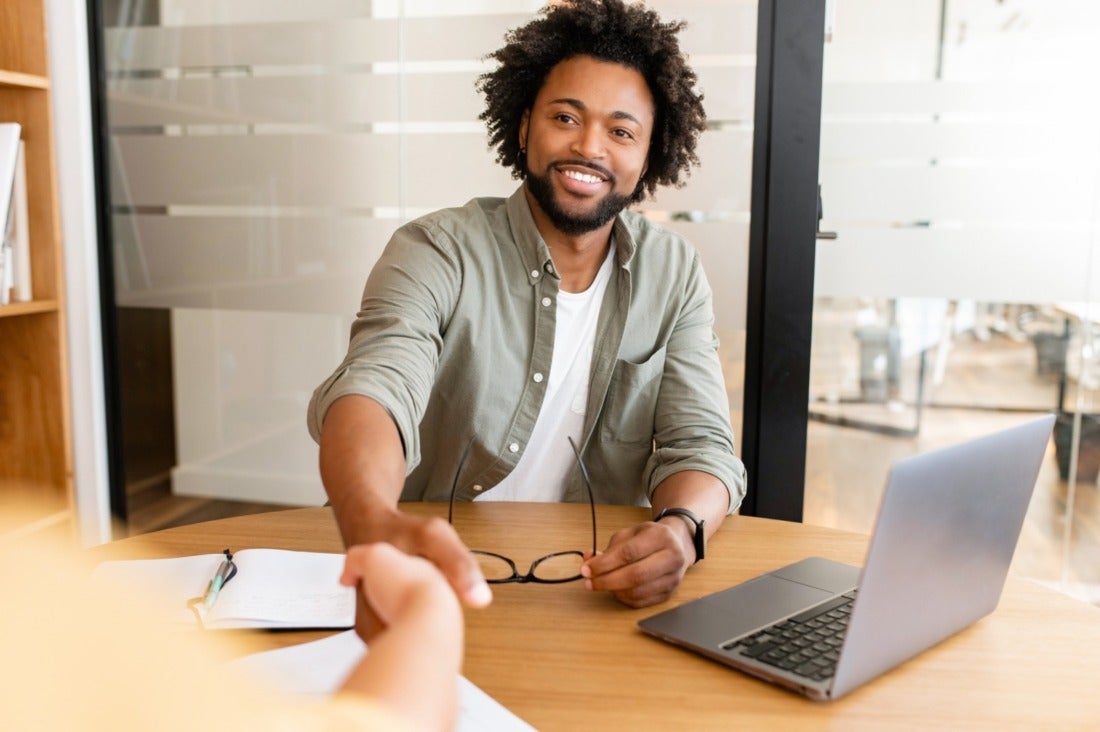 Candidate Expectations You Need to Know in 2023
As the labor market and record-low unemployment rates keep recruiters on their toes, the focus on the candidate experience continues. The candidate experience includes all the feelings, impressions, interactions, and activities a job seeker encounters along their candidate journey.
It's how a candidate feels they've been treated throughout the recruitment process and how that treatment makes them feel about the organization.
Job seekers still feel fully in control
When it comes to the current labor market, more than half of all job seekers (51%) believe that finding a job is easy, and 58% believe the current job market favors candidates. More than two-thirds (68%) believe their job search will take one to three months, and 41% would even feel comfortable quitting without having another job lined up.
Candidates feel confident that they are still in the driver's seat of the job market, and organizations would do well to respond to these perceptions by focusing on areas that can speed the hiring process, better nurture candidates, and cater to worker priorities.

Candidate expectations through recruiting
Job seekers have high expectations when it comes to the candidate experience and their interactions with recruiters. An overwhelming majority of workers expect to work with either a recruiter working on behalf of the company (47%) or a corporate recruiter (34%) during the recruiting process.
In some industries, such as financial services, manufacturing, and retail, recruiters working on behalf of the company are more common than corporate recruiters (approximately 20 percentage points more likely than corporate recruiters). This is affirming news for organizations that outsource part or all of their recruiting process to strategic RPO partners.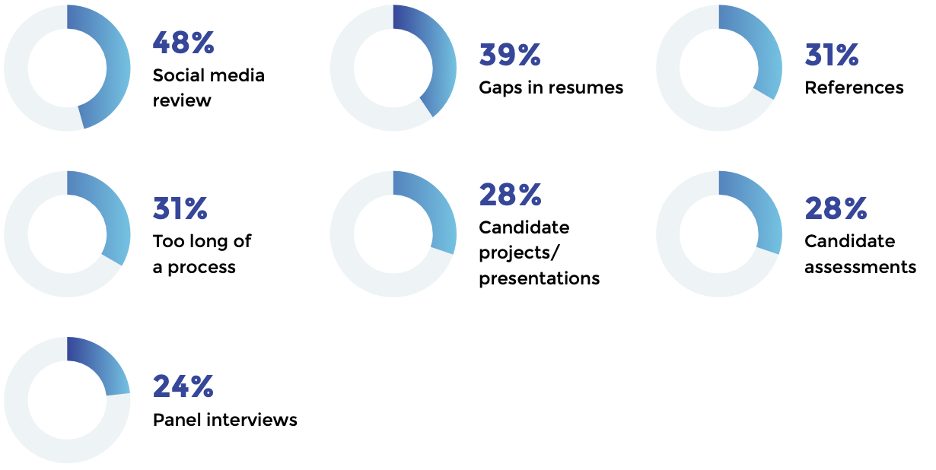 Within the candidate experience, job seekers believe there are areas of the recruiting process that should be deprioritized. These may be areas that candidates feel are unnecessary, don't give an accurate picture of who they are, or even lengthen the hiring process.
Candidates push back on the pain points of hiring
There are several areas of the recruiting process job seekers dislike. But for employers, this provides a list of opportunities within the job search, application, interview, and offer stage to improve, optimize, or transform.
Whether it's a lack of transparency, a slow process, or outdated technologies, identify areas your company can seek to improve to bolster the candidate experience and connect with quality talent to drive your business forward.
Candidates say: Communication is key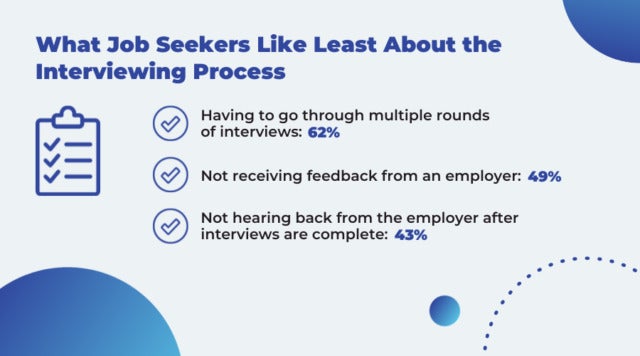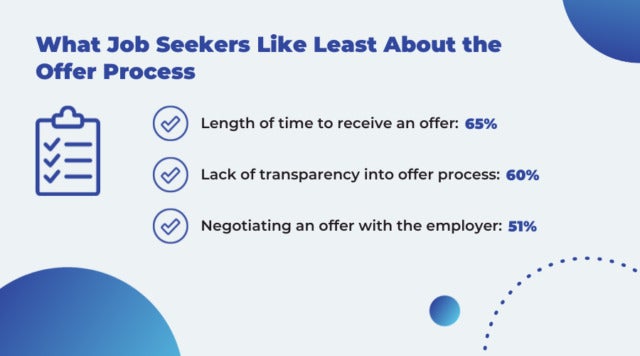 Once a job seeker has applied for a job, they have expectations about what kinds of communication they should receive from an employer.
Nearly half (49%) believe they should either receive an automated email from the company or a personal email from the recruiter. Less than one in five job seekers have no expectations for communication.
Given many candidates prefer messaging from employers throughout the recruiting process, companies that prioritize timely, personalized messaging can better engage prospects for open roles. Organizations must take the opportunity to improve their communication with candidates and deliver higher-quality experiences.
The positive candidate experience checklist
A great candidate experience means providing active and passive job seekers with engaging content, a fast application process, streamlined communications, consumer-grade technologies to answer questions quickly, and prompt feedback throughout their experiences.
Whether it's making them feel valued during the application process, providing helpful feedback or communication, or treating them with professionalism and respect after their candidacy has ended, the candidate experience encompasses every interaction a job seeker has with an employer.
If you're looking to improve your candidate experience, the key is to always keep the candidate at the heart of everything you do. By nurturing each individual and prioritizing candidate engagement at every step of their journey, you'll be well on your way to building stronger relationships with top talent that will deliver results for your business.
Top candidate experiences include:
Consistent employer brand messages
Automated messaging with recruiters
Personalized job recommendations
Feedback loops at each hiring stage
AI-powered chatbots to optimize candidate interactions
Easy to schedule interviews
Mobile-optimized career sites
Seamless job application process
Tailored content and experiences
Easy to find information
Make the candidate experience a priority
Providing a quality candidate experience allows companies to find and recruit top talent to impact the success of the business. A solid candidate experience also ensures organizations can build a robust talent pipeline and employer brand that strengthens their reputation relative to competitors.
For employers today, understanding job seeker mindset and behavior is critical to connecting with them more effectively and staying competitive in a tight labor market. Based on the findings from Employ's research, candidates are likely to fall into one of four quadrants in their job-seeking behavior.
See the full Job Seeker Quadrant™ and get other valuable insights on the job market in the Employ Q1 Quarterly Report: Examining Employer and Job Seeker Realities in the Current Job Market: How Employers Can Respond to Candidate Preferences, Perceptions, and Personas.