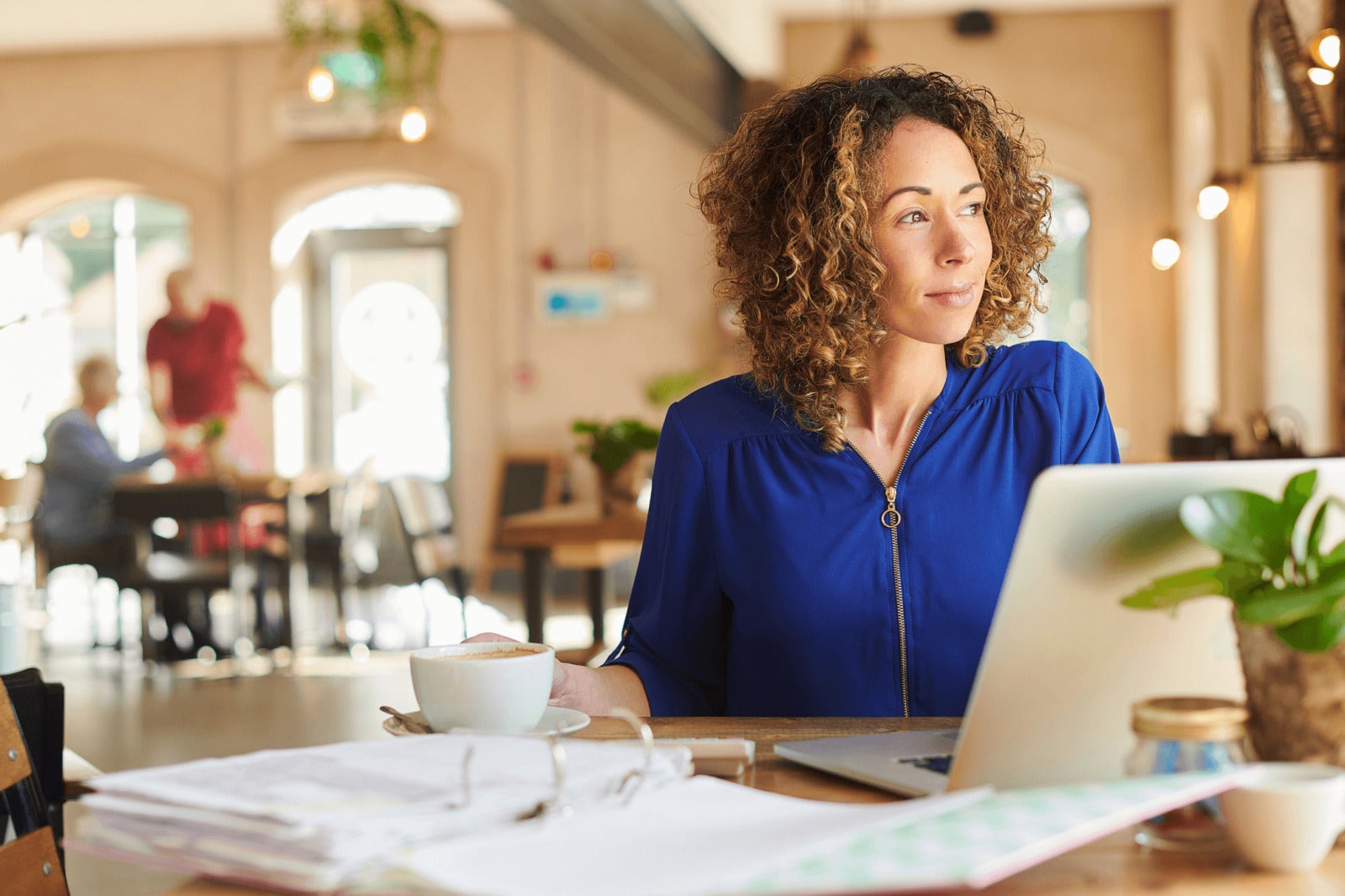 Creating a More Streamlined Hiring Process with an ATS
"Scalability has become a key strategy for successful recruiting," regardless of your company size or industry, the 2023 Employ Recruiter Nation Report states. "It allows teams to evaluate their hiring process across the talent lifecycle, find areas for improvement, and adjust to changes in the market."
Translation? Your small business may not have high-volume hiring needs today, but that doesn't mean you shouldn't continually enhance and optimize your recruitment process and hiring strategy.
In fact, "down" economic periods, when companies like yours tend to slow down with (or altogether freeze) their hiring efforts, offer an opportune time to revisit recent and historical recruitment performance and make data-driven adjustments to one's hiring process — and HR tech stack.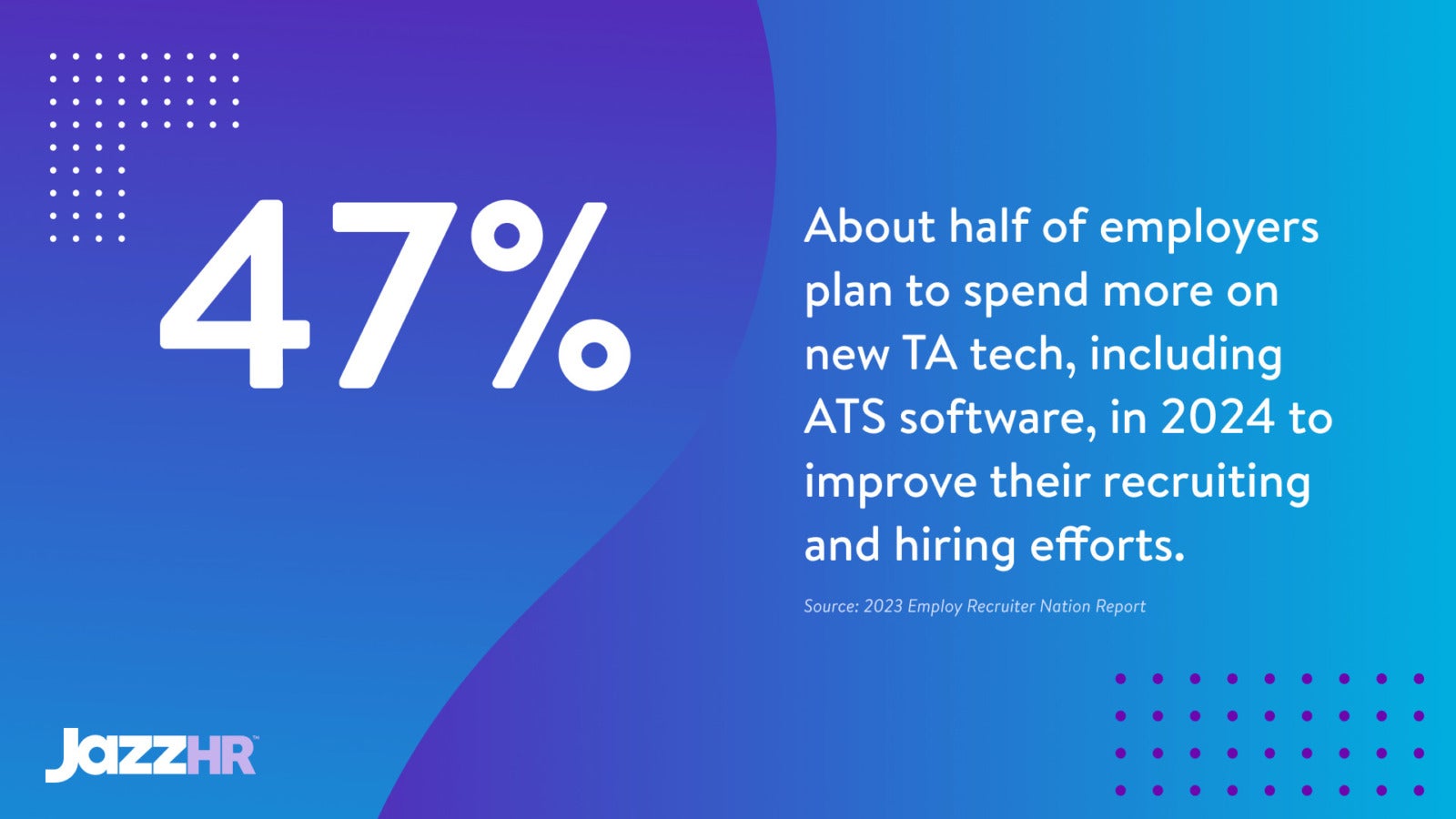 What the ideal hiring process looks like for small businesses today
From the moment your human resources team receives applications and conducts virtual and/or in-person interviews with potential hires, to when they shortlist prospects, conduct background checks, and hire (hopefully) great candidates, your SMB has a wealth of info and data entering your tech "ecosystem."
For some small businesses, this ecosystem simply means their inbox.
For others, it means an applicant tracking system (ATS) that enables more streamlined recruitment marketing, talent sourcing, candidate engagement, structured interviewing, and hiring process analysis.
The SMBs in the former category have a hard time keeping track of which recruitment tasks are urgent (e.g., scheduling a phone screen with a strong-fit applicant, sending a LinkedIn message to a candidate with the seeming perfect qualifications tied to an open role).
Small businesses with a purpose-built applicant tracking system at the center of their tech stacks, on the other hand, have all their TA-related data and candidate info in one digital location — not several disparate tools and sheets.
That means HR teams and hiring managers at these companies can carry out highly coordinated, collaborative, and organized recruiting programs that don't let any candidates or tasks "slip through the cracks" — and ensure they keep each hiring cycle humming along smoothly and speedily.
It's not just their tech that enables them to implement well-organized talent acquisition strategies, though. The actual hiring process and recruiting personnel they put in place around their applicant tracking system also impacts their day-to-day efficiency and long-term effectiveness.

People and process: Assigning HR team members to attract and engage talent
Whether your SMB has an established human resources department or first-time HR pros with limited recruiting expertise and experience, you need the number of team members assigned to own and execute your hiring process to match your future headcount needs.
Nearly half (47%) of small businesses plan to increase their recruitment spending in 2024, our Recruiter Nation report found. One key area in which these SMB talent teams plan to invest some of their spend? New HR personnel to act as their recruiting function.
Whether your company needs just a single human resources specialist or a handful of HR generalists to handle recruiting depends entirely on your leadership team's workforce plan for the year ahead. (Or, if you work for a franchisee, each store owner's distinct headcount needs in the near term.)
Just make sure the HR staff members your designate as your de factor recruiters either have at least a modest talent acquisition background or can be trained — not just on best practices around recruiting new employees, but also on your applicant tracking system.
"Inbox recruiting" is now a wildly dated talent acquisition approach. If your recruiting function is forced to track candidate progress and communicate with job seekers solely through spreadsheets and manual emails, it's time to overhaul your hiring process — and tech.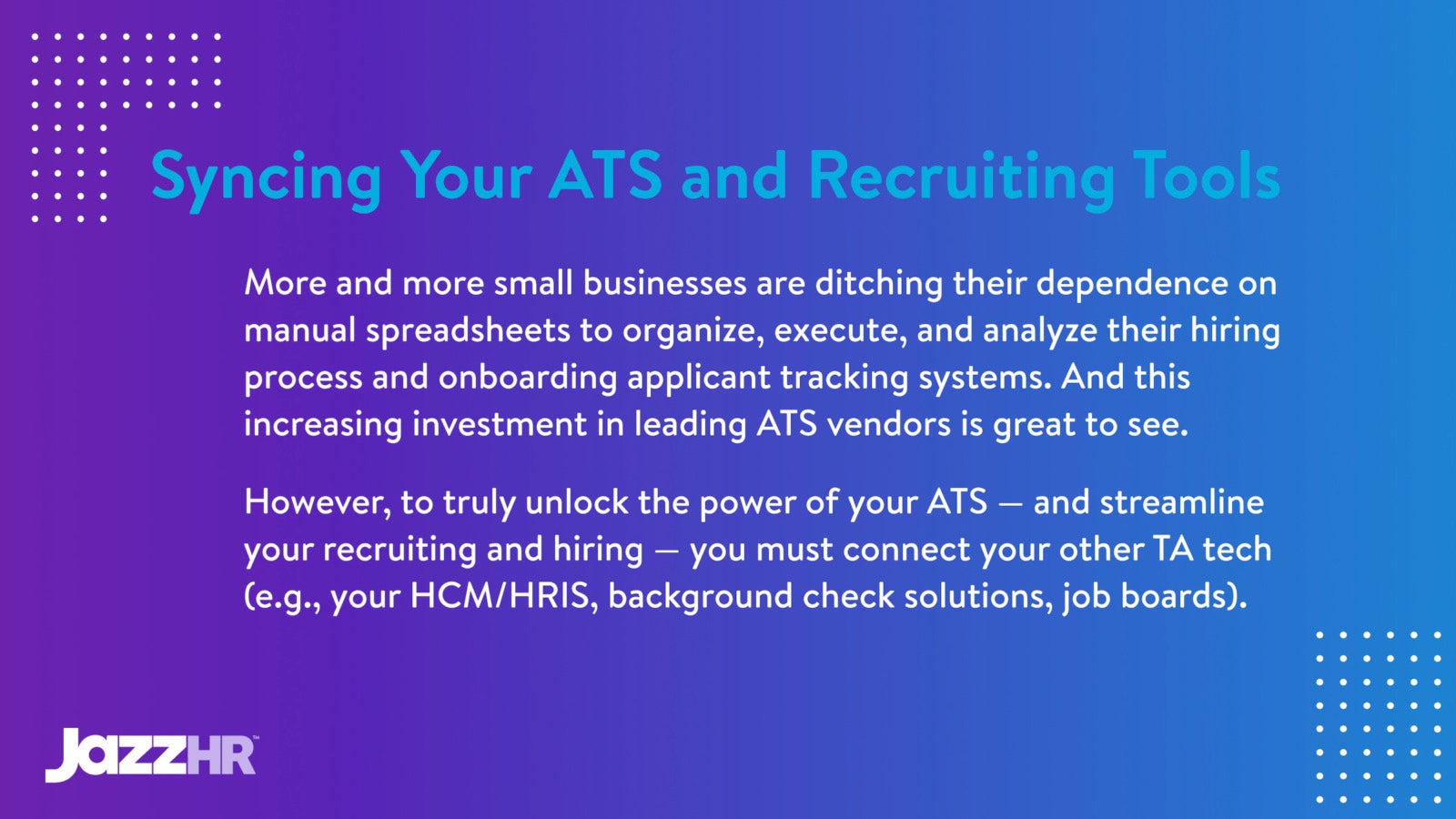 Recruiting technology: Getting a single source of hiring truth for your HR team
Change is a constant in business. It's also something many employees (regardless of company type or organization size) rail against — especially when it comes to learning and leveraging new technologies.
The good news? There are software solutions geared toward teams across any given organization that are sophisticated, yet take very little time to get up and running and use to streamline daily work-related tasks.
The ATS is one such platform. With best-in-class, easy-to-use applicant tracker software, your hiring team can conduct all recruiting and hiring activities from a single solution, including:
Write impact job descriptions and publish postings to job boards in just a matter of minutes
Review application forms, resumes, and cover letters submitted by all active job seekers
Reach out to passive candidates on social media and job boards regarding open positions
Engage "good-fit" candidates in your funnel with personalized email and/or text messages
See the interview process stage where each active candidate resides at any given moment
Conduct background and reference checks and send out pre-employment assessments
Produce custom offer letters and extend job offers to the ideal candidates for each position
In short, with modern, SMB-centric ATS software, your hiring team can move prospects of interest from interview to offer and get them situated for their start date with far greater ease than relying on disconnected tools and Excel sheets — even if your hiring goals are modest.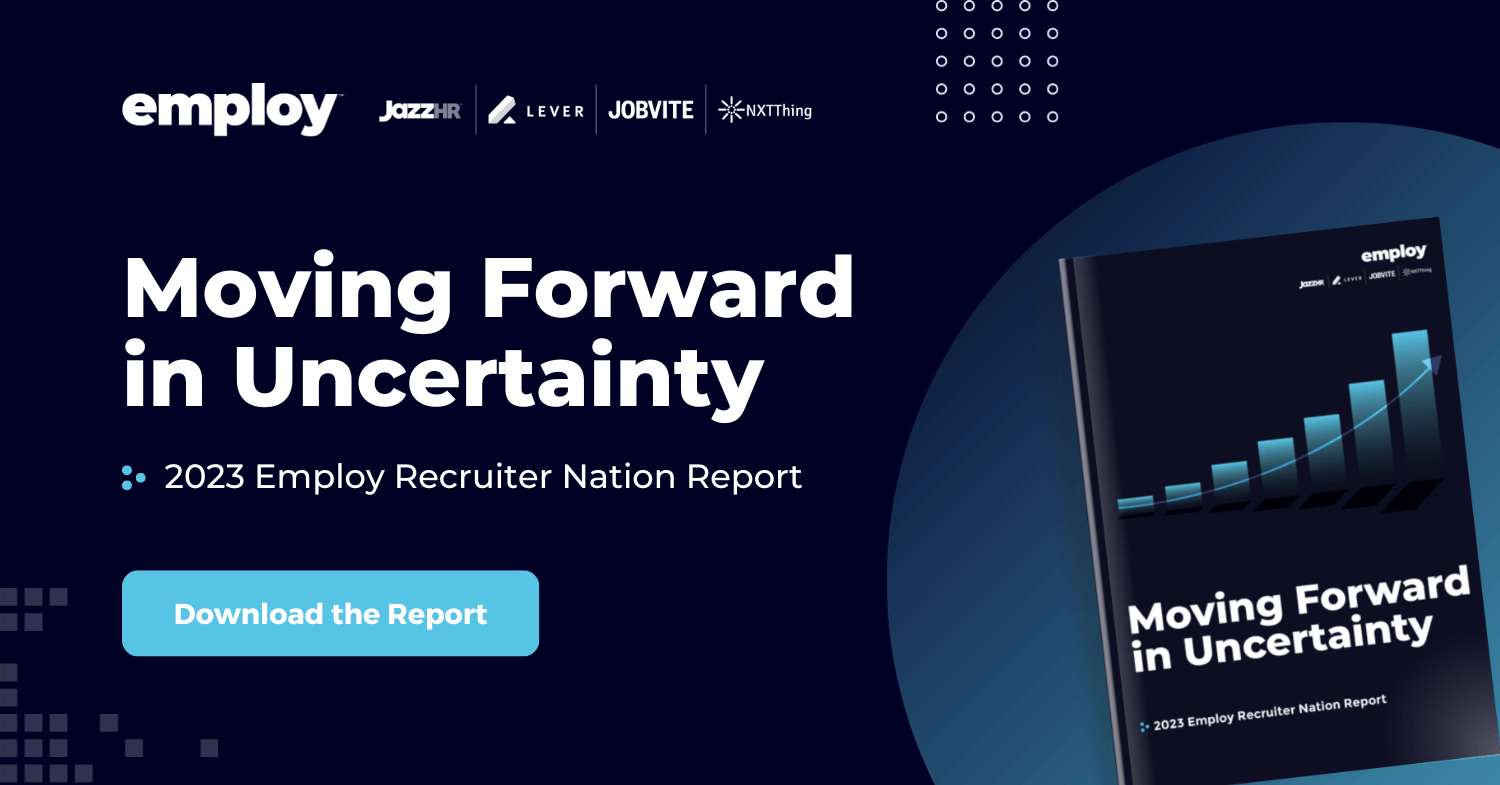 How the most successful SMBs refine their hiring process over time
Look at the well-oiled recruiting machines of other small businesses — those in and outside your sector and even those with different business models — and you'll see them leverage their ATS software to make the same kind of data-backed modifications to their talent acquisition efforts.
Specifically, these SMBs follow the same steps (more or less) to regularly improve their hiring processes:
1) Access and take action on ATS insights associated with every recruiting activity. Sourcing channel quality, recruiting workflow efficiency, hiring speed: There are many facets of your TA efforts you can track, when you have an applicant tracking system that offers out-of-the-box analytics. (See: Advanced Visual Reporting in JazzHR.)
2) Ensure business leaders and other hiring stakeholders have complete visibility. While you review data related to your core recruitment metrics, you can (and should) also develop custom HR reports you can share with executives and hiring managers to keep them in the loop regarding requisition progress.
3) Take advantage of all applicant-tracking capabilities to further streamline their work. At the end of the day, simply mastering all of the core features of your ATS tied (e.g., job posting and syndication functionality, candidate nurturing and engagement capabilities) will only lead to stronger hiring processes long term.
No small business's hiring process is ever "perfect" or "complete." Improving one's recruiting speed, quality, and efficiency is an ongoing endeavor. But, it's also an effort that is much easier for SMBs like yours to continually make progress with when using an intuitive, easy-to-navigate ATS.
Need powerful, yet easy-to-use recruitment software to enhance your hiring process (and ROI)? Learn why thousands of small businesses like yours trust JazzHR as their primary ATS solution.