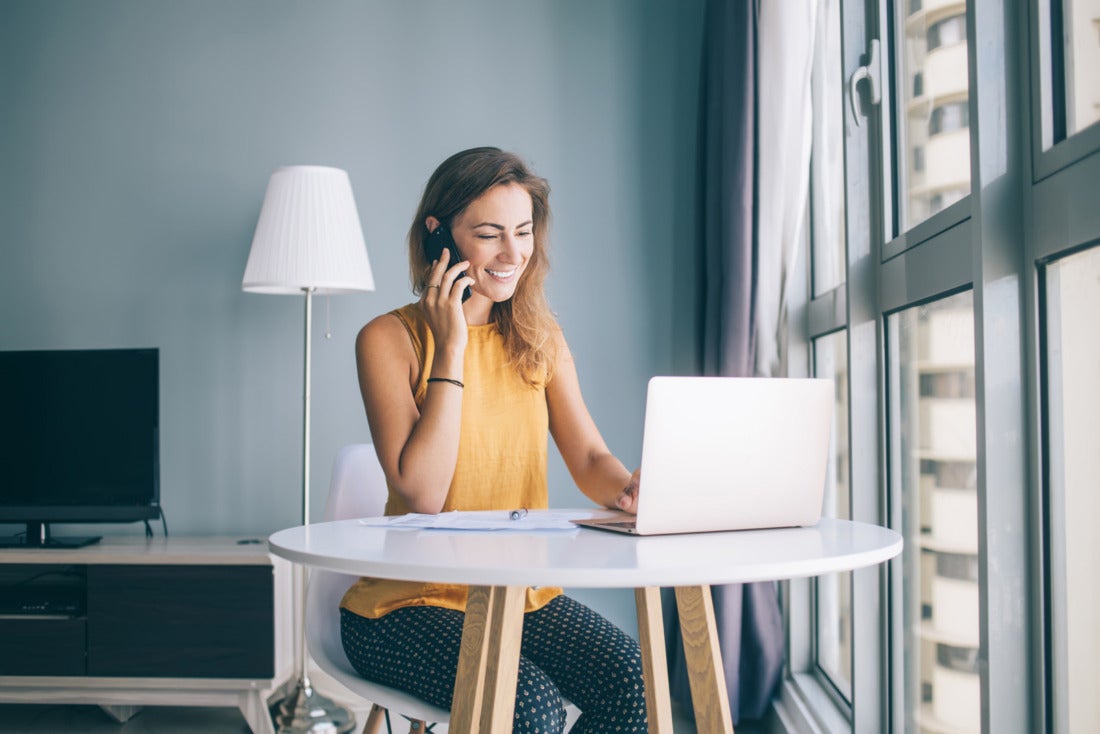 Choosing the Best ATS for Your Small Business: A Guide
For today's small businesses — those looking to hire at a modest pace (e.g., a couple hires each month) and those looking to grow headcount considerably in the months and years ahead — a purpose-built applicant tracking system (ATS) streamlines talent acquisition efforts substantially.
Specifically, the best ATS for small businesses are user-friendly solutions free up time for recruiting teams charged with sourcing and engaging top talent and executing marketing campaigns to promote active job openings by automating and organizing each step of the the recruiting and hiring process:
From evaluating passive candidate information on social media to scheduling interviews with prospects of interest, to extending hires to qualified job seekers.
In short, a leading applicant tracking system for small businesses empowers more collaborative hiring, facilitates more efficient interview coordination and feedback, enables TA teams to provide a consistently positive candidate experience, and helps employers convert more candidates quickly.
Getting a premier ATS for your small business is clearly a must. But, before you make the move from manual recruiting (read: spreadsheets and disparate tools) to a new recruiting CRM, it's important to know how to properly assess recruitment software and identify the right solution for your company.
At a high level, the process for selecting a new ATS can be broken down into four stages: planning, research, consideration, and selection. So, let's explore how you should approach each one.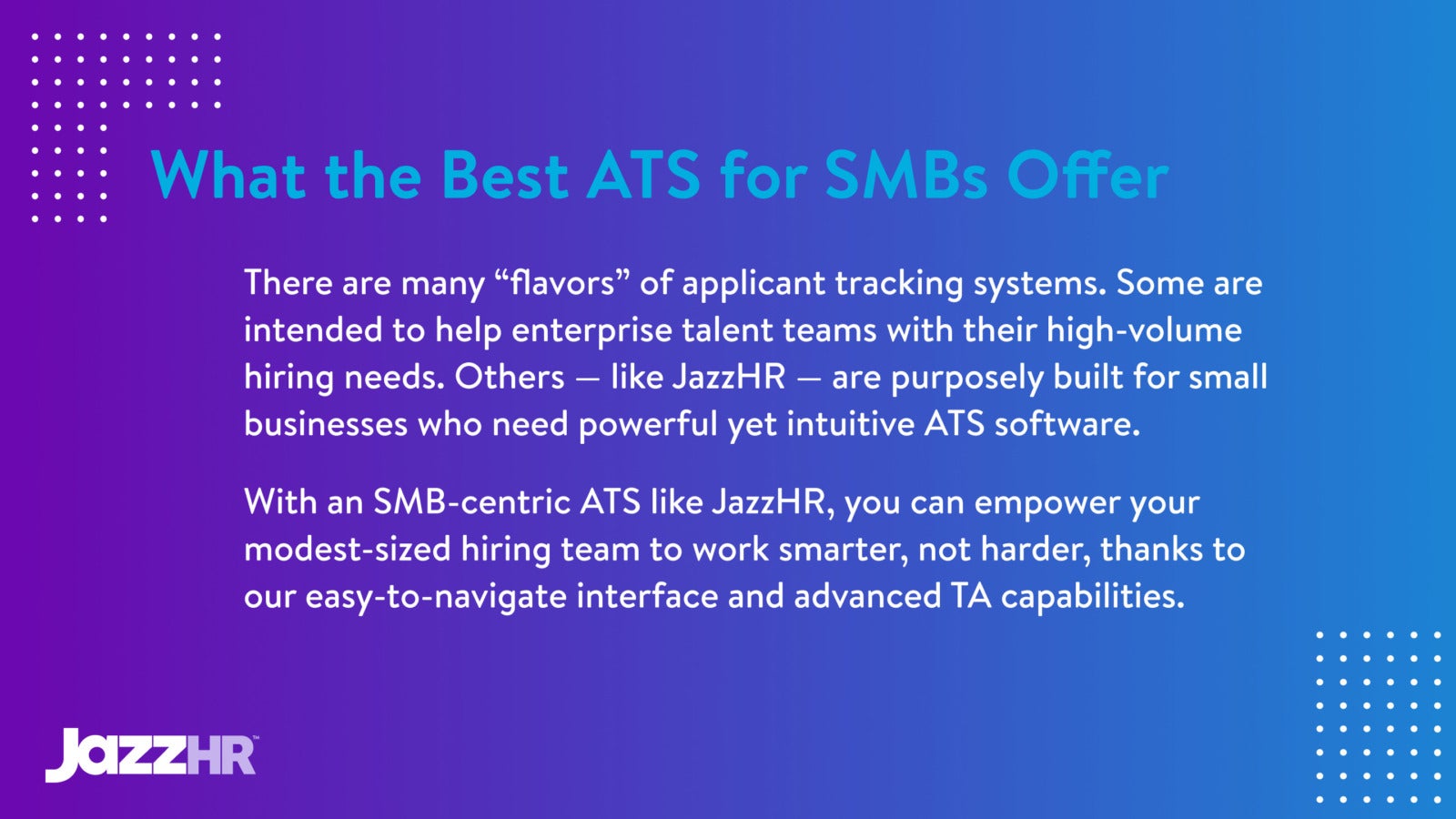 The Planning Stage
The planning stage involves reviewing your unique hiring needs and how an ATS can help your hiring.
Estimate your timeline and resources
Determine your decision-making timeframe, implementation and training timeline, estimated budget, and resources dedicated to supporting the process. Choosing an ATS that ensures you are up and running quickly is critical in supporting your move from manual recruiting to more streamlined hiring.
Determine must-have functionalities
Identify and determine the list of recruiting capabilities you know would benefit your hiring process most. Take time to research different platforms at a high-level and list which applicant tracking systems offer capabilities you define as critical to your success.
For example, the following elements should be considered essential:
Customizable workflows
Task automation
Free job posting
Hiring team identification
Real-time input & feedback
Career page integration
Branded communications
Guided interviews
Digital offers
Assess your need for integration today and tomorrow
Many growing companies adopt recruitment software that can manage their current talent needs and then integrate with other HR and business systems for the future. Look for an ATS that can support you now and, when the need arises, can integrate with:
Job boards and job syndication
Assessments
Background checks
Career page services
Calendars and scheduling
HRIS and payroll
Point of sale systems
Single sign-on
Time and attendance
Video interviews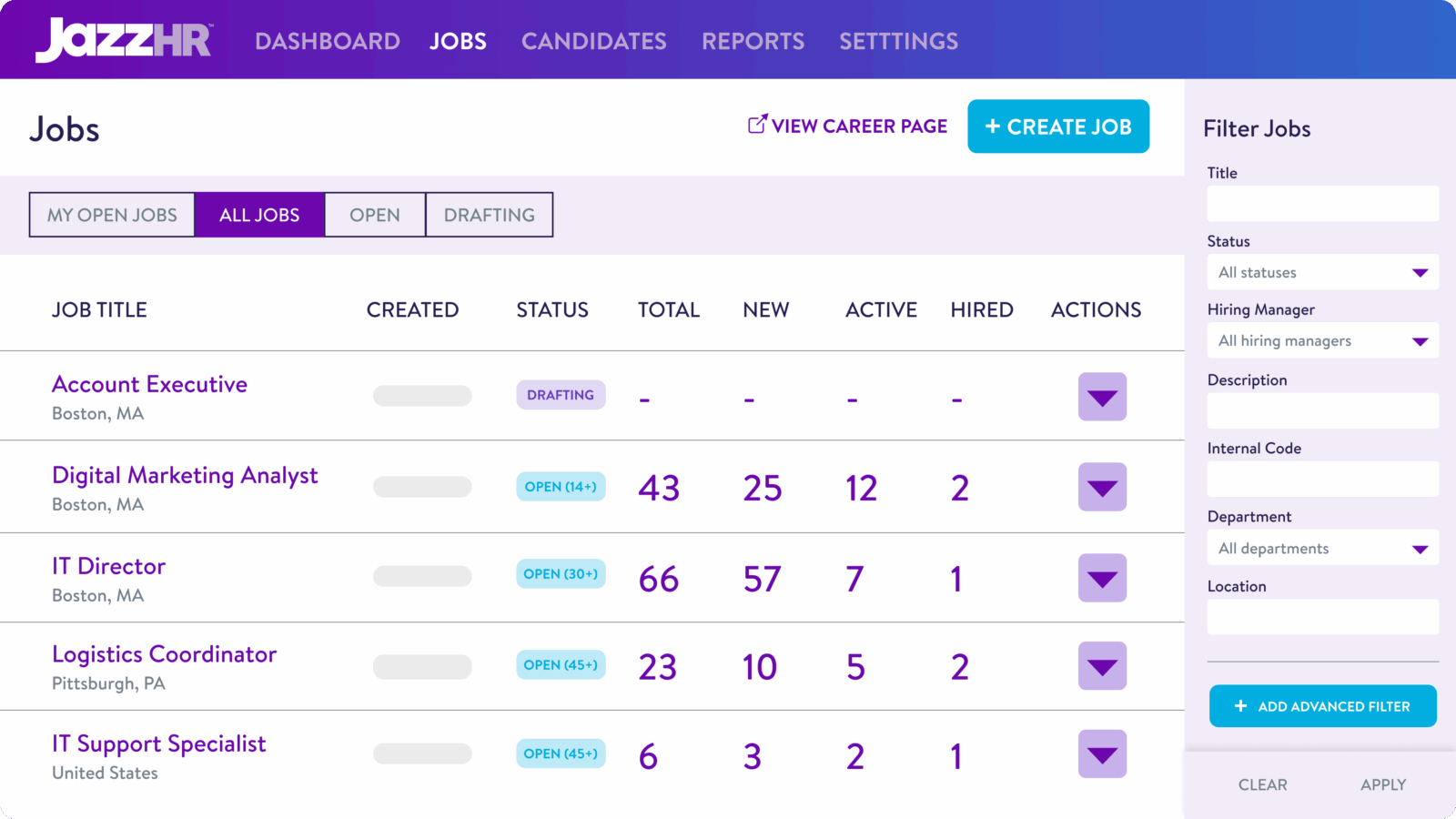 Consider your level of recruiting complexity
Be aware of the differences in platforms regarding your company size and recruiting complexity. For small- and medium-sized businesses, selecting recruitment software tailored-made for your recruiting needs and your hiring workflows is vital.
Determine your budget
Before you determine how much you can spend on an ATS purpose-built for your SMB, ensure you factor in how much the lack of an ATS actually costs your company now. Break down costs such as:
Time spent sourcing candidates
Time spent reviewing resumes
Time spent coordinating and conducting interviews
Time spent providing feedback on candidates internally
Time spent making manual offers
Total spend and cost for posting on jobs boards
Overall time required to fill each role
Overall cost per hire
Average time new hires stay in your company
Hiring manager satisfaction
Once you have these pieces of information, you can begin to identify the total cost of hiring in your business. Whatever your budget is, make sure to factor in the current costs of hiring now versus the ROI that an ATS could deliver to your company both in the short and long-term.

The Research Stage
Below are some areas you should look for when evaluating a short list of solutions. Consider whether the recruitment technology helps you:
Source better talent
Look for capabilities that will help you manage your candidate pool and source from top channels with a single click, post your jobs online, and easily manage resume screening while on the go.
Easily track candidates
Make sure you can easily track new candidates with a centralized tool. This includes building custom workflows, assigning tasks, and sending emails automatically to ensure the recruiting process moves forward.
Collaborate as a team
Ensure an ATS makes the hiring process more collaborative with all hiring team members. It should offer real-time input, seamlessly organize your interview process, and get on the same page to make better hiring decisions, faster.
Create custom reports
Look for an ATS that can help you identify how well your recruiting efforts are working. Ensure the recruitment software can measure the hiring metrics that matter most to your business and then fulfill reporting requirements to protect your organization.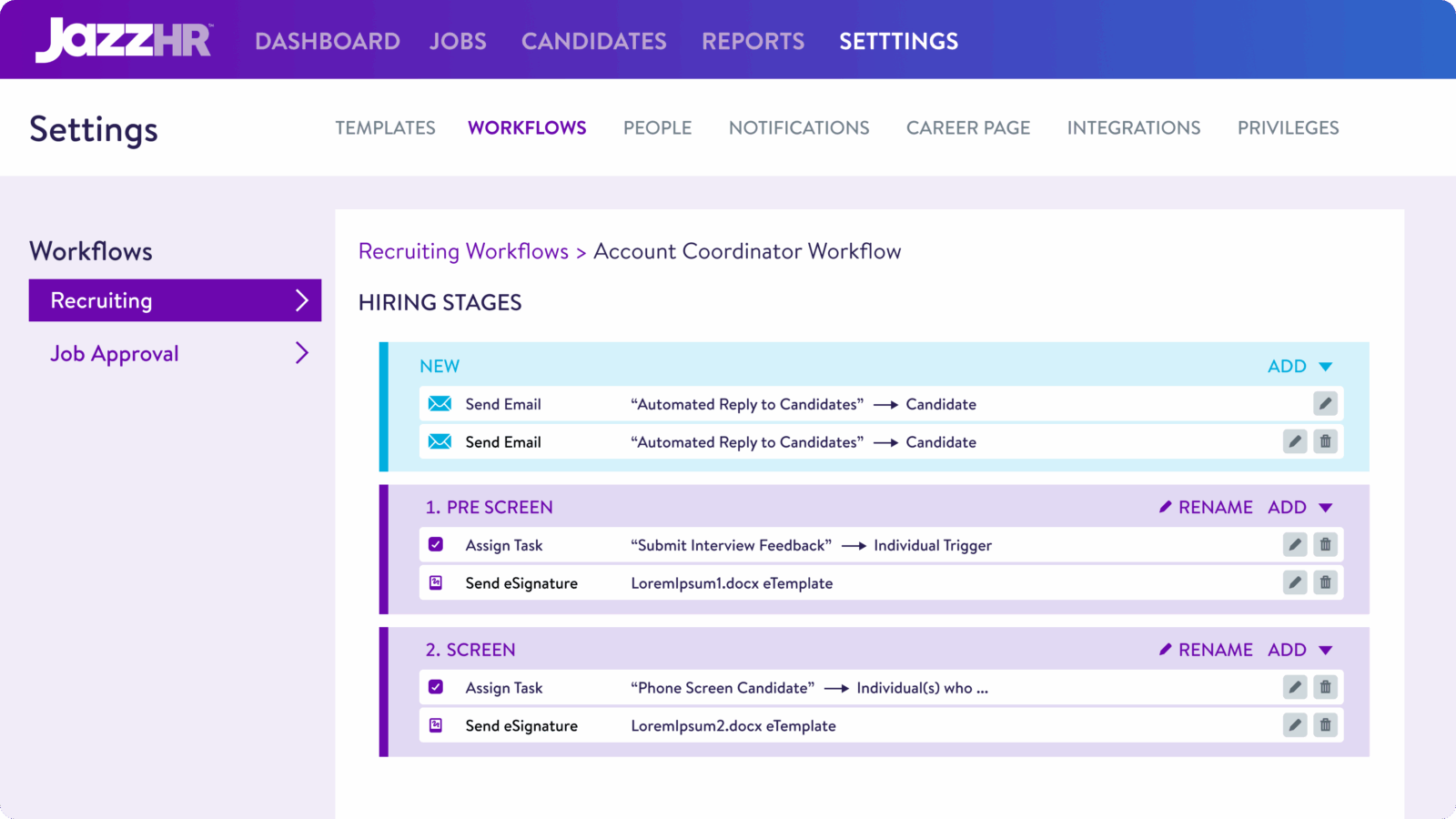 The Consideration Stage
By this stage, you will have researched providers and considered how their functionality, capabilities, and solutions fit into your current hiring initiatives and goals to automate your hiring process.
Here's what you need to do next.
Narrow Your List
At this point, it's ideal to start comparing 2 to 3 providers that align with the functionality you need and ensure they can meet or exceed your requirements. Compare your budget and timeline from the planning stage to each vendor, and consider which provider best aligns with your requests.
Ensure the ATS provider has a dedicated support team to see you through. Consider a provider that offers onboarding assistance, data imports, and customer support through email, chat, and phone.
The best applicant tracking systems for small businesses will work with you to build a timeline, consult on an appropriate go-live date, and provide dedicated support to ensure timelines are met.
Request a Consultation
Even before requesting a trial or demo and seeing the recruitment software in action, it's wise to reach out to each potential ATS partner and discuss your needs. Gauge this discussion with the provider to determine how well they respond to:
The circumstances in your hiring that have led you to consider an ATS platform.
The size of your organization and your recruiting complexity.
Budget and timeline expectations.
Team availability for a trial or demo so it can be scheduled.
The Selection Stage
Once you've discussed expectations and participated in demo calls or software trials, you're ready to narrow down your selection. This is an excellent opportunity to ask your top small business applicant tracking system vendors for references that match your org's size and industry.
Consider exploring rankings from independent researchers, researching online reviews from G2 or TrustRadius, or asking for feedback from contacts from your own network.
Personal reviews and testimonials from current and past users can go a long way in influencing your decision, providing an authentic insight into the functionality and usability of the ATS.
Chat with the JazzHR team today to find out how our powerful yet easy-to-use applicant tracking system can empower your small business talent team to work smarter, not harder. Schedule a demo today.

COMMENTS