How an ATS System Can Transform Your Hiring Process
It's simple, really: Companies that are able to quickly connect with top talent regarding job openings and automate the bulk of their hiring process by ensuring they have a leading ATS system at the center of their talent acquisition tech stacks have an advantage over other orgs that rely on manual recruiting.
Whether you track candidates in spreadsheets or use your own inbox to communicate with candidates, executing your recruiting tasks via these different and disparate digital avenues wastes valuable resources and can result in worsening hiring metrics across the board for your business.
Put plainly, applicant tracking systems work wonders for orgs of all sizes — not just Fortune 500 companies, but also small businesses such as yours — as they make it easy to carry out just about all day-to-day recruiting and hiring activities: from writing impact job descriptions and reviewing resumes and cover letters, to conducting the interview process and extending offers to prospects.
9 ways a leading ATS system can enhance your hiring
For those companies that are just getting started in automating their hiring process, moving to an applicant tracking system can help speed time-to-hire and help find quality candidates faster. But, just how does that happen? And what areas of the hiring process does an ATS actually improve?
Take a look at nine specific ways that moving to an reputable, SMB-centric ATS system can help you streamline hiring and make you more competitive in the current hiring environment.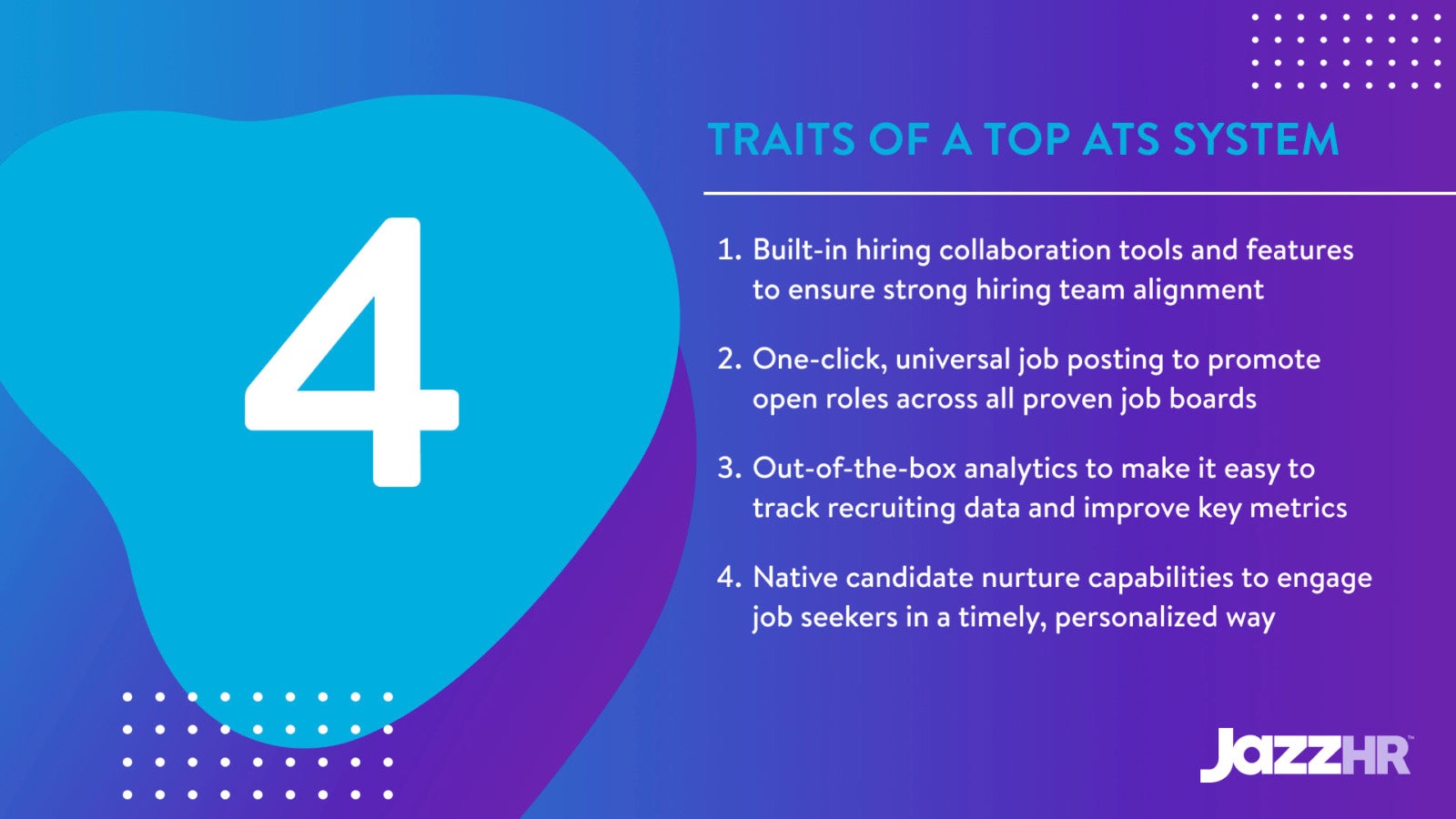 1) One-click, universal job posting
When you incorporate an ATS into your recruiting process, you can easily syndicate your open positions to free job boards, paid job boards, and popular social media channels.
With just a single click, you can post jobs online to dozens of popular free job boards and purchase job traffic through pay-per-click and pay-per-post job boards around the web. This level of efficiency ensures that top talent views your open roles where they are, improving your overall quality of hire and hiring speed.
2) More collaborative hiring efforts
A powerful ATS helps you find and attract stellar candidates right from the start. On top of that, it also helps to improve your team's collaboration. How? With applicant tracking capabilities, like those offered through JazzHR, you can easily collaborate as a team when deciding which candidates you'd like to move forward with in the hiring process.
Your team can easily vote to advance qualified candidates or reject unqualified candidates. Alternatively, if they're not suitable for the role now, mark their potential for future positions and keep them at top of mind as new positions become available. And when it comes down to it, your team will appreciate having a say in who gets hired for the open role.

3) An enhanced screening process
One of the best features of an ATS is the ability to efficiently and effectively screen candidates. This capability gives you the flexibility you need to review and evaluate resumes, even while on the go.
Recruiters and hiring managers know how challenging it can be to stay on top of all the applications and resumes that come across their desks, even for just one open position. Multiply that by two, three, or more open positions, and you can quickly see how this task can become overwhelming.
An ATS system takes all that stress off your shoulders by filtering applications as they're submitted. This means you won't waste time reviewing applications for unqualified candidates.
Beyond simple screening and filtering capabilities, applicant tracking system benefits include real-time feedback and discussion on candidate profiles.
As the hiring manager or recruiter, you can easily comment on the qualities you like in a candidate and the ones you aren't so enthused about. All members of your team will be able to see and access this feedback, ensuring total transparency and alignment as you move forward with your hiring plans.
4) Employee referral management
Referrals often result in the best hires for various reasons. Mainly, it's because your workforce:
Understands the workload the position entails, so they're highly unlikely to recommend a candidate who cannot meet the demands of the role
Know your organization's culture, so they'll know whether their referral would be a solid match
Are clear about the skills required to succeed in a given role, meaning they won't offer a referral of someone who doesn't meet that distinct threshold
It's apparent that creating a solid employee referral program is a strategic part of hiring. With JazzHR, building out your referral program and implementing it into your hiring strategy is simple and efficient.
The platform streamlines the process of requesting referrals from your team, but it doesn't stop there. It also offers an easily accessible method of staying up-to-date on the status of referrals, so employees won't be left in the dark about whether their referral is still being considered.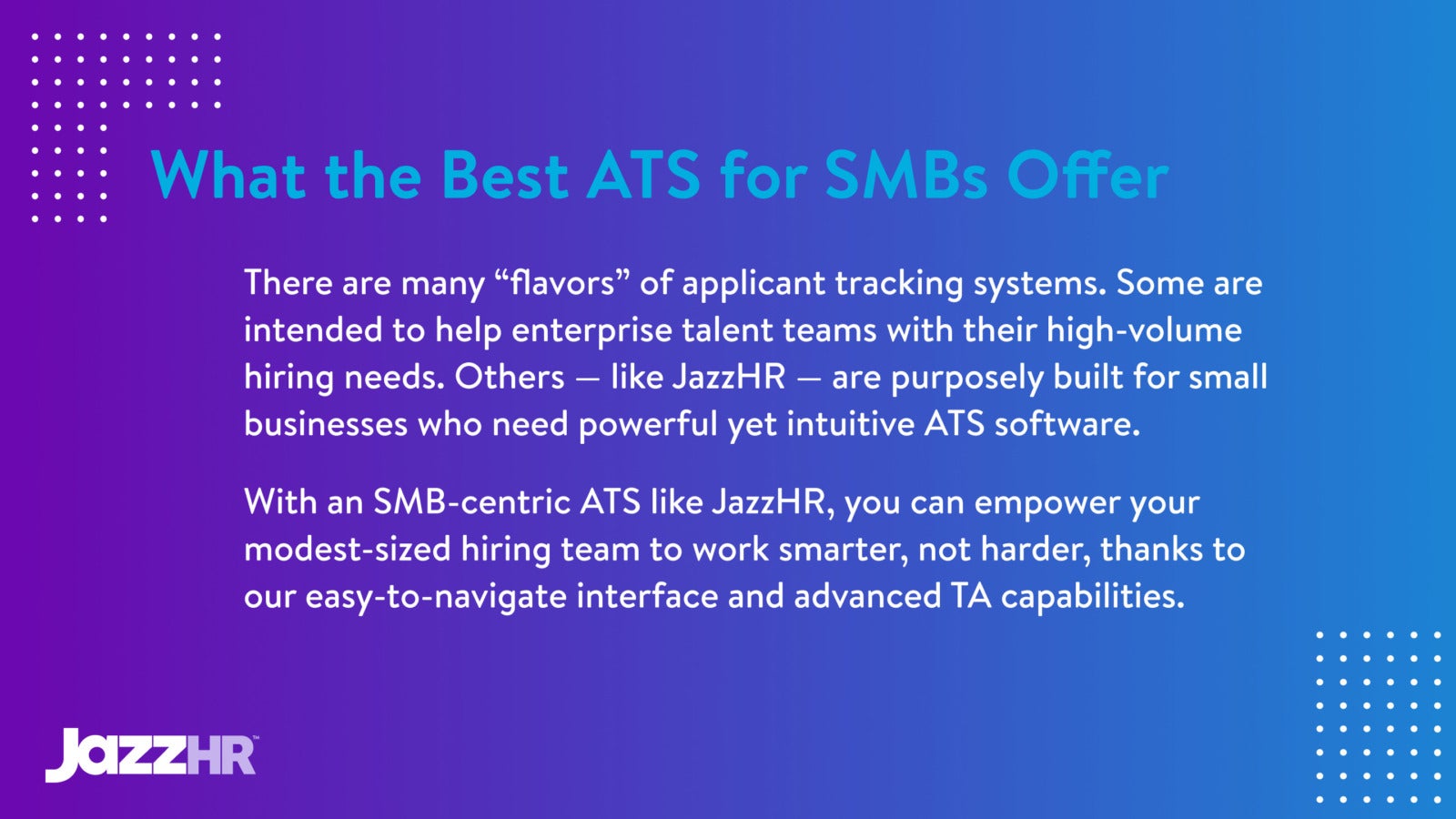 5) Easy interview scheduling capabilities
With numerous job applicants entering your talent pool monthly (if not weekly), staying on top of communications with prospective hires can quickly become a headache. But, there's no need to stress. With the support of top ATS system, you can ensure you never let a candidate slip through the cracks.
JazzHR has built-in features to help you keep track of communication records with candidates and organize your calendar so you can easily schedule interviews within the platform and send reminders to all participating parties (i.e., job seekers, hiring managers, and interview panelists).
That means you don't have to worry about missing a call or leaving an applicant inadvertently waiting (or out of the loop). The popular scheduling-centric recruitment tools that sync directly with our ATS ensures talent teams with our solution can keep everybody on the same page from beginning to end.
6) Streamlined candidate feedback
The ideal ATS system (i.e., one that was purposely built for SMBs and offers robust candidate engagement and analysis capabilities) gives your entire hiring team quick and easy access to all notes and records tied to applicants and sourced talent.
After each interview, you can log notes about how the conversation went and rate the strength of candidate responses to your questions. All the feedback you input is matched to their candidate profile, keeping your records organized and ensuring you don't lose track of where your info is.
This gives hiring managers and recruiters peace of mind when they jump into interviews with candidates since all they need to do is pull up the profile to see the most updated records on the person they're interviewing. After the interview ends, your team can rank the candidate based on their evaluation and offer their own feedback, helping progress your pipeline and refine your search.

7) Elimination of redundant tasks
Eliminate the unnecessary and automate the mundane. JazzHR offers capabilities for recruiting workflows that give you end-to-end customization of your recruitment process. That level of control over your technology means you can ensure your tools work for you, not against you
Armed with the right ATS, you can make your hiring process run smoother and keep your hiring team focused by automatically assigning and delegating tasks. With the insights available from your applicant tracking system, you can clearly see what stage each candidate is at in your hiring cycle.
8) Send nurture messaging automatically
Crafting, sending, and organizing emails is time-consuming, especially when juggling dozens of applicants. The right ATS lets you create drafts and templates for email responses, so you can dictate when communications are sent to candidates.
Choose from pre-saved templates, dictate the recipient, and schedule the intended delivery time. This automation saves your team countless hours replying to applicants and helps you build a well-oiled hiring process that keeps the candidate experience top of mind.
9) Build offers and automate e-signatures
Another feature of an ATS that recruiters love is the ability to generate personalized offer letters using pre-populated templates. These templates save you time from repeatedly crafting offer letters, while enabling you to still personalize and customize communication that candidates desire.
As with most data, the ATS allows you to store these documents in one centralized location, providing consistency and ease of use across your organization.
JazzHR also enables you to automate requests for eSignatures, streamlining the process and ensuring compliance through your HR department and the EEO Commission. In all, you'll accelerate your time to hire and reduce the amount of time a lead is left waiting to advance to the next stage.
If you're thinking of investing in a new ATS system, you've come to the right place. Recruit smarter and hire faster with the only hiring platform built for small businesses like yours. Request a JazzHR demo today.

COMMENTS