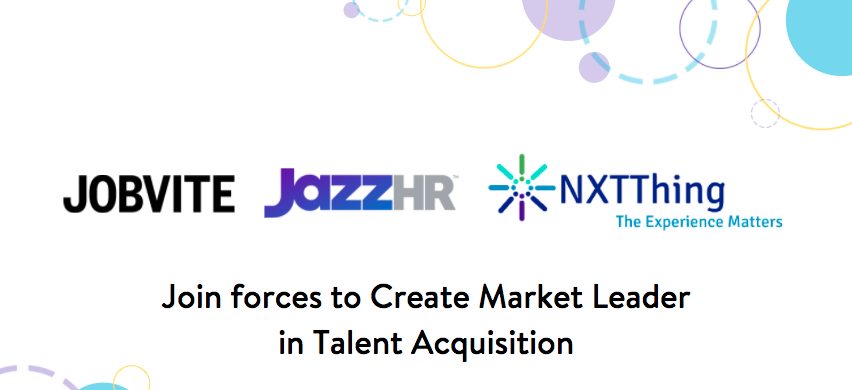 JazzHR Joins Forces with Jobvite and NXTThing RPO
Today, we're thrilled to announce that JazzHR is joining industry leaders Jobvite and NXTThing RPO to create the leading provider of recruitment software and services for organizations of all sizes.
Since 2009, JazzHR has remained laser-focused on a singular goal: to help small and mid-sized businesses find and hire the right employees faster. With over 8,000 businesses using JazzHR, an ever-expanding partner network, and a best-in-class platform, we've emerged as the go-to recruiting platform for SMBs
Now, this next phase of growth allows us to extend our impact even further.
Who are Jobvite and NXTThing RPO?
Complementing JazzHR's SMB platform, Jobvite provides data-driven talent acquisition software for teams looking to increase recruiting speed, quality, and cost-effectiveness. Jobvite serves thousands of customers across a range of industries, including businesses like Ingram Micro, Exelon, and Premise Health.
NXTThing RPO focuses on recruitment process outsourcing, providing businesses with the services they need to transform how they hire talent. With talent acquisition expertise, NXTThing helps businesses to both design and improve their HR processes.
Why join forces?
Now, more than ever, businesses need scalable, efficient recruitment solutions to win top talent.
With a unique combination of both SMB and enterprise-level technology, along with industry-leading recruitment services, JazzHR, Jobvite, and NXTThing RPO will create a first-of-its-kind solution. Whatever the customer size, budget, tech, or service level required, our organization will have the solutions our markets need.
What will the new business look like?
Jobvite, JazzHR and NXTThing RPO will continue to operate under their respective brands with JazzHR's Pete Lamson as CEO. Combined, our new organization will help more businesses than ever to compete in the global hiring market, including:
10,000+ customers
1,000+ partners
485,000 open jobs
11 million candidates each month
What does this mean for JazzHR customers?
JazzHR remains committed to your and your customers' recruiting success:
Your day-to-day experience using JazzHR will not change. In fact, – we even will continue to operate seamlessly under the same JazzHR brand you know and trust.
We will continue to improve our product, deliver world-class support, and provide our transparent pricing structure without disruption.
As your company's needs expand, however, the solutions we can now offer will expand with you
You can now take advantage of NXTThing's industry-leading outsourced recruiting and should they grow to a point where an enterprise-level ATS makes sense, we'll create a seamless transition into Jobvite.

COMMENTS