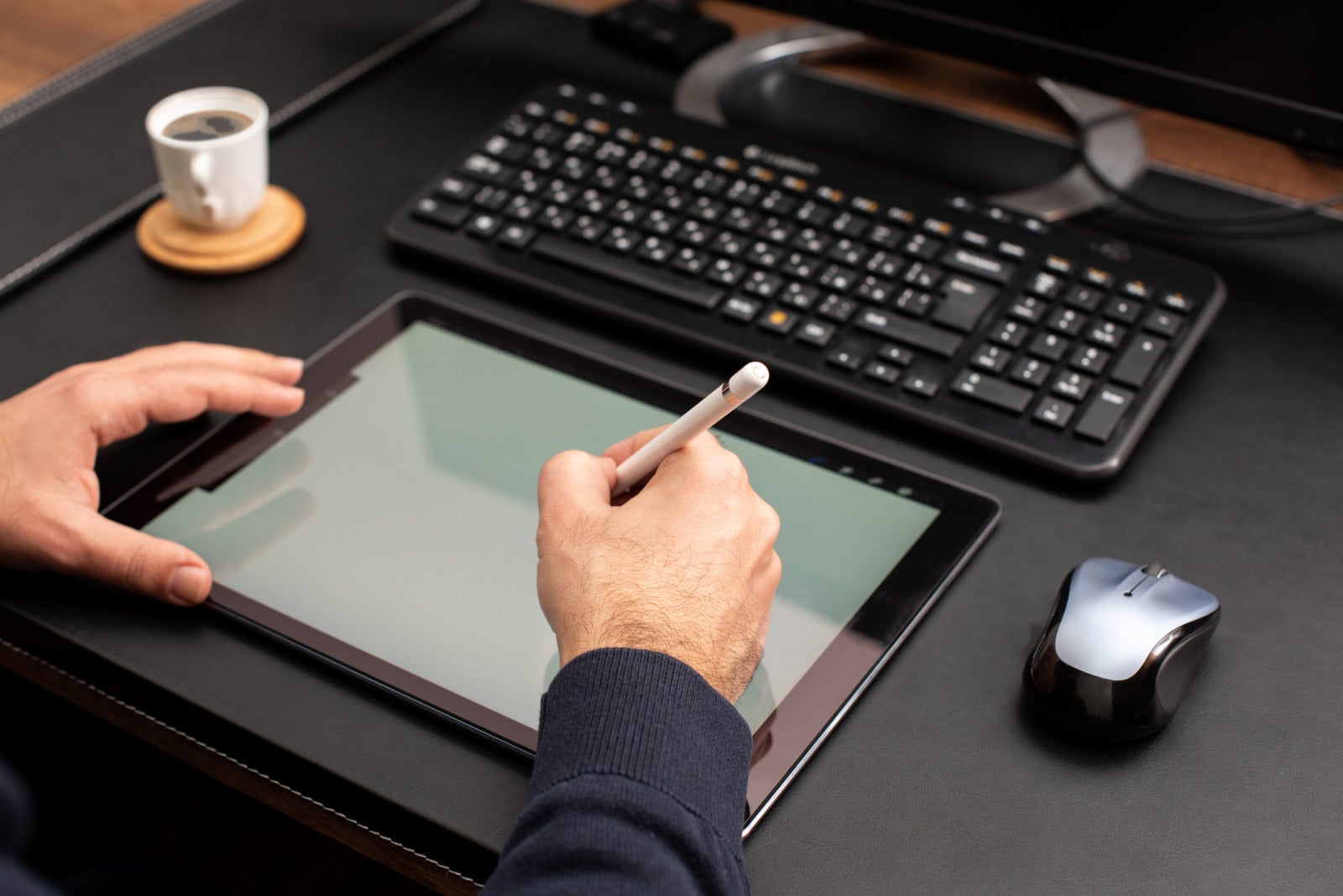 Product Update: Offers and eSignatures
Simplifying the New Hire Process with Offers and eSignatures
At JazzHR, we're always looking for ways to bring more of your recruiting tasks online so they're easier to manage. Perhaps two of the most stressful times during the recruiting process are during the Offer and Onboarding stages. So much paperwork, so little time.
If you're about to send a job offer to a candidate, you know that great candidates are in high demand, so there's a good chance your prospective hire is reviewing multiple job offers, which means speed is critical. The faster you can produce an error-free offer letter, forward it to the candidate, and have it returned with a signature, the lesser the chances a competitor will steal your next star employee.
But even after you've received a signed offer letter, everyone knows there's even more paperwork for onboarding a new hire. From completing non-disclosure agreements to tax forms and benefits enrollment forms, asking a new hire to review mountains of paperwork on their first day (or even worse, scan or fax documents before their first day) is a poor new employee experience, and it's time-consuming busywork for HR folks.
With this quarter's major product release, I'm excited to announce a new feature that will reshape the way companies manage the entire candidates new hire process in JazzHR – introducing: Offers and eSignatures.

Fast, Error-free Offer Letters
So you've negotiated the details of an offer and want to produce an offer letter fast. No problem. JazzHR makes it easy to generate error-free offer letters in minutes. After you upload an offer template with placeholder tokens, you can create a new offer, enter the offer details, and export a customized Word document that uses your template. All placeholder tokens in the template will be replaced with the offer details, and your offer letter is ready to send to the candidate.
Time-Saving eSignatures and eTemplates
The fastest way to receive a signed offer letter and complete new hire onboarding paperwork are to send the documents for electronic signature. JazzHR has partnered with HelloSign to bring you eSignatures, a seamless electronic signature integration that makes collecting offer letters and onboarding documents both fast and paper-free.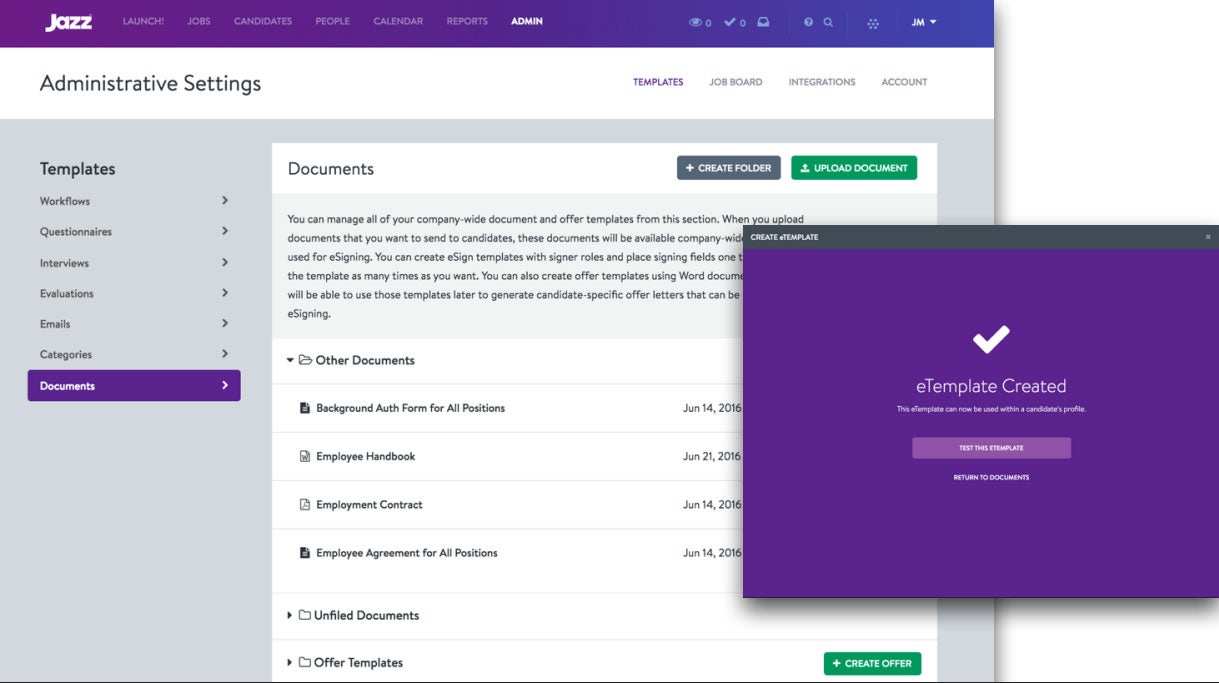 With eSignatures, you can instantly convert an offer letter into an electronic document and send it to the candidate with just a few clicks. You can also add multiple signers and assign specific fields to each person before sending. JazzHR tracks the status of all eSignature documents and emails you when a document is viewed, signed and completed, attaching the file once everyone has signed. All eSignature documents are mobile-friendly, so your prospective hire can sign from any location, and on any device.
Our partnership with HelloSign also makes sending and receiving onboarding paperwork less of a hassle for both you and your new employees. You can convert your onboarding documents into eTemplates, which are pre-configured, reusable electronic documents stored in Jazz. Once your candidate has accepted their job offer, it takes just a few clicks to send your company's onboarding packet for electronic signatures. With eTemplates, you can now spend a new hire's first day on engagement instead of paperwork.
Serious Document Management & Security
Offer letters and new hire data are very sensitive, so with this release we took a hard look at data security and how documents are managed in JazzHR. With our new security enhancements, you can be sure that the privacy settings you need for sensitive employee data are robust and in your complete control.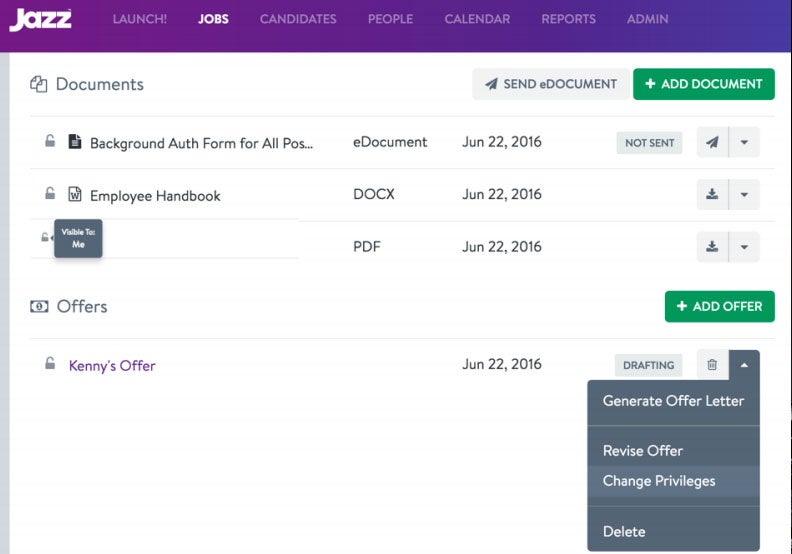 Offers & eSignatures provides you with granular security for all your candidate offers and documents, all under our new Documents tab (formerly the Offers tab). You can control access on a per-document basis, right down to specifying what individuals have access to what documents. And as you convert documents into eTemplates, JazzHR remembers the access settings so you don't make a security mistake. Your data security is our top priority, so you can trust JazzHR to manage your highly-sensitive new hire data.
COMMENTS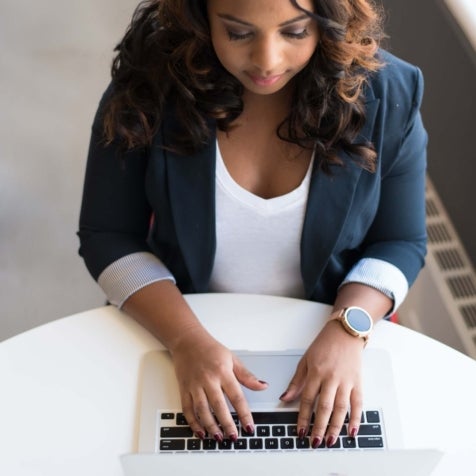 Popular Articles