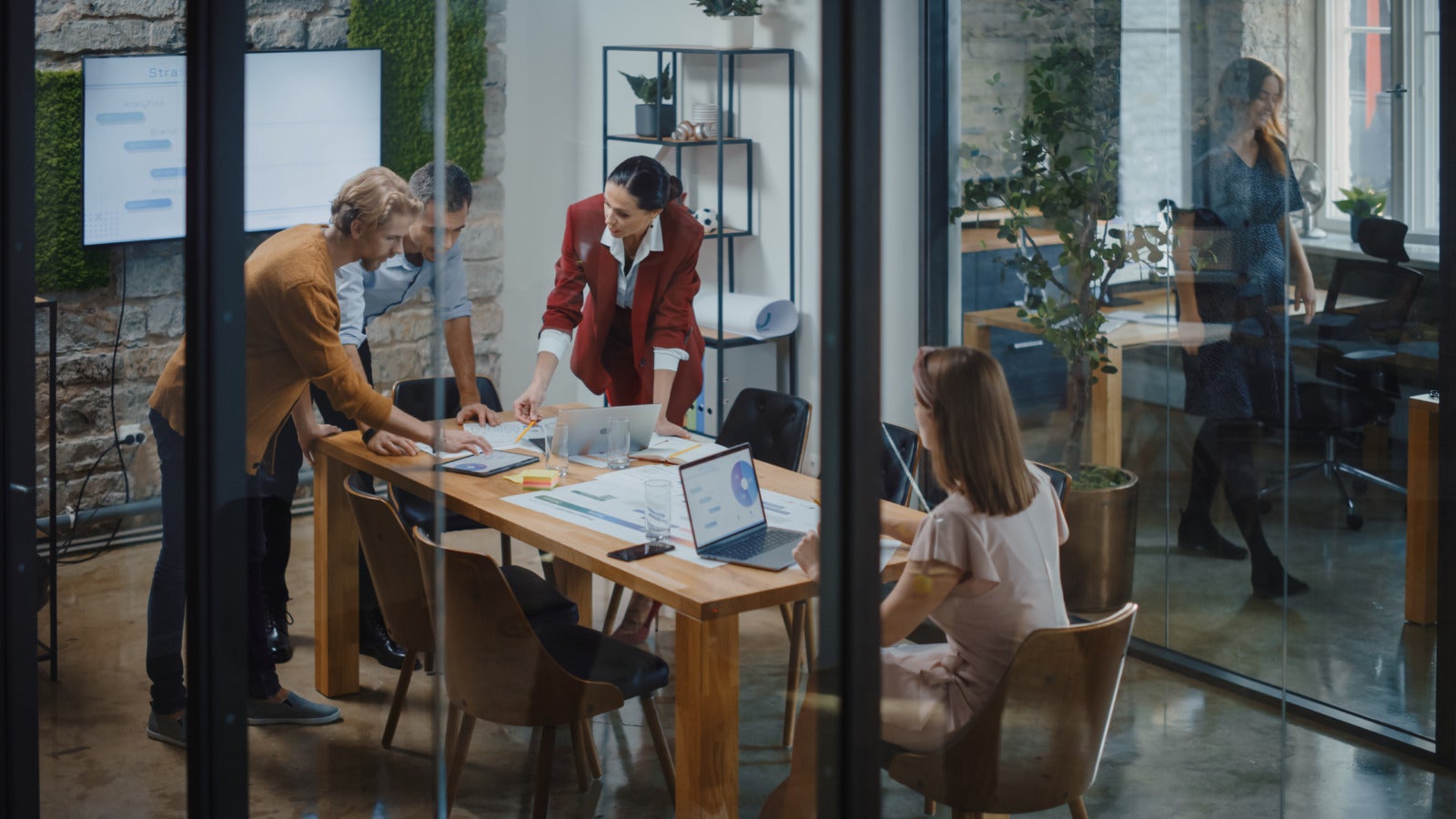 Recruiting Challenges and Opportunities in Today's Labor Market
An era of uncertainty has made its way into recruiting. Many talent practitioners are asking themselves, "What in the world is going on?" The truth is, the new normal is here to stay. And volatility is the name of the game. Unemployment remains low, while wages, inflation, and interest rates remain high. The number of open jobs continues to outpace unemployed workers.
Despite the turbulence, recruiting professionals should be encouraged by recent trends. Employ data shows that applications per job are up over the last year across companies of all sizes, and more than half of all recruiters expect their teams to grow in the next year, with nearly two-thirds expecting their recruiting budgets to increase.
A Look at the Current Recruiting Landscape
Navigating recruiting challenges in the current hiring landscape takes grit, resolve, and determination. While more than half (53%) of talent acquisition professionals feel their job is more stressful today than a year ago, this number has actually dropped by more than 10 percentage points from just last year.
Those talent practitioners who indicate a high level of stress today say it's due to not enough qualified candidates (45%), competition from other employers (35%), more open roles to fill (34%), fewer resources to support hiring (33%), a lack of AI-powered recruiting technologies (30%), and more employees leaving the organization (30%).
For those talent professionals who do not feel their recruiting job is more stressful than it was a year ago (44%), over one-third say it's because of a stable number of open roles to fill (38%), the ability to meet candidate expectations (37%), the same number or fewer employees are leaving the organization (36%), plenty of qualified candidates (36%), and more recruiters or additional recruiting resources (36%).
Recruiting Challenges
When it comes to the most significant challenges talent teams face today, there is a fairly even split among three primary areas:
Not enough people to fill open positions (31% in 2023 versus 56% in 2022)
Competition from other employers (30% in 2023 versus 54% in 2022)
Not able to compete with salary requirements (25% in 2023 versus 33% in 2022)
However, there are positive trends in this data. The significant drop of more than 20 points in the first two areas means that employers are finding more talented candidates overall and that they are competing more effectively with other employers.
Ian Creamer
Vice President and Global Head of Talent Attraction, Guidewire Software

"There is so much uncertainty in the market. The expectation of hiring managers and leaders is that the tide of layoffs should equal much easier access to talent and that's not always the case. We hire in the technology space and truly top talent remains as hard to hire as ever. Candidates are still showing up with multiple offers already in hand."
Opportunities and Shifting Strategies
To deal with the challenges of the current job market, many businesses have shifted their recruiting strategies to impact their hiring process. Nearly 60% of talent acquisition professionals also indicate that because of the tight labor market, they are taking chances on different ways to accelerate time to hire and reach candidates.
This includes making sure the hiring process is faster (42%), increasing salaries for new open jobs (40%), providing remote work and hybrid options (38%), and incorporating AI-powered technologies (34%).
Compared to last year, organizations are now able to be flexible in some areas of recruiting, including taking more time looking for candidates (43%), incorporating AI-powered technologies (43%), focusing on internal mobility (39%), using personal networks (35%), opening new requisitions (32%), posting to paid job boards (30%), and expectations for the number of candidates applying to roles (28%).
Improving the quality of candidates remains essential in the current labor market for recruiters and talent acquisition teams, with almost half indicating it is their top priority (49%). However, compared to last year, this number decreased by 12 points.
For 4 in 10 recruiters, getting more candidates for each open role is a priority, followed by improving the speed of the hiring process (33%), and improving the onboarding process (31%).
The current state of talent acquisition can be characterized as highly dynamic and competitive. Talent scarcity and demand continues to favor a candidate's market, and organizations are working diligently to create employer value propositions that successfully capture application volume.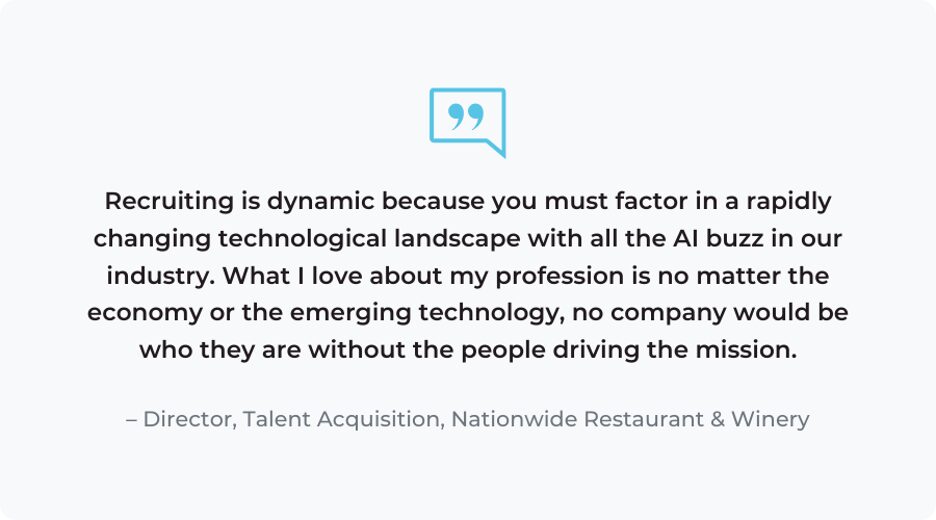 Leveraging AI-Powered Recruiting Tools
While recruiting automation has empowered companies of all sizes for more than two decades to streamline hiring tasks, increase recruiter productivity, speed time to hire, and reduce cost per hire, AI is newer to talent acquisition. And it has the attention of talent teams. Nearly 1 in 3 (30%) of recruiting professionals cite a lack of AI-powered recruiting technologies as a major stress in their job.
With AI now one of the fastest-growing areas to enhance recruitment technology, talent acquisition professionals have already started adopting its capabilities for more intelligent hiring. In fact, more than 58% of recruiters and HR decision makers already use AI to augment their current recruitment technology tech stack, with 82% percent reporting using AI-powered tools frequently or very frequently.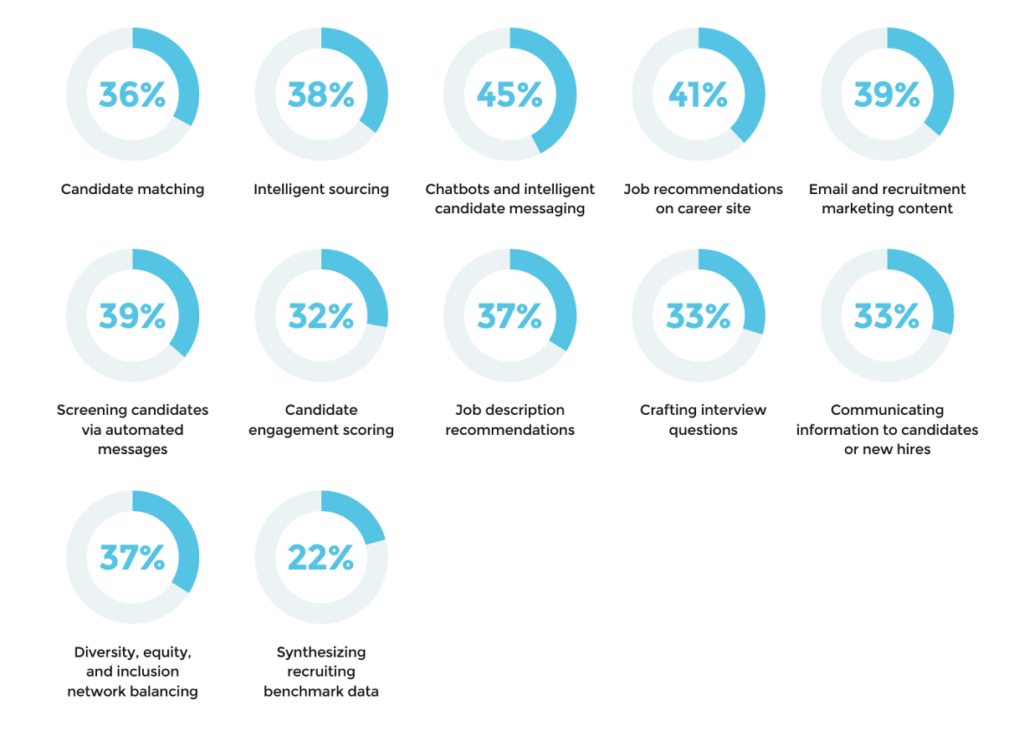 When it comes to use cases in talent acquisition, teams are leveraging AI for multiple uses across the recruiting lifecycle. Chatbots and intelligent candidate messaging (45%), job recommendations on career sites (41%), email and recruitment marketing content (39%), and screening candidates via automated messages (39%) are the top AI approaches currently leveraged in the hiring process. This is followed by intelligent sourcing (38%), candidate matching (36%), diversity, equity, and inclusion network balancing (37%), and job description recommendations (36%).
Organizations must invest in the right set of AI tools that fit their hiring needs, culture, and values. They must also strike a balance between AI's ability to streamline recruitment processes and the need for human intervention at crucial stages of the recruitment process. Of the HR decision makers who currently use AI to augment recruiting technology, nearly half (47%) leverage AI-powered recruiting tools with AI functionality built in.
By allowing AI to automate processes and reduce repetitive tasks, recruiters can focus on the activities where they derive the most satisfaction and provide the most value, such as selling the role, negotiations, community building, and personalization. Not only does this improve the recruiter experience, but the candidate experience as well.
Moving Forward with Confidence
While recruiting challenges are apparent, so too is the optimism of the industry. Discover why an overwhelming 86% of HR decision makers are optimistic for the future. Download the 2023 Employ Recruiter Nation Report today.