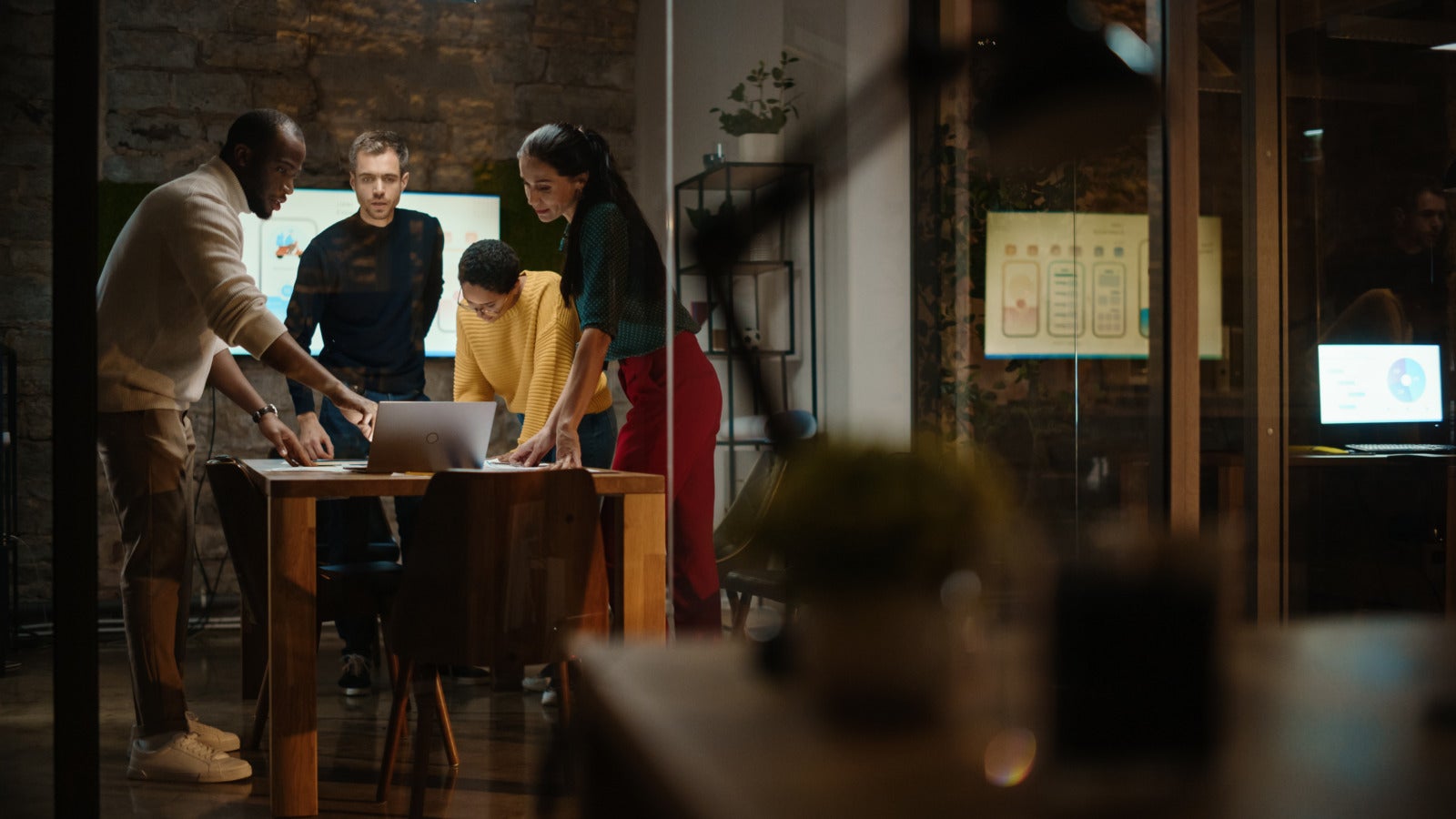 Recruiting Funnel Metrics: Get a Handle in an Unsteady Market
Data-driven analysis and decision making is even more important today in talent acquisition than it was just a few years ago. And understanding some of the most important benchmarks can help your talent team recognize how it stacks up compared to other organizations of a similar size and sector.
For recruiting professionals and HR decision makers, getting a handle on key metrics and understanding where any bottlenecks may exist is essential for improving hiring performance.
Based on data from the 2023 Employ Recruiter Nation Report, below are a few notable benchmark metrics across the recruiting funnel that companies can use to compare to their own talent acquisition efforts, and improve recruiting funnel health, efficiency, and performance.
Applications Per Job
Nearly 7 in 10 talent acquisition professionals report that their current volume of hiring is greater compared to last year. This is supported by Employ's proprietary database of more than 21,000 customers. During the last 12 months, the average number of applicants has climbed across all company sizes, including enterprise, and small-and medium-sized businesses (SMBs).
With higher numbers of applications, the percentage change of applications submitted over the last 12 months is also up, indicating a positive trend for employers.
Time to Fill
Time to fill represents how long it takes a company to fill a job opening, from the date a job requisition is posted until a candidate accepts an offer. Simply, it's the time it takes to find and hire a new employee.
The average time to fill for companies of all sizes is 47.5 days. While time to hire for most organizations has historically hovered around 40 days, during the last 12 months, this number has been higher.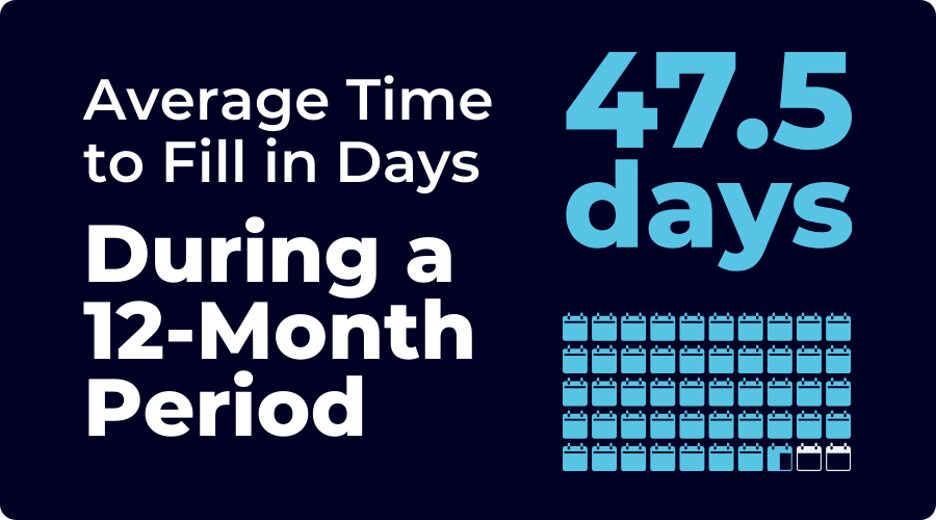 Because hiring is a game of speed, it is critical to determine areas where you can reduce time to hire overall, including shortening feedback loops internally and moving candidates quickly through each step of the hiring process.
Breaking it down by company size over the last 12 months, time to fill for SMBs typically is a few days longer than at enterprise companies, at 49 and 46 days, respectively. This makes sense, given that it can be more challenging for growing companies to attract qualified candidates if they have a lesser-known employer brand or lack the right mix of tools to streamline their hiring process.
Benchmarking time to hire based on industry is also critical for talent teams because it tells them how quickly companies in their own sector are hiring. Media, manufacturing, and education have experienced the highest times for filling open roles, while healthcare, retail, and professional services, have the lowest time to hire during the latest 12-month period.

Applicant to Interview Ratio
The conversion rate from applicants to scheduled interview is what is known as applicant to interview ratio. Based on Employ data, enterprise companies have a higher number of total applications received compared to SMBs for each interview offered. This is consistent over the last 12 months.
When looking at the conversion rate from applicants to scheduled interview, enterprise companies have a much lower applicant to interview ratio than SMBs. With considerable competition for open jobs in certain industries, and large numbers of applicants, especially in the technology sector, it can be challenging for recruiters to manage the high volume of applications. In the case of SMB companies, they could be receiving more qualified applicants or fewer applications overall for open roles.
Interview to Offer Ratio
Interview to offer ratio is the number of candidates on average a hiring manager must interview to make an offer. Typically, a strong interview to offer ratio is around 33%.
However, looking at the interview to offer ratio for enterprise versus small-and medium-sized businesses, it is clear that during the last 12 months, Employ customers within the enterprise segment have seen historic highs in this conversion metric, ranging between 70% – 80%. SMBs, however, have seen a much lower interview to offer ratio , which could mean a higher number of quality candidates are given opportunities for interviews or employers want to widen the field when it comes to candidates reaching the interview stage.
Most Valuable Metrics to Track
So, what are the most important or most valuable metrics to track? Almost one-third (31%) of recruiters rank quality of hire as the most valuable metric they use to track recruiting success. This is followed by time to fill (14%) and cost per hire (12%). Diversity of talent pipeline is ranked as the least valuable metric to track recruiting success by one-fourth (25%) of HR decision makers.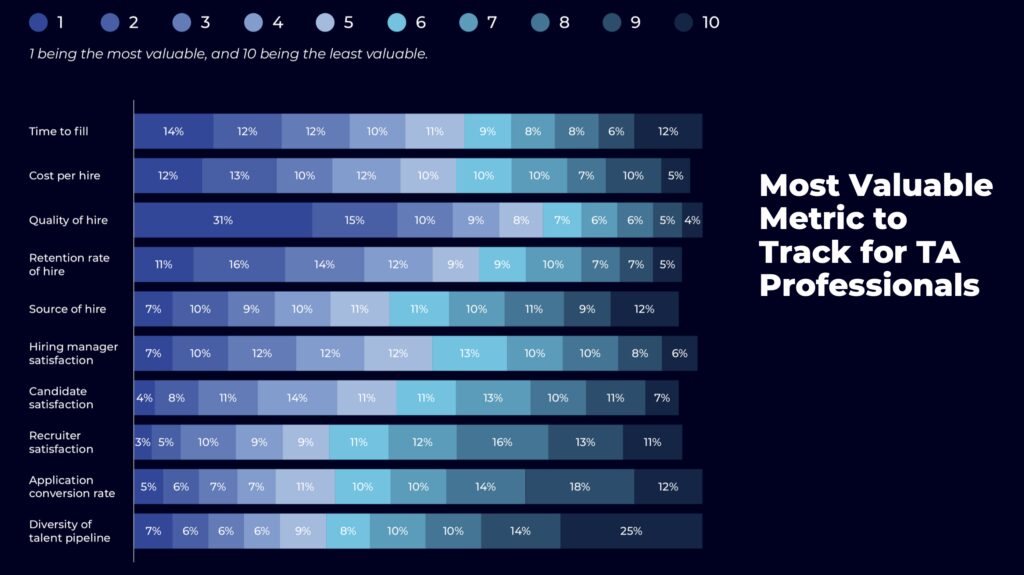 Most Valuable Sources of Hire
One quarter of HR decision makers ranked job boards as their most valuable sourcing channel, followed by internal hires (16%), social media (14%), employee referrals (13%) and their career website (9%). This gives employers insight into the types of channels and sources that other companies are looking to when it comes to filling open roles in their companies.
When it comes to social channels used for sourcing, 41% of recruiters and talent acquisition professionals report that their company currently uses or plans to use LinkedIn as their primary social channel to find candidates, followed by Facebook (20%), and Twitter/X (10%).
LinkedIn outperforms other social media channels in terms of candidate quality, with more than half (52%) of HR decision makers ranking LinkedIn with the highest quality.
Start Measuring What Matters Most to Your Business
Bringing data together all in one place to see up-to-date recruiting funnel metrics, including sourcing effectiveness, application conversion rates, applicant flow, time to fill, and other key hiring metrics, enables talent acquisition professionals to help their business understand how to improve and drive efficiencies across the recruiting function.
Remember, recruiting is about speed, and knowing how to make faster, smarter decisions is how to stay competitive in an unsteady hiring environment.
Go deeper on recruiting metrics and the latest insights. Download the 2023 Employ Recruiter Nation Report: Moving Forward in Uncertainty.