Provide Pre-Employment Tests with JazzHR and Wonderlic
JazzHR is thrilled to announce the launch of our integrated partnership with Wonscore by Wonderlic.
Wonderlic offers a comprehensive library of pre-employment tests for each stage of your hiring process. Want to know if a candidate is a good fit for a role based on their cognitive ability, motivation, or personality? The results from these tests combine to create a single "Wonscore" to help you rank and compare potential candidates.
What makes Wonderlic unique is their scientific approach to candidate assessment. The company's tests use industrial and organizational psychology to evaluate candidate abilities.
Together, JazzHR and Wonderlic enhance and streamline the entire screening process.
How the Wonderlic integration helps JazzHR customers
The first thing to note is that this integration diversifies assessment provider options for JazzHR customers. Making informed hiring decisions has never been easier or more accessible.
By integrating your JazzHR account with Wonscore from Wonderlic, you can easily stack-rank your top candidates to uncover your best hires right from within JazzHR. Accelerate your time to hire by pre-screening candidates for fit and eliminate unqualified applicants from the start.
JazzHR users will interview candidates with confidence by focusing on straightforward, but detailed insights, in addition to job-specific interview guides. Also, you'll be able to better match candidates to your company culture, job requirements, and skills needs with Wonscore results.
Integrating JazzHR with Wonderlic
The first thing you need to do is connect by either your existing Wonderlic account or create and connect a new account. Once you have synced your JazzHR and Wonderlic accounts, you can now start sending and receiving Wonscore tests from within JazzHR.
You'll simply link the job in JazzHR you wish to send the test for with the accompanying job in your Wonderlic account, formulate the message, and click Send Wonscore. The candidate will then receive an email prompting them to complete the assessment.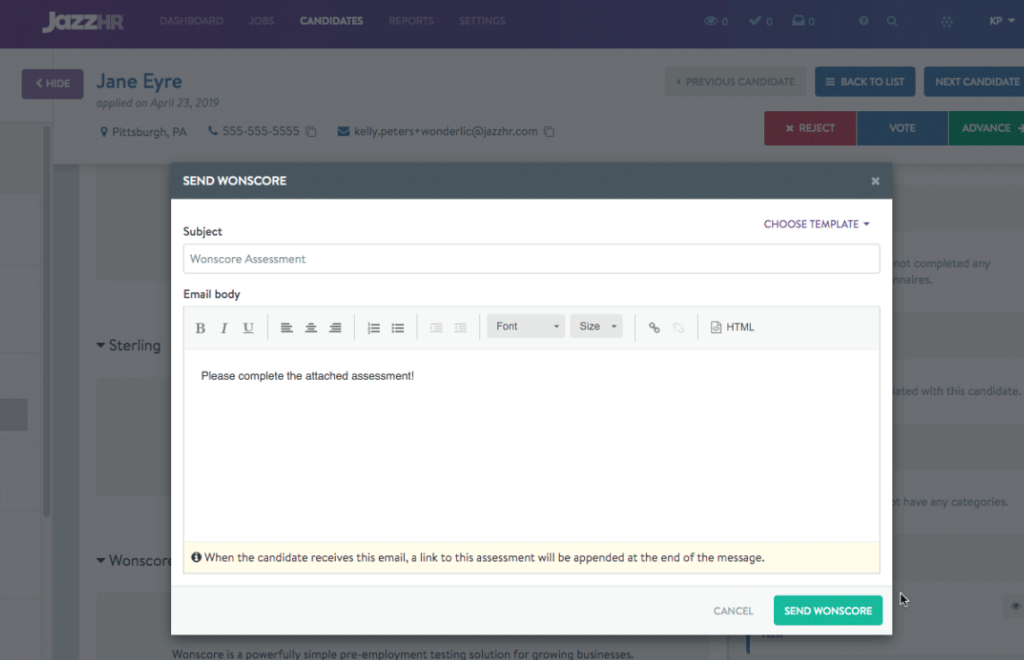 Once a candidate has completed the test, you can view a summary of their results in the Assessments tab of the Candidate Profile. A Wonscore status and results will also appear on each job's candidates page. In the screenshot below, we see that one candidate received an overall weak Wonscore.

COMMENTS