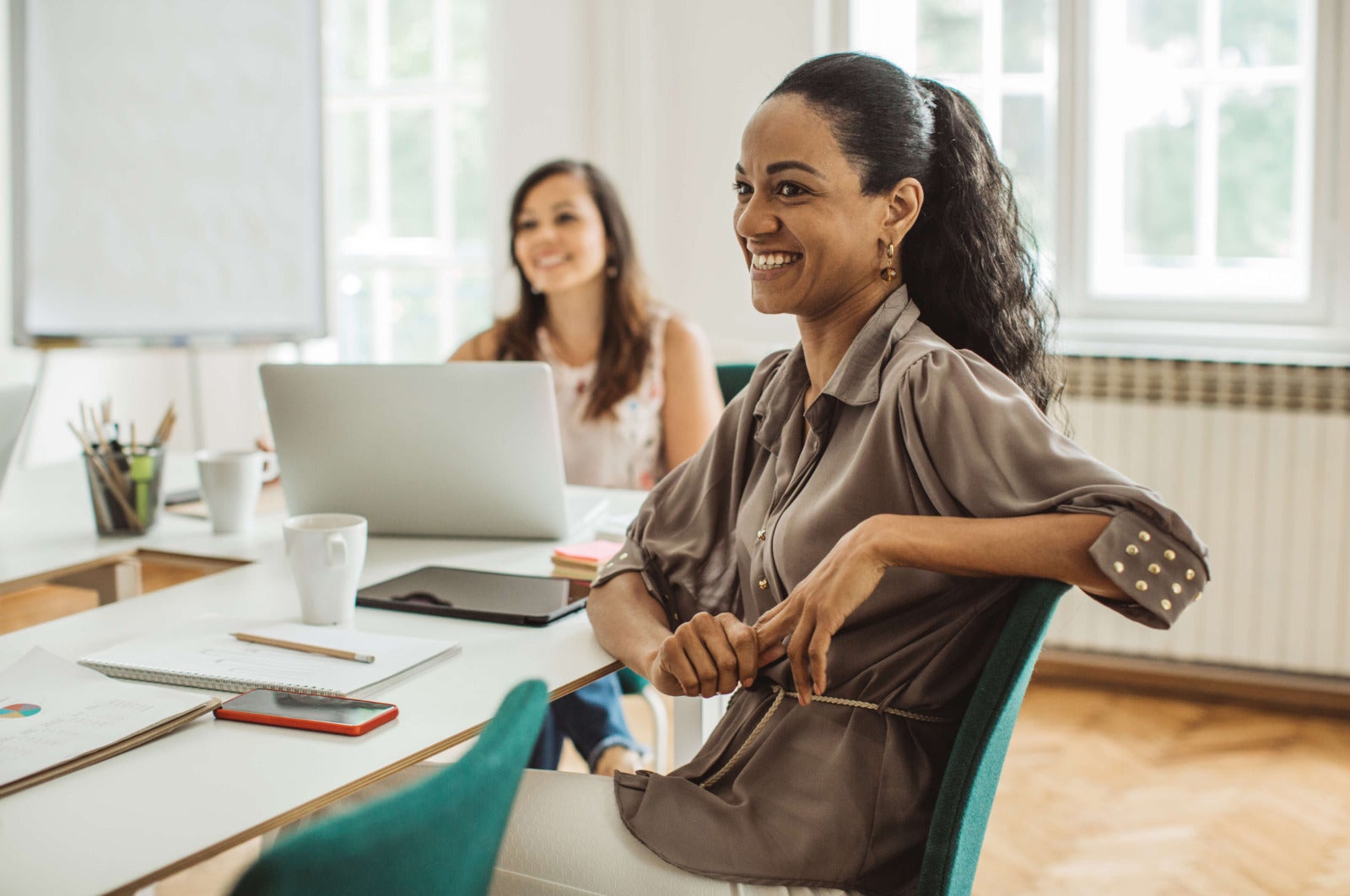 Recruiting Automation: Invaluable for Today's Talent Teams
Today's talent teams often have to juggle multiple tasks and responsibilities that can be time-consuming, manual, and inefficient. The good news? Recruiting automation can address these issues.
Most parts of the recruiting process can now be streamlined and sped up considerably when TA teams utilize an applicant tracking system (ATS) with automation capabilities built into the platform.
And we don't just mean growing and enterprise orgs. Small businesses like yours are increasingly investing in recruitment automation solutions to make their recruiters' jobs far easier.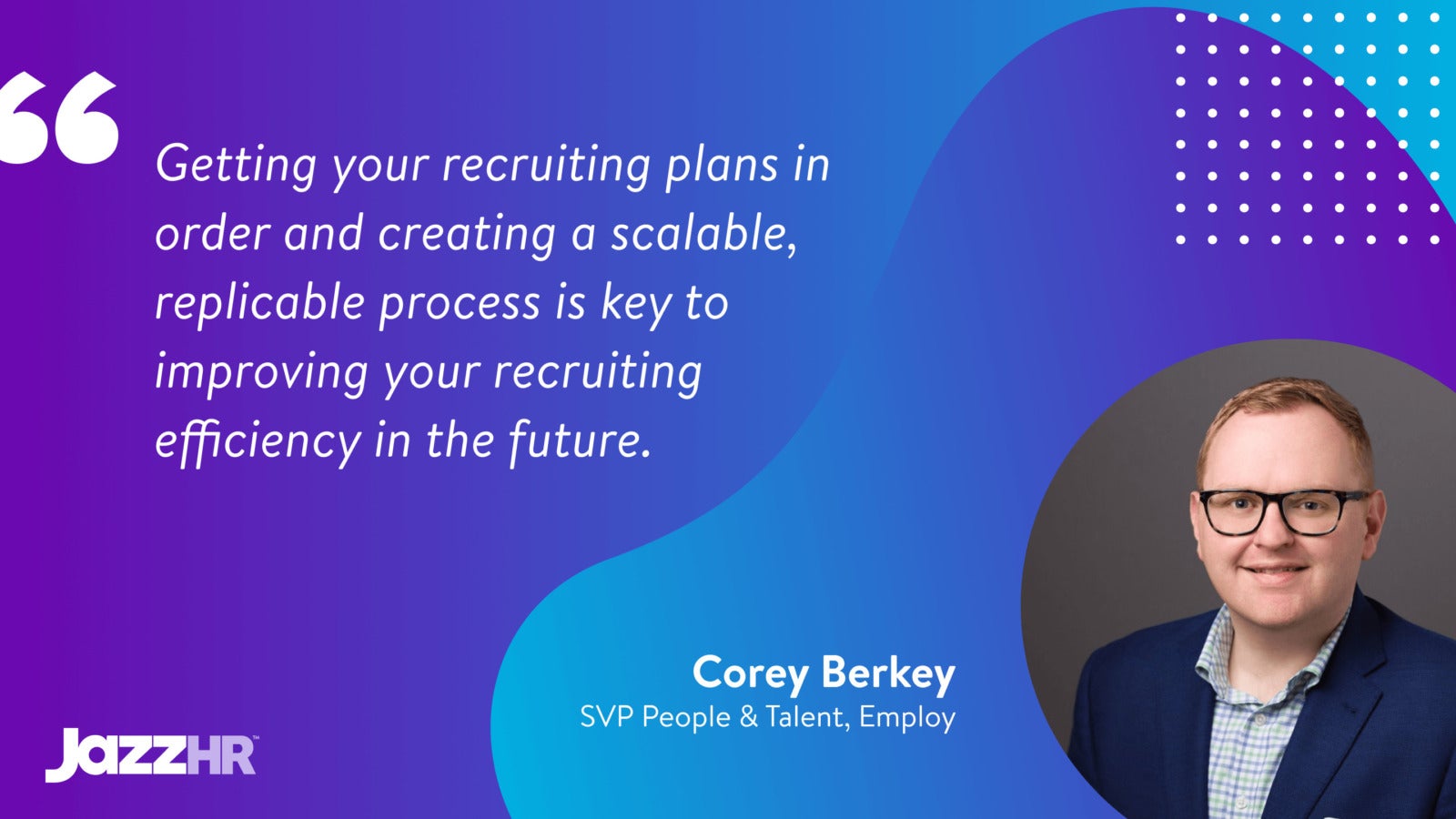 The benefits of recruiting automation
"Now is an excellent time to overhaul your recruiting process and improve hiring efficiency by getting back to basics," Employ SVP People & Talent Corey Berkey recently shared with Checkr."
"Getting [your] recruiting plans in order and creating a scalable, replicable process is key to improving your recruiting efficiency in the future," Corey added. And one way to realize this greater talent acquisition efficiency is to put advanced automation tech in place for your TA team.
From posting jobs universally to job boards, to keeping all hiring team members on the same page during the recruiting cycle, to auto-"passing" on unqualified candidates, there are many ways in which automation can aid your SMB talent team.
(Not to mention free up hours for them weekly so they can handle other core recruiting tasks.)
At its core, recruiting automation leverages cutting-edge AI and rules-based workflows to tackle repetitive, manual tasks. But, what specific benefits can your SMB enjoy when adopting this tech?
Here are several pros of adding automated workflows throughout your recruitment process.
1) Save your entire recruiting staff (a lot of) time
As noted above, one of the top benefits of recruiting automation is the time savings.
By automating manual tasks such as resume screening, scheduling interviews, and managing job boards, your talent team can focus your efforts on more strategic initiatives. (Think the "human" side of recruiting, like building relationships with talent of interest and revisiting "archived" candidates.)
With automation infused in your candidate sourcing efforts, specifically, your recruiters can spend less time searching through resumes and more time engaging with qualified candidates on LinkedIn, Indeed, Glassdoor, and other career communities.
What's more, automation can streamline the end-to-end recruitment process.
Sending candidate feedback reminders to interview panelists. Sharing updates on the current state of the hiring process with prospects. Constructing and sending job offer letters. There are several TA-related duties you can put on (mostly) autopilot — and get precious time back in your day.

2) Strengthen candidates' recruiting experience
Candidate experience is a crucial factor in attracting and retaining top talent. When applicants have a positive interaction with your org, they're more likely to accept an offer and refer others to apply.
Recruiting automation can help enhance the CX by streamlining communication, providing timely updates, and ensuring that applicants feel valued and heard by your hiring team.
An applicant tracking system (ATS) with automated messaging features — like JazzHR — can help your recruiters maintain consistent, personalized communication with candidates throughout the hiring process. By keeping candidates informed and engaged every step of the way, you invariably improve your employer brand reputation and foster stronger relationships with top talent.
3) Realize an increasingly better quality of hire
Artificial intelligence (AI) and machine learning capabilities enable recruiting automation software to analyze candidate data more effectively than a human ever could. By utilizing AI in the resume screening process, your recruiters can ID qualified candidates more efficiently and accurately.
Ever wonder what would happen if you could sift through dozens — even hundreds — of resumes in a fraction of the time you typically do? Well, with automation, you can comb through the info tied to recent applicants in a matter of minutes.
(Translation: Not hours or days.)
With more accurate candidate matching, you ensure you only reach out to the best leads for open roles. (Applicants you pass on can still have profiles created so you can revisit them later, of course. Who knows? Maybe they'll be a fit for a future role.)

4) Increase collaboration among your hiring team
Recruiting automation software provides a centralized platform for communication and collaboration between recruiters and hiring managers. By streamlining the exchange of candidate info and feedback, automation tech can enable smoother decision-making and faster hiring.
Shared dashboards that show your pipeline progress for each role and requisition can also help your recruiters and HMs work together more effectively to understand your ideal candidate profile and develop targeted recruiting strategies that better attract active candidates over time.
It's simple, really. By fostering greater comms and collaboration internally, you make savvier and smarter hiring decisions. Ones that indirectly impact the long-term success of your SMB.
5) Simplify interview scheduling with engaged leads
One of the most time-consuming aspects of the recruitment process is scheduling interviews. Your TA team often must send multiple emails, make endless phone calls, and chase candidates to confirm interview times.
This cumbersome process can be streamlined (a lot) through automation.
Recruiting automation tools synchronize calendars for hiring team members, send reminders to interview panelists, and auto-reschedule interviews as needed. By simplifying interview scheduling, you can focus on what really matters: finding the right person for the job.
6) Enhance your team's data-driven decision-making
Through automation, your SMB can aggregate and analyze large volumes of data related to candidate profiles and hiring trends. This insight means you can make data-backed decisions in real time.
But, for your talent team to make analytics-oriented decisions, every TA specialist needs access to relevant and accurate data. With an ATS like JazzHR, all recruiters can view reports that show the top-performing sources, the most effective job boards, and even metrics tied to diversity hiring.
Many recruitment automation platforms even use intelligent algorithms to predict candidate compatibility and rank their suitability for a role. This takes the guessing out of talent analysis.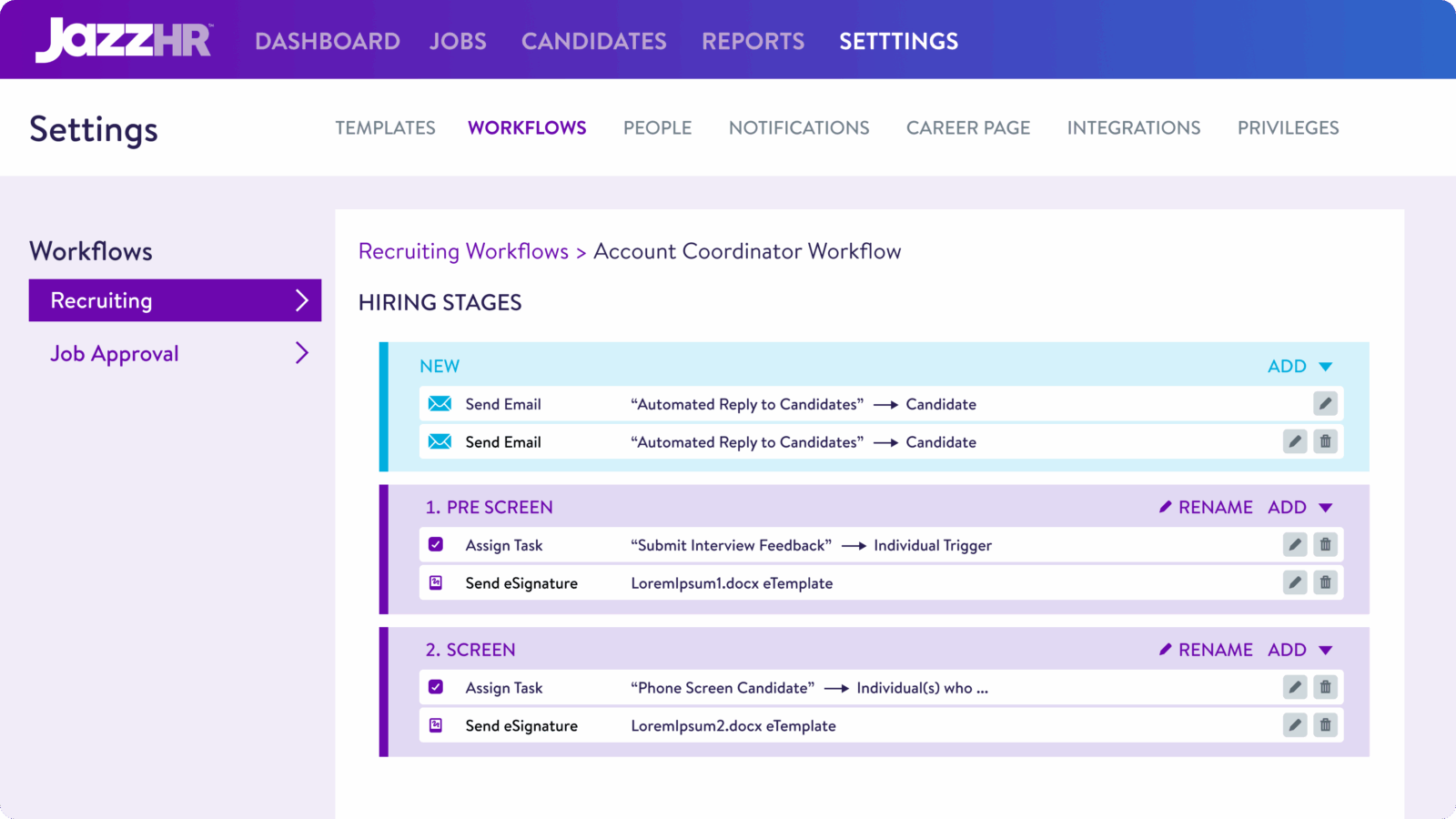 7) Big cost savings for your business at large
Your leadership team is laser-focused on efficiency at all times. That applies to your TA team. With automation in place, you can easily realize this enhanced efficiency and show your execs not just how much time your recruiters save each day and week with automation, but also money.
Consider your recruitment marketing. By auto-posting job listings to the job boards where you tend to get the highest quality and quantity of applicants, you get more top talent added to your candidate pool and, shortly after, into your active pipeline.
The math here is simple: More qualified leads in your database means you don't need to spend as much money on targeted paid ads. (At least for some parts of a given year, like when you have hundreds of "warm" opportunities in your system.)
8) Increase the diversity makeup of your company
Diversity, equity, and inclusion (DEI) have become a top priority for most orgs. And recruiting automation is the perfect ally. Why? Because it can help remove human bias from the hiring process.
Consider blind recruitment functionality. This capability can anonymize candidate profiles during the screening phase. This, in turn, ensures job seekers are assessed solely on their qualifications rather than factors such as gender, age, or ethnicity.
Leading TA automation tech can also review job descriptions for gender-neutral language. Ensuring only inclusive language is used in these increases the likelihood of attracting a diverse talent pool.
Streamline your recruiting team's work and make smarter hiring decisions by leveraging JazzHR's applicant tracking system for small businesses — including our advanced recruitment automation capabilities.