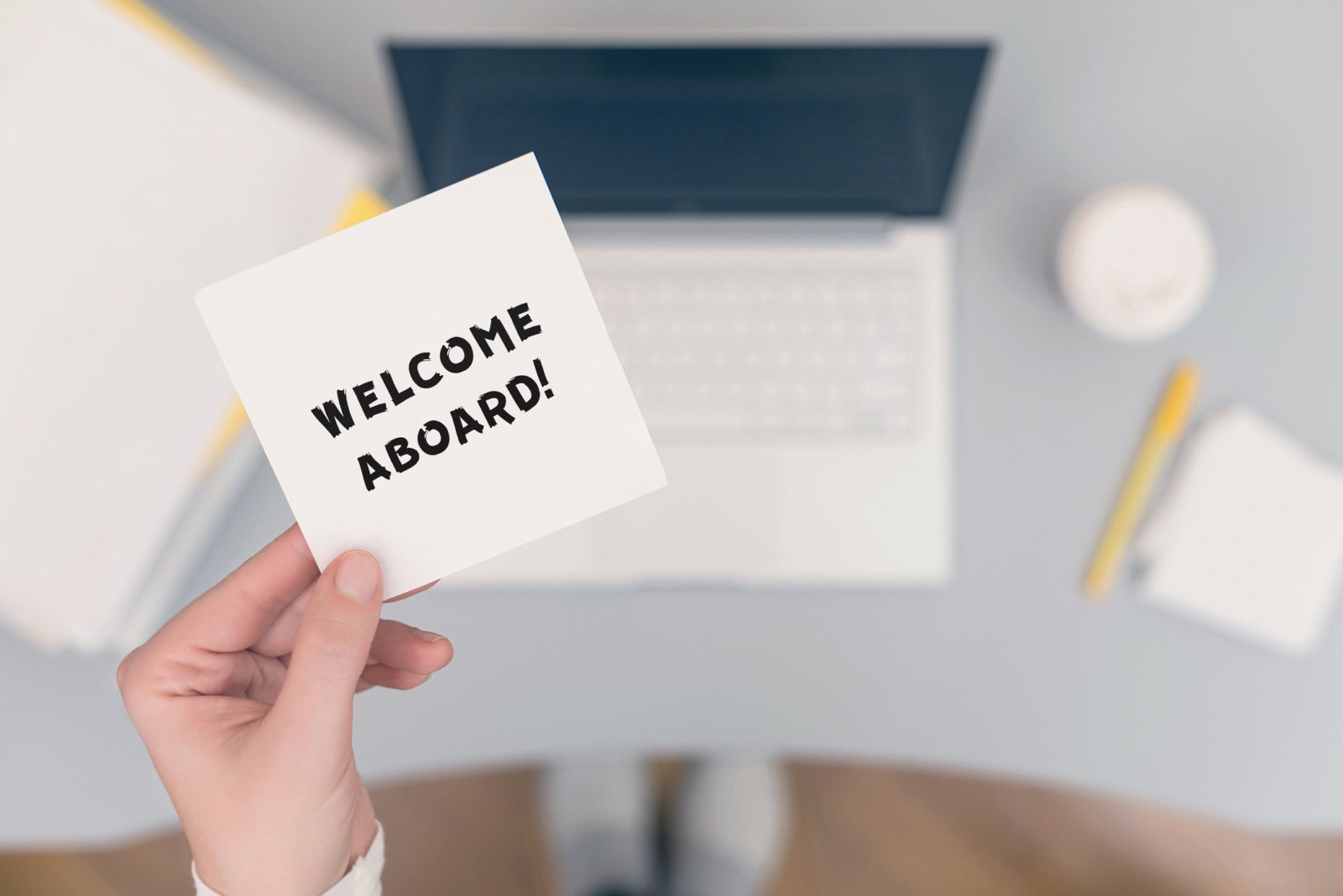 New Hire Orientation Ideas for Your HR Team
Getting onboarding right is a must for employers that value retention and engagement. Almost nine in 10 professionals said they weren't impressed with their onboarding experience at their current employers. This poor experience, in turn, makes them twice as likely to look for a new job.
Thankfully, those numbers can be improved with the right onboarding strategy.
More specifically, by implementing more effective new hire orientation ideas that ensure new team members feel apart of the company culture and fully understand the company mission from day one.
You don't have to take a trial-and-error approach with refining your employee onboarding process. That's because many other businesses have already done the dirty work for you, so to speak.
7 proven new hire orientation ideas
With that in mind, here are employee orientation ideas to help the latest members of your workforce who are starting a new job at your organization feel right at home in their new work environment.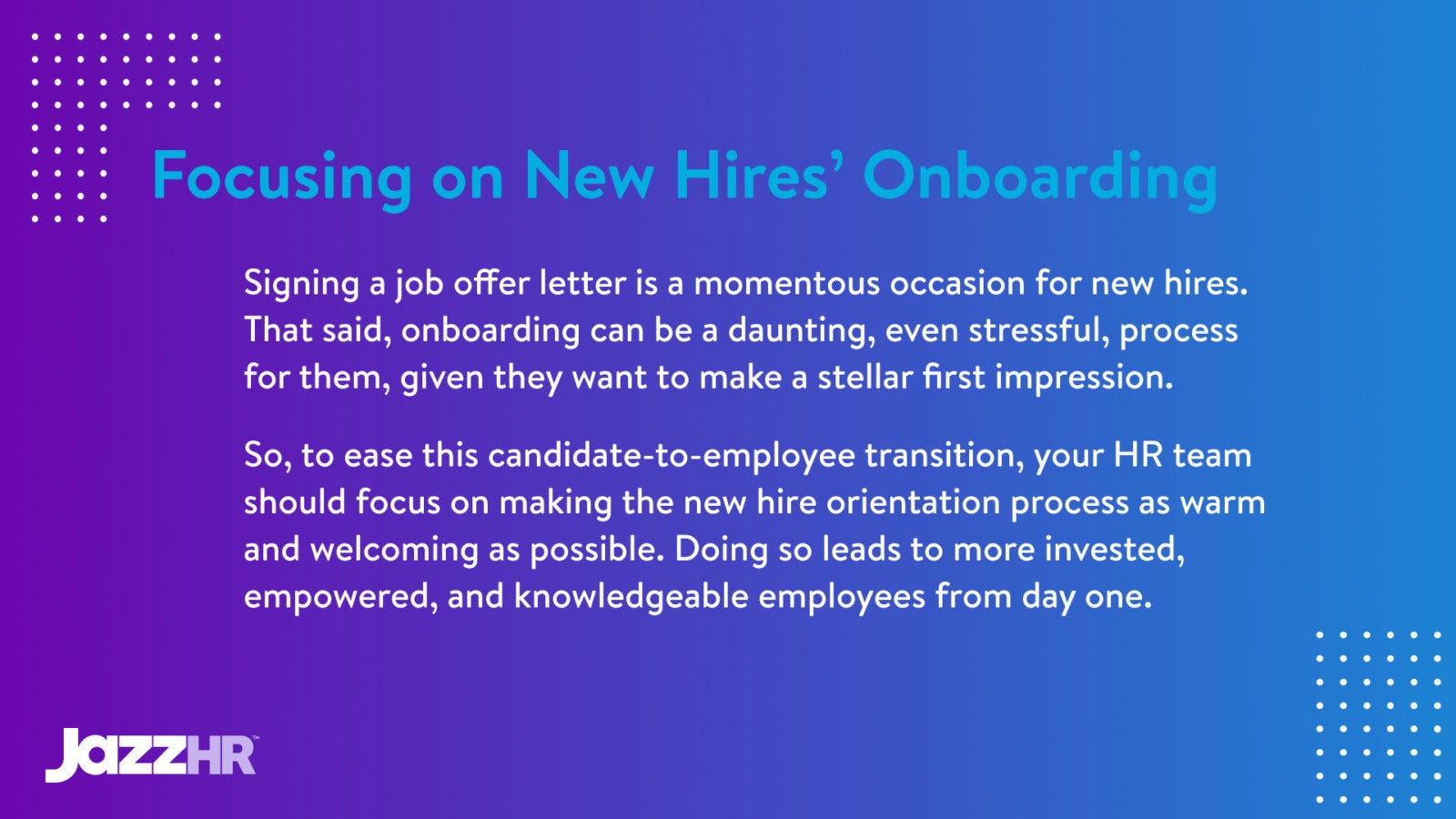 1) Use the buddy system in the orientation process
You've probably heard of the buddy system, and may already have used it. Pairing new hires with a single, dedicated point-of-contact reduces confusion and encourages productivity.
Whether you hire remote employees, in-office workers, a hybrid approach of both, assigning a buddy to each new employee can put them at ease during what is likely a stressful period for them. (Yes, they got the job, but remember they want to make a great first impression at the company.)
Having your onboarding buddies give new hires branded coffee mugs and other swag, take part in fun scavenger hunts to break up the in-person or virtual orientation process, and even providing an office tour can make the transition from candidate to employee far easier.
2) Implement a "development-first" approach
The onboarding process is, at its core, a professional development process. Find out where new hires see themselves in a few years and arrange a meeting with the person in that role.
It'll pay off: a LinkedIn Learning report found that 94% of hires would stay with a company longer if they felt the business was investing in their career. A great place to relay your success with training and developing new workers is in the employee handbook.
This typically features all info related to the business, but that doesn't mean there isn't an opportunity to share "success stories" of existing staff members who've grown their careers at your org too.

3) Contextualize new hires' role right from the start
Introduce new employees to staff in different departments, even if you're onboarding remotely. They may not be working with these people on a daily basis, but it's a useful way to welcome them to the wider business and to show them where their work fits into the bigger picture.
It also affords them the change to explore potential areas for development. In the same spirit, make sure the company's values, mission and purpose are clearly communicated and reiterated during onboarding. Alignment from the get-go is a great way to make employees feel invested.
4) Regardless of how small your team is, get social
Research suggests that the more "authentic" employees feel at work, the more engaged, productive, and satisfied they were. Encourage new hires to feel comfortable being themselves. Organize social calls, happy hours (virtual or in-person), and lunches in their first few weeks.
Colene Rogers, an HR professional at Syntech Systems, found that the simple act of asking a new hire to lunch on their first day proved to be one of their "fondest onboarding memories."
5) Prepare appropriately for new employees' arrival
Remove as many hurdles as possible by preparing paperwork, software, and workspaces ahead of time for new hires. They'll arrive to find that they've already been thought about.
If it's possible, it's a great idea to surprise them with a gift.
A company Kindle or iPad loaded with useful onboarding resources is a creative way to let new hires know that they're being invested in, and to make the process a bit more memorable. Something as simple as a care package full of company merchandise has worked wonders for many employers today.
And don't let the remote environment stop you from nailing this part of the process. Schedule delivery of each employee's materials, along with a welcome kit, to arrive before or on their first day.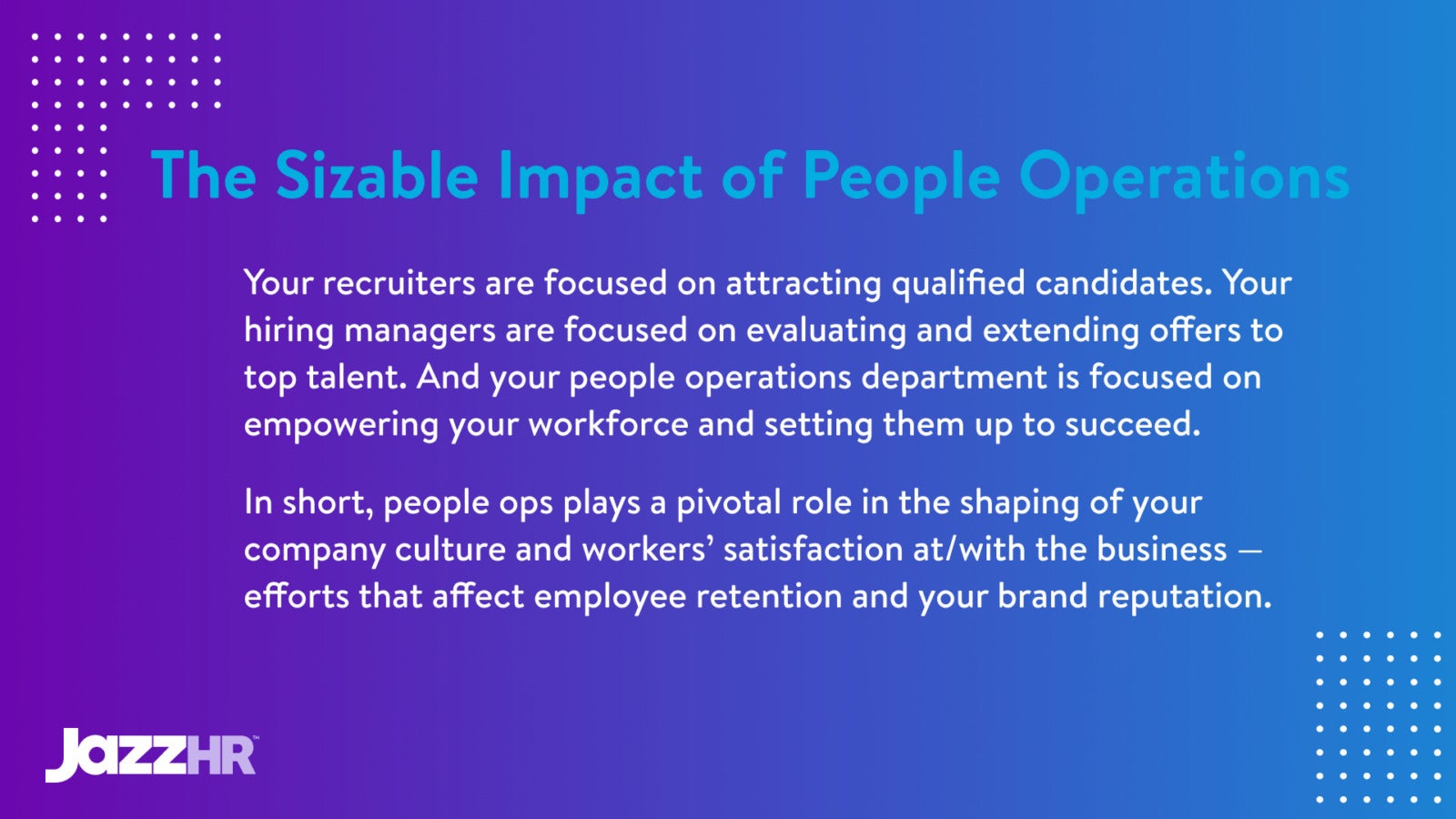 6) Don't put too much emphasis on hierarchy
If it makes sense, consider breaking up the hierarchy a bit in the early stages of a new hire's time with you. Ask them, for example, to give feedback on a manager's work, and receive it graciously and constructively. It communicates that their opinion is valued in the business, and studies have suggested that egalitarian teams are generally more effective.
Onboarding isn't one-size-fits-all. Some of these strategies will make sense for your business and the new hires involved, and others won't. We haven't mentioned the most important strategy, which should underly all of the above:
7) Ask for new hires' feedback, iterate, and improve
You might not get onboarding right for every employee. The strategies above need to be tailored to your org and to individual roles. It may not be as smooth as you'd like right off the bat. That's fine!
What's important is you find out what worked, what didn't, and improve your process regularly.
Even if things could have gone better, new hires will know that their voice is being heard when you ask for — and act on — their feedback. Just as your talent team does with candidate feedback.
You can ensure your talent team's "handoff" of new hires to your HR department is seamless by using the onboarding capabilities in JazzHR. Book a demo today to learn more about our ATS.

COMMENTS