7 Ways to Leverage Leading Recruiting Tools and Partners
The sheer number of recruiting tools and partners on the marketplace today that can strengthen and streamline your small business hiring strategy is — well, it's a lot. For instance, there are:
Solutions aimed to making the new employee onboarding process more seamless for HR
Social media platforms and job boards where you can promote your latest job postings
Inclusive language tools that ensure job descriptions avoid gender-biased terms and phrases
Collaboration software that helps recruiters and hiring managers stay on the same page
Video interviewing solutions (e.g., Zoom) that speed up the middle of your hiring process
Resume parsing tools that save time for talent specialists and prevent manual assessments
Candidate experience platforms that offer data-backed insights from potential candidates
That's not necessarily a bad thing to have so many types of recruitment tools at your disposal. However, it does make it difficult to discern which exact recruiting software vendors and partners are the best of the best — and ones you should consider investing in for your talent acquisition team.
To help you build up and optimize your TA tech stack (and, in turn, tackle key recruiting tasks and daily hiring duties more quickly and efficiently), we reached out to the experts for their insights into what specific kinds of recruiting tools can "up" your hiring game in the months and years ahead.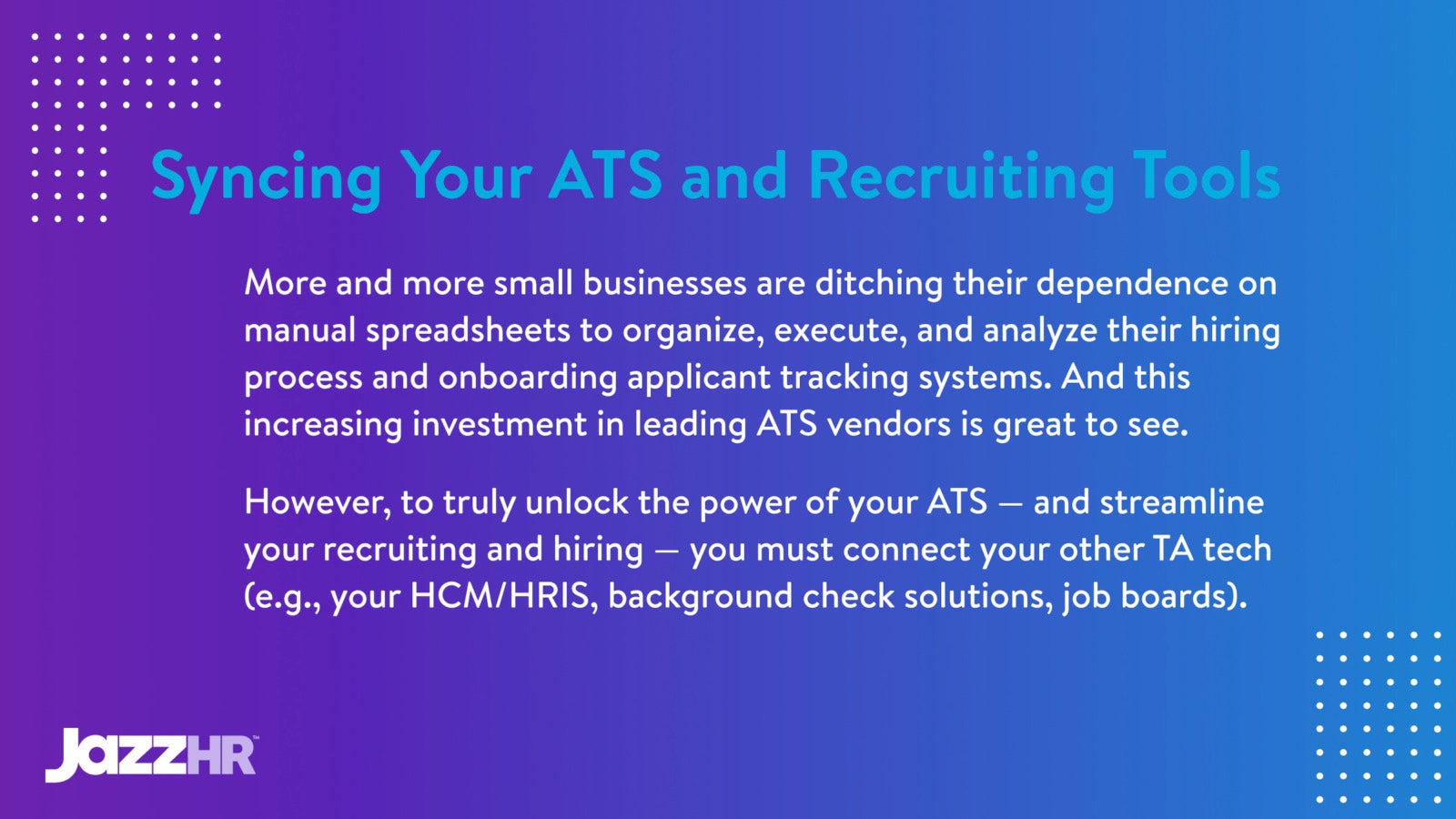 1) Use employer branding platforms to reach larger audiences
Take advantage of the incredible employer branding platforms out there that provide opportunities to highlight your company culture, job openings, and what makes your company truly stand out in the market.
When you have a smaller HR/TA team, these partnerships are especially key.
On a prior team, we used JazzHR alongside BuitlInColorado to reach a larger audience, build our employer brand, and gain recognition in the market. From The Muse, to LinkedIn, to Indeed, there is a spectrum of platforms you can partner with to build out your employer brand quickly and easily.
Maddie Stoddard, Senior Tech Recruiter at Pie Insurance
2) "Harmonize" your recruiting tools to spur partnerships
Excellent recruiting tools are readily available for your talent team. But, they must work in tandem with one another to enable the formation of partnerships that spur today's relationship recruiting.
The Recruiting Culture Scorecard identifies various partnerships and guides the acquisition of tools so each supports the goal of a highly visible recruiting culture.
Hiring manager and recruiter partnerships can build more effective talent pipelines, launch employees into new roles, and have job seekers bragging about feeling valued during the recruiting cycle. Measure success from the Recruiting Culture Scorecard's 15 elements, found within multiple categories, including leadership, technology, and policy.
Bill Gunn, Principal Consultant at G&A
3) Network with other recruiters to "barter" talent
Most recruiters are naturally great at creating and maintaining connections. Yet, many of these same recruiters with this vast network of contacts in the recruitment business neglect a great source to find great talent, which is to network with other recruiters to see if there are any candidates they can refer.
Some recruiters reading this might ask themselves, "Why would a potential competitor refer me to a high-value candidate?" The answer lies in reciprocity.
Creating a network of trusted recruiters where you can trade intel and candidates can exponentially increase candidates you might not have found on your own. The best part of this is it will cost you nothing.
Steven Mostyn, CEO of Career Boost

4) Collaborate with recruitment process outsourcing firms
We have enjoyed immense success over our 20-year corporate lifespan by establishing strategic partnerships with other recruiting firms who operate in the same IT space, but are prime vendors to a different client set than we have.
This "co-opetition" makes the partnership function like a much larger recruiting firm in terms of recruiters engaged in the search, yet focuses acutely on positions that may be difficult for our partner to fill.
By having us partner with them, the time to fill is significantly reduced and the partner firm is often first to submit and thus edges out their competition at their prime client.
When they beat competitors in submission time, our partner stands a higher likelihood of filling that role.
Not only do they fill that requisition, but they also further engender loyalty from their client, which leads to an even further expansion of business with that client. This model has been a highly valuable model for MTP and one we approach every single day.
Thomas Crawford, Director of Business Development at Midwest Technology Partnership
5) Partner with agencies that are strong in DEI recruiting
An oft-overlooked facet of hiring: creating an effective partnership with a recruitment agency that takes diversity, equity, and inclusion (DEI) seriously and knows how to help SMBs like yours in this area.
Many companies see the relationship between themselves and the recruitment firm as transactional and are only in discussions with them when there is a role that requires filling ASAP.
Shift your thinking to this being a partnership and focus on three areas:
Constantly keep in touch and share future resourcing requirements so they are able to build relationships for you out in the market.
Share your company aspirations around DEI as well as your expectations of how the agency can support with delivery and execution.
Gather the data on who the recruiting agency is speaking to candidate-wise and the diversity makeup of those who get interviewed.
Charlotte Sweeney, Founder and CEO of CSA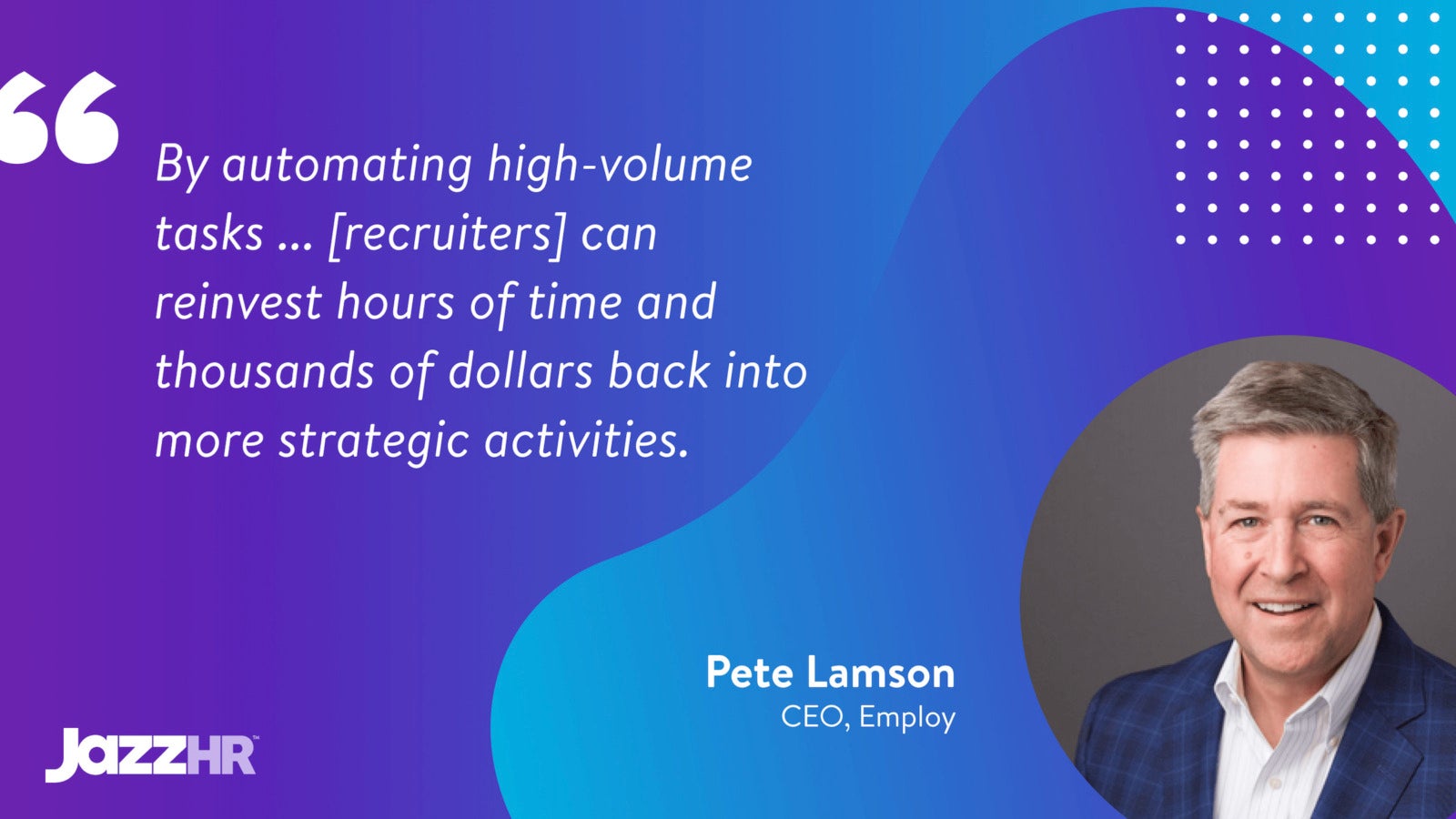 6) Improve partnerships with hiring managers using data
Hiring managers often have an idea of what they want but lack insight into what it will take to get there. Prepare for kick-off meetings with market data around salary benchmarks, talent supply, and demands to help hiring managers understand the competitiveness of the skillset they're requesting.
Strengthening the hiring manager partnership through data-driven chat will have an immediate impact on hiring the right talent. (And ensure everyone remains on the same page at all times.)
Tari Krupinski, Director of Recruiting at General RV Center
7) Build bridges between your company and schools
A great partnership that can increase the candidate pool is with schools, including high schools, trade schools and universities. When considering a partnership with a school, do your research internally.
Do you have any employees who currently attend or graduated from the school? By partnering with a current staff member who is a student or alumni, you can bring a different perspective into the school.
Students want to hear from other students and this will help your org get more opportunities to connect with students. Be sure to equip the employee with the best information and company swag when s/he represents your organization at the school.
Jodi Brandstetter, Chief Talent Strategist of Lean Effective Talent Strategies
JazzHR's built-for-purpose applicant tracking system for small businesses connects with countless popular recruiting tools. Learn how you can leverage these connections and our leading ATS to enhance your hiring.

COMMENTS